India's largest wireline operator, BSNL seeks franchisees to rollout

Bharat Air Fiber Services

all over India. The Bharat Air Fibre services were introduced by BSNL as part of Digital India initiatives by the Government of India and it aims at providing Wireless Broadband Connectivity in the range of 20 KMs from the BSNL locations.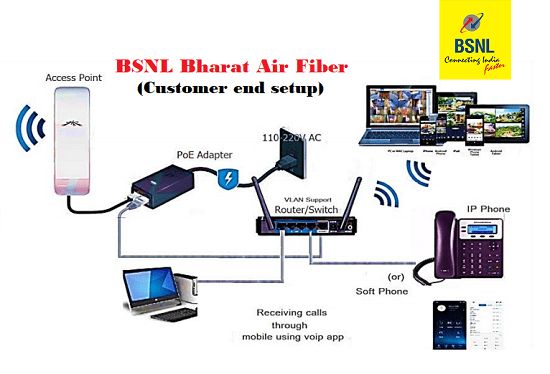 Getting Fiber broadband internet connection or even wired broadband in remote parts or rural part of India is a difficult task since there may be only a very few operators providing service in those areas. To overcome this issue in

connecting rural India

, our state run operator, BSNL launched Bharat Air Fiber Services. BSNL Bharat Air Fibre will enable homes in rural areas with broadband, voice and IPTV services, which is different from the company's Bharat Fibre FTTH service that users wired technology and is targeted at urban homes.
What is BSNL Bharat Air Fiber Service?
BSNL Bharat Air Fibre service is a wireless, or more precisely radio-based last mile telecom connectivity solution. It uses unlicensed spectrum (which are not been licensed to any entity) that has less interference to provide internet service. It also uses line-of-sight radio waves to deploy the service. As in rural places, there is less usage of WiFi routers and appliance-like microwave ovens thus there is very less interference in these airwaves.
Bharat Air Fiber is completely wireless and

offers broadband up to 100Mbps up to a distance of 5 Kms

which can go beyond 5 Kms based on the Air media and the range. BSNL is very aggressively pursuing this service and has brought in new policies with lot of flexibilities for utilizing this Bharat Air Fiber Service to provide customer connections across any terrains of the country.
BSNL Bharat Air Fiber service can be provided in two different ways :- 1) Point to Point and 2) Point to Multi Point.
Integration Policies of BSNL with respect to Bharat Air Fibre Service
Open policy based on revenue share has been devised in order to attract more Franchisee partners to BSNL. Open policy has been approved by BSNL to provide Broadband / Voice on last mile over Radio Frequency Technology on the un-licensed band wherein RF base stations and associated equipment is being deployed and managed by partners with CAPEX and OPEX on their part on non-exclusive basis.
Process involved in Integration of Bharat Air Fiber
Partners shall design, build and operate the system to provide high speed Broadband / Voice services through RF Technology at its own cost.
Revenue share is done through existing FTTH prepaid wallet system. Open Policy for engaging Radio Broadband Service Partners (RBSP) for providing Broadband / Voice Services in unlicensed Radio Spectrum has been issued by BSNL.

All the FTTH Partners (LCOs/TIPs/MSOs) may join BSNL for implementing Bharat Air Fibre services on Revenue share basis. All the Franchisees AP/Radio devices are directly integrated with BNGs as in the case of third party OLTs. The network deployment and associated authentication flows are similar to standard FTTH. Franchisee activities for this service will be managed through FMS system with facilities like e-wallet, revenue share etc. Bringing in customers for Bharat Air Fiber is similar to the existing FTTH customer. Bharat Air Fiber Exclusive Plans are available for Customers.
The list of vendor partners providing the Bharat Air Fiber equipment's are
given below:-
The Franchisees may be guided to select the equipments from
any vendor partner based on the feasibility requirement and that of the
customer.
UTSTARCOM

D-Link

Aruba

CommScope

Ruckus

GoIP

Ubiquiti

Engenius

MikroTik
Who can apply for BSNL Franchisee for Bharat Air Fiber Services ?
BSNL is providing unique opportunity to Builders, Resident Welfare Associations (RWAs), Telecom Infrastructure Providers, Franchisees, System Integrators, DID Franchisees of BSNL, any registered company or society, Local Cable TV Operators, Telecom Service Providers, BSNL Retailers, Direct Selling Agents, Start-ups or local entrepreneurs.
Read More : BSNL started accepting online registration for new franchisees for Bharat Fiber (FTTH) services all over India
Online Application : BSNL Channel Partner / Franchisee Registration url is https://fms.bsnl.in/partnerRegistration.jsp
Offline Application : Interested people may directly contact your nearest BSNL Business Area Office for signing agreement and to become BSNL's Bharat Fiber business partner.
BSNL Franchisee Facilitation Centre (FFC)
BSNL already launched Franchisee Facilitation Center at Bangalore to provide all the technical support for BSNL Franchisees and node in charges for improving Bharat Fiber business across the country. This centre is exclusively created to facilitate the Franchisees in starting their partnership business with BSNL. BSNL FFC website also provides all latest firmware upgrades of third party OLTs & ONTs. Franchisees can also get technical contact details of third party OLT & ONT vendors like – Syrotech, Netlink, DBC etc.
Contact details of BSNL Franchisee Facilitation Centre
Toll Free Number : 1800 599 0088
Website : https://bharatfibre.bsnl.co.in/
Terms & Conditions for BSNL Bharat Air Fiber Plans
Customer Premises equipment (CPE) such as RF receiver, RF Modem & other equipments including UPS, Power supply, Signal booster, pole / mast , racks , Space, cabling etc shall be responsibility of RBSP(Radio Broadband Service Provider) Partner.

The compatible customer premises equipment shall be supplied by the RBSP (Radio Broadband Service Provider) Partner to the customer directly.

The cost of the CPE and Post sale obligation in respect of CPE shall rest with Partner.

CPEs billed through BSNL to Govt institutions and central / state government PSU, BSNL shall retain 10% as collection margin on the realized amount.

BSNL shall pass-on remaining 90% amount to the partner against monthly invoices raised by bidder, after deduction of statutory levies/ license fee etc as applicable.

One time installation charges as per prevailing tariff plan shall be kept by BSNL.
Dear readers, please share your views and opinions about BSNL's Bharat Air Fiber Services via comments with us.