BSNL has announced Onam Offer for new Fiber Broadband (FTTH) Customers in Kerala Telecom Circle with effect from 18th August 2023 where 50Mbps speed will be offered for 6 months at Rs 2399/-.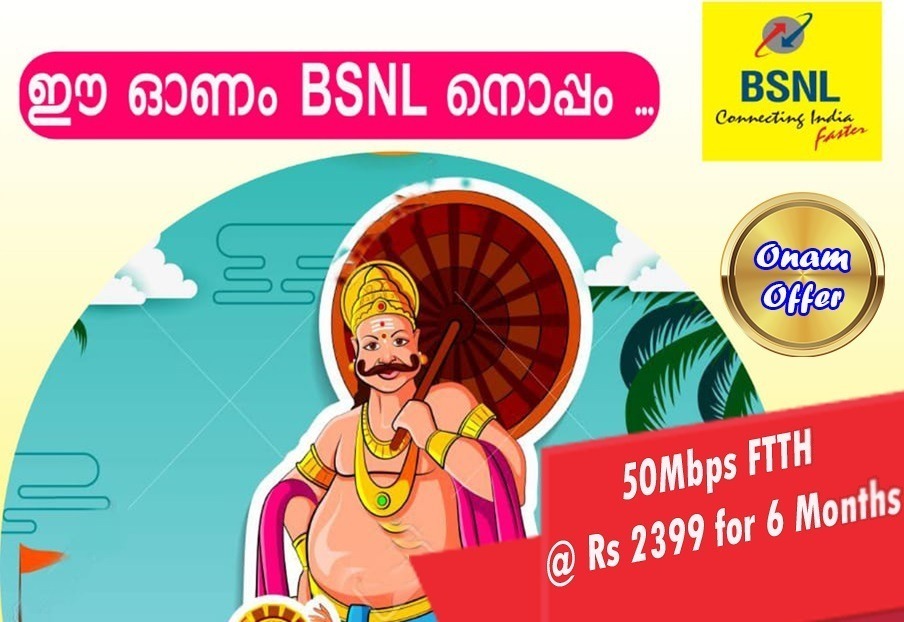 HIGHLIGHTS
BSNL Onam Offer is available for new Bharat Fiber (BSNL FTTH) Customers in Kerala Telecom Circle.
New Customers can avail 50Mbps unlimited Fiber Broadband Connectivity at just Rs 2399/- for 6 months.
BSNL Onam Offer FTTH Plan allows 1000GB data usage at 50Mbps speed and 4Mbps download speed after 1000GB in a month.
After 6 months, monthly rent of Rs 499/- will be charged with same data benefits and usage.
BSNL will also offer FREE Bundled WiFi ONTs along with Onam Offer FTTH Plan of Rs 2399/-
It's raining offers for BSNL Customers in this August 2023, as the state run PSU has announced Onam Offer 2023 for new Bharat Fiber (BSNL FTTH) customers in Kerala Telecom Circle. As per the latest information, new BSNL FTTH customers can avail 50Mbps unlimited broadband internet at just Rs 2399/- for 6 months. This Onam Special FTTH plan is available for a period of 90 days from today the 18th of August 2023. The newly announced BSNL FTTH plan is exclusively available to new FTTH customers in Kerala Telecom Circle Only.
An Official statement from BSNL regarding the launch of Onam Offer for new BSNL FTTH connections read as follows:-
BSNL ONAM OFFER 2023 for NEW FTTH (Bharat Fiber) Customers in KERALA TELECOM CIRCLE ONLY

(Available from 18-08-2023 to 15-11-2023 )

Bandwidth (Download Speed)

Upto 50 Mbps till 1000GB, then 4 Mbps

(as offered n circle specific plan '1000 GB CS358')

Applicability

All New Users in KERALA Telecom Circle Only

Fixed Monthly charges (FMC) in Rs

NA

Half Yearly Payment Option (Rs)

2399/- (for first 6 months only), after 6 months,

customer opting 'Onam Offer' shall be converted to

regular circle specific Bharat fibre plan '1000GB CS358' @ Rs. 499/-.

FREE Calls

Local + STD Unlimited on Any network

Download / Upload limit (MB/GB) per month

Unlimited

Additional Usage Charges/ MB beyond free download/upload limit (Rs.)

NA

Security Deposit

NIL as plan charges collected in advance. Rs. 500/- will be charged in 6th month when 'Onam Offer' will be converted to regular circle specific Bharat Fibre plan '1000GB CS358' @ Rs. 499/-.

Minimum Hire Period

Six Months

Telephone Fixed Monthly Charges in Rs.

NIL

ISD Charges on MCU basis

As per existing ISD tariff
Terms & conditions for providing 'Onam Offer' plan:-
Above Charges are excluding GST.
The plan will be available only for the new customers.
Customers acquired under 'Onam Offer' will be migrated (after expiry of six months period from the dateof activation of connection) to Bharat Fibre plan '1000GB CS358' @ Rs. 499/- automatically, who do not opt any regular Fibre Broadband plan at the time of CAF filling. Customers will be informed suitably in advance about automatic migration. Customer's consent in this regard will be taken at the time of CAF filling.
The plan is not available for migration to existing FTTH customers. However, existing LL/DSL (Copper) customers may migrate to FTTH by choosing this new offer.
Discount of Rs. 200 for first 6 months is not applicable with Onam Offer.
One time incentive scheme to BSNL's partners for providing WiFi ONT is applicable under Onam Offer.
Above instructions will have immediate effect on promotional basis for a period of 90 days in Kerala
Telecom circle.
Dear readers, please share this latest BSNL Onam Offer for new FTTH customers among all your friends and relatives. Also do share this latest offer among all BSNL Employees, BSNL Franchisees and BSNL Fans in your friend circle. Whether this newly launched plan will give additional momentum to BSNL in adding FTTH customers in Kerala Circle? Please do share your valuable feedback as comments below.