BSNL offers FREE WiFi ONT (Fiber Broadband Modem) for new FTTH (Fiber to the Home) customers in both Rural as well as Urban areas all over the country.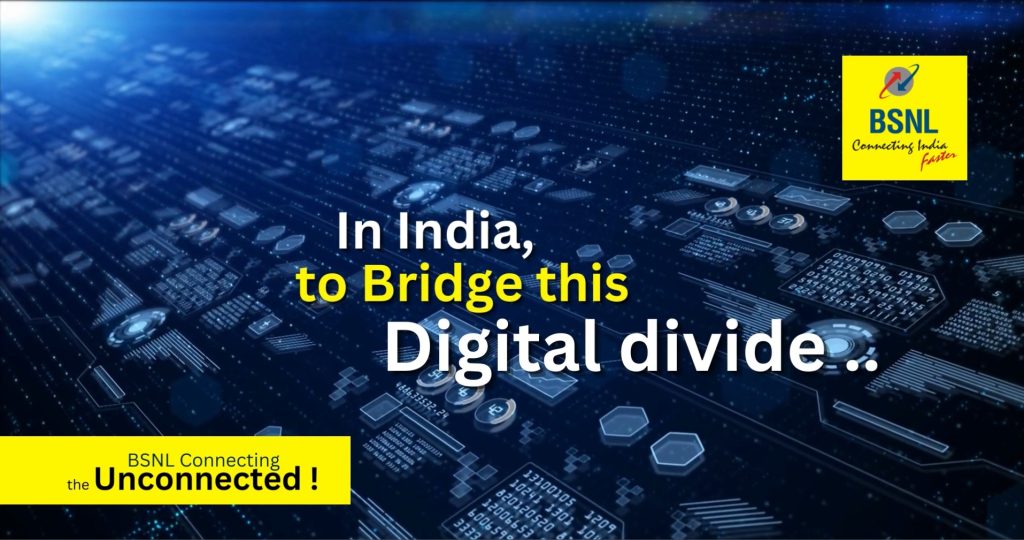 HIGHLIGHTS
BSNL's new FTTH customers are now offered with Free WiFi ONT bundled with unlimited FTTH plans.
BSNL offers Single Band (2.4GHz) as well as Dual Band (2.4 & 5GHz) FTTH ONTs absolutely Free to new customers.
BSNL's new Bundled WiFi ONT Scheme is available in both Urban as well as Rural areas of the country.
New customers opting FTTH monthly plans starting from ₹499/- are eligible for Free WiFi ONT.
Bharat Sanchar Nigam Limited (BSNL) has introduced Free WiFi ONT Offer for all new Bharat Fiber customers all over India. The PSU has launched this Free FTTH Modem Offer in an attempt to increase it's Fiber Broadband penetration in the nook and corner of the country. After the introduction of Bharatnet Udyami Scheme – The Scheme sponsored by Governement of India backed by the USOF – we have witnessed an abrubpt growth in new Fiber Broadband customer addition by the PSU in rural India.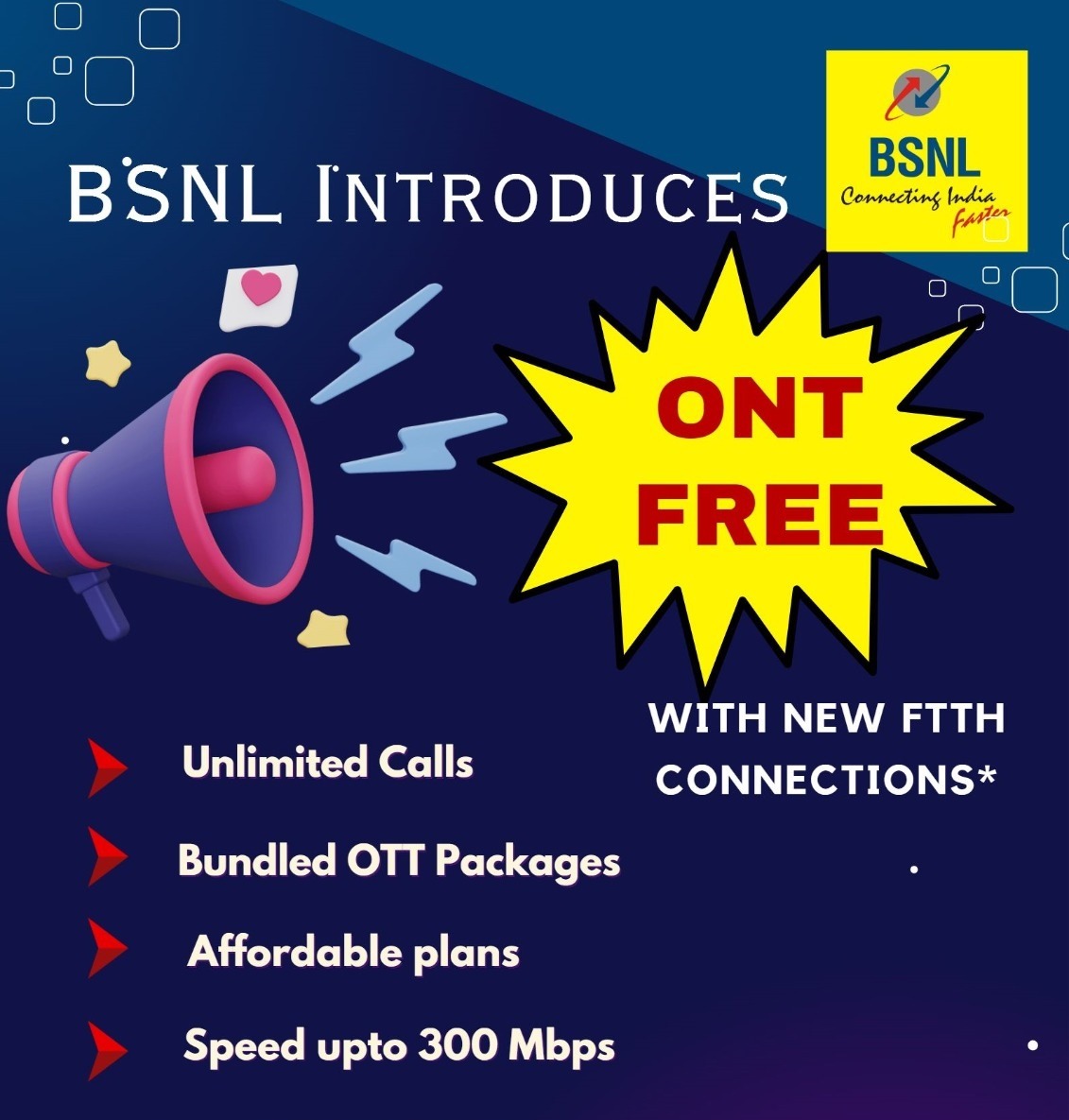 Since Bharatnet Udyami Scheme allows Free FTTH Connections in Rural villages, there was huge demand from the Urban population for a similar scheme. To meet those increasing customer demand, BSNL authorities has decided to introduce a new Free Bundled WiFi ONT Offer to all new customers under non-Bharatnet Udyami Scheme. It means, this new offer will be available exclusive to non-Bharatnet Udyami Connections.
An Official statement regarding the launch of BSNL's New Bundled ONT Scheme read as follows:-
It has been decided to offer One Time Incentive to BSNL's FTTH partners for single/dual band WiFi ONT provisioned under non-BharatNet Udyami FTTH connections in all circles as follows.
BSNL's New Free WiFi ONT Scheme (New WiFi ONT Bundled Offer)

[Offer available till 31-12-2023]

Fixed Monthly Charges (FMC) of FTTH Plan (in Rs)

One Time Incentive for WiFi ONT supplied by BSNL's FTTH Partner to Customers (in Rs)

499 ≤ FMC < 699

Rs 1200/- (Excludidng GST) for Single Band WiFi ONT

FMC ≥ 699

Rs 1800/- (Excludidng GST) for Dual Band WiFi ONT
Terms and conditions to provide one time incentive to BSNL's FTTH partners for WiFi ONT:–
The one time incentive is not applicable for bundled OTT plans having FMC less than Rs. 699/-
WiFi ONT will be supplied directly to customer by partner free of cost and all the supports required by customer w.r.t. to WiFi ONT will be provided by FTTH partners. In case of fault, partners will provide the replacement/service without additional cost for 24 months period.
Minimum 30 connections need to be provided per OLT in one quarter subject to minimum 5 connections per OLT every month.
Incentive will be provided on monthly basis on number of connections activated in the month (minimum 5). However, if the gross addition in the quarter is less than 30, then the incentive paid in earlier two months will be recovered from the invoice.
The count of minimum connection (30 per quarter and 5 per month) will be considered only for FMC ≥ Rs. 499.
The condition of minimum connection (30 per quarter and 5 per month) will be applicable to OLTs, only till the OLT loading of 120 connections (4 port OLT) / 200 connections (8 port OLT) is achieved. Once the OLT loading reaches to these levels, all connections provided will qualify for incentive irrespective of count of customers added.
The connection need to be working for minimum 24 months from date of activation. In case of surrender / disconnection within 24 months, the incentive paid will be recovered. However, the partner will be allowed to reuse the ONT to qualify for the incentive for the connection activated by reusing the ONT (subject to conditions 3,4,5 & 6 above).
To ensure the recovery for disconnected customers (pt. 7 above), in case there is no incentive in this scheme for a partner, then, deduction will be made from revenue share payable in that month with applicable GST on the net amount.
The Mac-id (1st activation by any ONT) must be new (not matching with any of the BSNL working connection as on 31-05-2023).
The ONT Mac-id tracking will be continued for 48 months only from the date of first activation.
The incentive will be subject to customer confirmation (at the time of activation) in MyBSNL App (verified by the BBC in the FMS), that no money has been charged by the FTTH partner for Single/Dual Band WiFi ONT.
NOTE: No other promotional discount/offer will be clubbed with this offering. However, installation charges for such connections will be as per prevailing scheme.
The above instructions will have immediate effect for the period up to 31-12-2023 in all circles. If you wish to avail new FTTH connection, you can avail this scheme without any hesitation as there is no hidden charges for the customer. A customer need to pay only for the monthly rent of the selected plan only. The minimum BSNL FTTH plan (non OTT) shoud be 499 to get Free WiFi ONT from BSNL. To get Free WiFi ONT, you need to select OTT plans above Rs 699/-.
Dear readers, please do share this latest news about BSNL's Free WiFi ONT Offer among all BSNL fans, BSNL FTTH Partners and BSNL Employees in your friend circle. Also please share this offer details to those people who wish to avail Bharat Fiber Services.