BSNL has launched of special OTT Add-on packs of various denominations such as ₹49, ₹199 & ₹249 to it's Broadband Internet Customers (DSL/FTTH/Air Fibre) all over the country.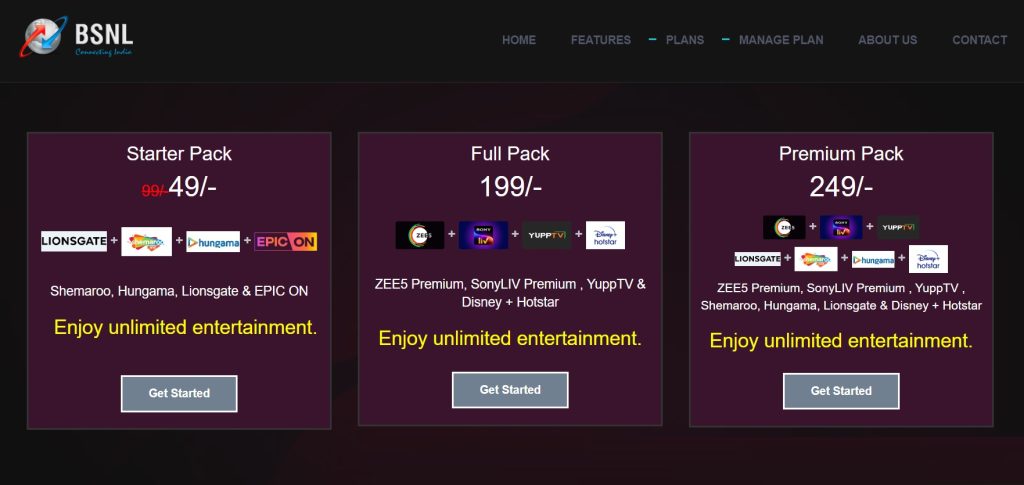 HIGHLIGHTS
BSNL Broadband Internet customers without any bundled OTT plan may choose from 3 different OTT add-on packs.
BSNL OTT add-on packs are priced at ₹49 (Starter Pack), ₹199(Full Pack) & ₹249 (Premium Pack) respectively.
These OTT add-on packs are available to all existing as well as new BSNL DSL Broadband, Bharat Fiber (FTTH) & Air Fibre Customers all over India.
Customers may activate/deactivate OTT add-on services via BSNL Cinemaplus Online Portal with OTP authenitication on registered mobile number.
Bharat Sanchar Nigam Limited (BSNL) has launched Special OTT add-on packs of various denominations such as ₹49, ₹199 & ₹249 to it's Broadband Internet Customers all over the country. As per the latest information, the PSU has launched these OTT add-on packs to customers who are not opted for Bundled OTT plans. With the introduction of these add-on OTT packs, all the existing Broadband customers are allowed to avail OTT Services irresepective of their subscribed inernet / FTTH plan.
An official statement from BSNL regarding the launch of these OTT add-on packs read as follows.
(Available to DSL/FTTH/Air Fibre Customers across all the telecom circles)

Add-on Pack Charges per customer per month in Rs (exclusding GST)

@ Rs 49/-

Hungama Combo
Lionsgate
ShemarooMe
EPIC ON

Disney+Hotstar Super Plan
SonyLIV Premium
Zee5 Premium – All access pack
YuppTV Live (NCF Channels) and many more as per Yupp TV package

Disney+Hotstar Super P
Hungama Combo
Lionsgate
ShemarooMe
SonyLIV Premium
Zee5 Premium – All access pack
YuppTV Live (NCF Channels) and many more as per Yupp TV package
Terms and condition with respect to the above OTT Add-on packs:-
Above charges of add-on pack is excluding GST. In case the customer opts out from BSNL's Broadband service, the service of OTT will be automatically disconnected after expiry of add-on pack. All other terms and conditions will remain same as per agreement for aggregation and provision of OTT service through content providers. Above instructions will be implemented with effect from 15-05-2023 on regular basis in all BSNL telecom circles / metro districts. However, the offering/charges under above add-on pack shall be reviewed from time to time depending on market price of content, adoption by subscriber base and market trends. All Broadband / FTTH customers will be informed at least two times in a month about above offer via SMS or Voice Call Campaign.
What is BSNL Cinemaplus OTT Service ?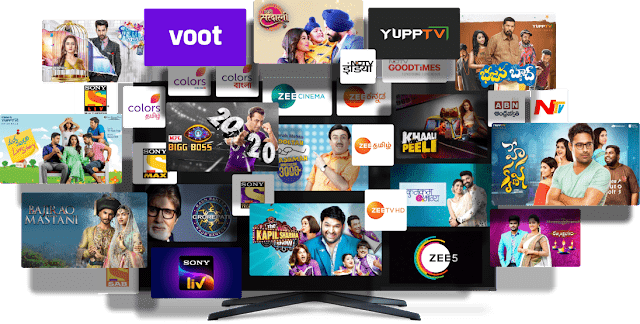 BSNL Cinemaplus is actually YuppTV Scope. YuppTV Scope is a subsidiary of YuppTV, one of the world's largest internet-based TV and On-demand service provider for South Asian content, offering more than 250+ TV channels, 8000+ Movies and 100+ TV Shows in 14 languages. Being a pioneer in the OTT segment for more than 10 years, YuppTV has expertise in technology, streaming infrastructure & customer experience.
How to Subscribe BSNL Cinemaplus / Yupp TV Scope Service?
BSNL Cinemaplus / Yupp TV Scope Service is available only to active customers of BSNL FTTH (Bharat Fiber) & Broadband Services. To activate the service, customers need to visit BSNL Cinemaplus web portal – https://cinemaplus.bsnl.in/.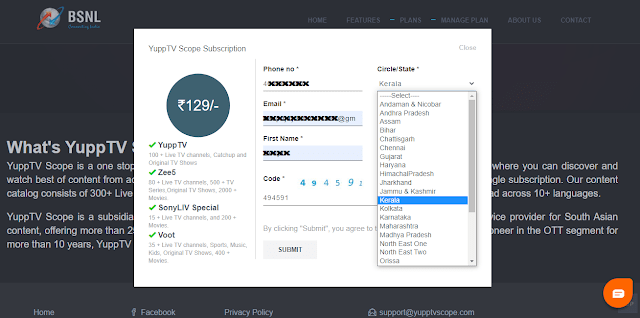 Customers need to enter their BSNL FTTH (Bharat Fiber) Number or BSNL Broadband number in BSNL Cinemaplus portal to get OTP on his/her registered mobile number with BSNL FTTH / Broadband connection. After OTP validation, you will be redirected to service activation page with transaction details (as shown below).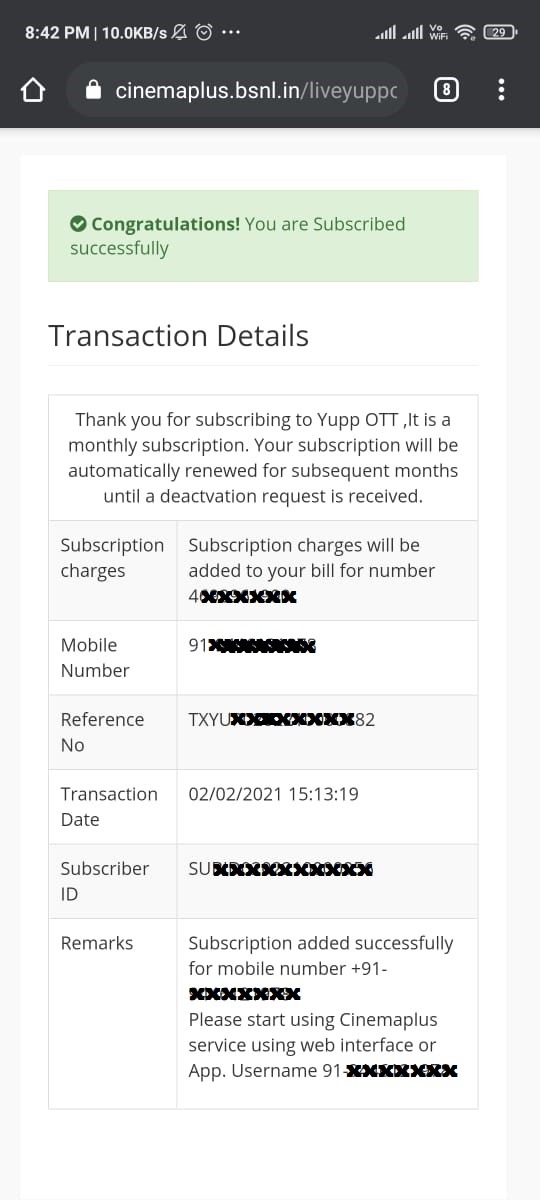 Here, you can get status of your BSNL Cinemaplus service and mobile number on which the service is getting added. Customers may use mobile number & OTP to access BSNL Cinemascope service on any device (Mobile/Tab/Android TV / Fire TV etc). Subscription charges will be added in the telephone bill of your BSNL Bharat Fiber or Broadband connection.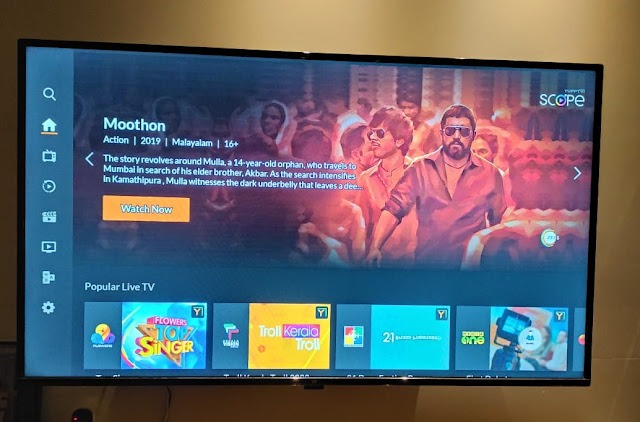 BSNL Cinemaplus OTT Service : FAQs
What are the benefits of BSNL Cinemaplus / YuppTV Scope?
One-tap Watch: Watch any content available across multiple premium OTT Apps with just a single tap.
One-stop Destination: 200+ Live TV channels, 5000+ Movies & 1000+ TV Shows aggregated from multiple OTT apps at a single destination.
All-in-one Subscription: Just a single subscription to access multiple premium OTT apps – ZEE5, SonyLIV, Voot and YuppTV.
Content Curation: Get handpicked content recommendations curated based on different aspects of the content.
Personalized Content Discovery: Discover latest & popular content titles personalized according to the taste of every user.
TV Everywhere: Use all the features & services any time and on any device.
What are the supported devices where I can use YuppTV Scope?
The device supported by YuppTV Scope are:-
PC/Laptop
Android Mobile & Tablets
IOS Mobile & Tablets
Android TV
Amazon Fire TV
Do I have to install any additional apps to use YuppTV Scope?
You can watch the content powered by YuppTV without the need to install any additional app. In order to watch content powered by partners, you need to install the partner.
Why do I need this subscription? What will I get with this subscription?
You get access to multiple premium OTT apps like ZEE5, SonyLiv, Voot and YuppTV using YuppTV Scope subscription.
How can I subscribe for YuppTV Scope?
You should be an existing BSNL broadband /FTTH /Air Fibre subscriber to purchase YuppTV Scope subscription.
How can I cancel my subscription?
You can choose to deactivate the subscription at any point of time by logging in to BSNL Cinemaplus online portal which will cancel auto-renewal but subscription will be cancelled only after end of active month.
Dear readers, please share your views and opinions about this latest news about new OTT add-on packs via comments with us. Also share this latest news among all BSNL Employees, BSNL Franchisees and BSNL Customers in your friend circle. How many of you have already availed BSNL Cinemaplus OTT Services? Is it worth to buy BSNL OTT packs as compared to other offerings available in market?