BSNL launched Bharatnet Udyami Scheme initially on 1st October 2022 which primarily aims to provide fiber broadband connectivity to the unconnected in the rural villages in the country.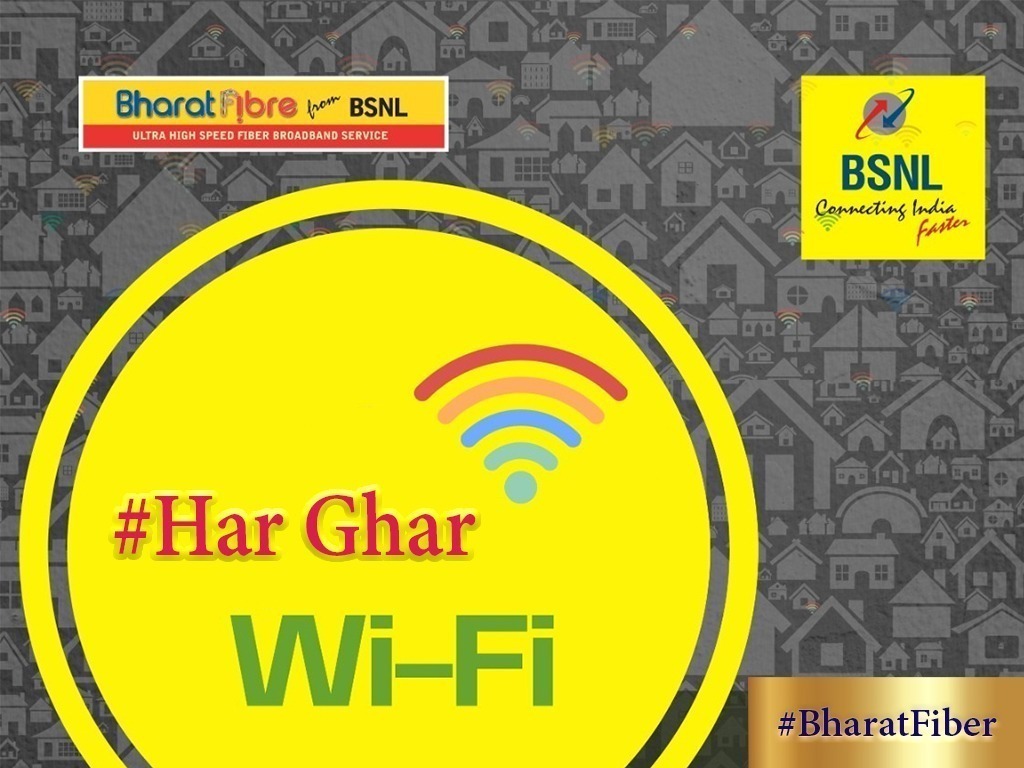 HIGHLIGHTS
Customers will be provided Free FTTH Modem and absolutely Zero Installation charges while availing new BSNL FTTH connection under Bharatnet Udyami Scheme.
Special unlimited FTTH Broadband plans were also launched by BSNL with fixed monthly charges as low as Rs 333/- and 30 Mbps speed and free unlimited voice calls.
Customers residing in rural areas only may avail this special discounted FTTH broadband connection under Bharatnet Udyami Scheme.
BSNL FTTH (Fiber Broadband) connections will be provided by BSNL FTTH Partners / LCOs who have signed agreement for the same.
BSNL's FTTH Partners will be given incentive of Rs 4484/- * per connection for providing new FTTH connections under Bharatnet Udyami Scheme.
Bharatnet Udyami Scheme has became a nightmare to all private Internet Service Providers in India as the state run telecom major BSNL is adding millions of new fiber broadband connections every month in all the rural vilages in the country. BSNL started rolling out fiber broadband connectivity in rural areas aggressively under Bharatnet Udyami Scheme as per the directions from Department of Telecommunication, Government of India. BSNL's Bharatnet Udyami Scheme is reshaping the rural broadband landscape in India.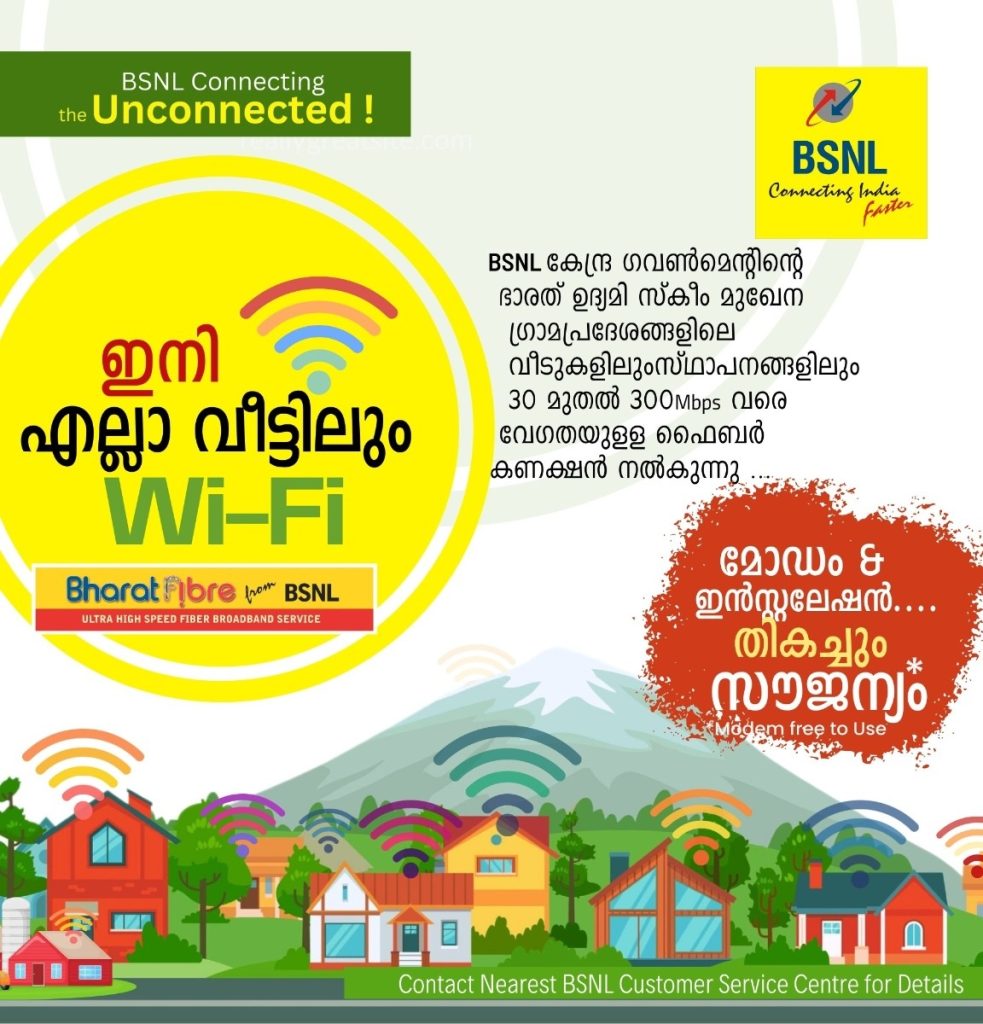 Unlike other private ISPs, BSNL is expanding their fiber footprint in association with rural entrepreneurs as their FTTH partners. BSNL's partnership model is the key to success in their fiber business as it empowers our young and talented people in our country. As of now, BSNL added more than 2500 rural entrepreneurs as their FTTH partners under Bharatnet Udyami Scheme. Majority of rural FTTH partners are from – Punjab, Kerala, Haryana, Madhya Pradesh, West Bengal, Karnataka & Bihar. The PSU has started special training programs to these partners for their devolopment and technological upgradation.
#BharatNet's #Udyami scheme is reshaping the rural broadband landscape. Watch this video to know how we have helped our village entrepreneurs achieve their dreams. @NBM_DoT @DoT_India @CCA_BIHAR @pib_comm pic.twitter.com/4NWdBKjraO

— Universal Service Obligation Fund (@USOF_India) February 6, 2023
What is Bharatnet Udyami Scheme?
Department of Telecommunication has given approval to BSNL to roll out 5 lakh Broadband connections in the rural areas in various states under Special PM Pilot Proposal – Bharatnet Udyami Scheme funded by USOF. BSNL will be utilising Bharatnet Network (BBNL) to on-board partners under Bharatnet Udyami Scheme. BSNL Bharatnet Udyami scheme is valid till 31st March 2023. Capital Incentive of Rs 3000(GST Extra) for ONT and installation shall be paid to the BharatNet Udyami. Thus no payment is to be taken from the customer for installation or ONT (FTTH Modem). This will be confirmed by the customers in the My BSNL App at the time of connection activation. BharatNet Udyami's activated minimum 70 connections shall be offered additional retention incentive quarterly of Rs 200 (GST Extra) per connection for one year.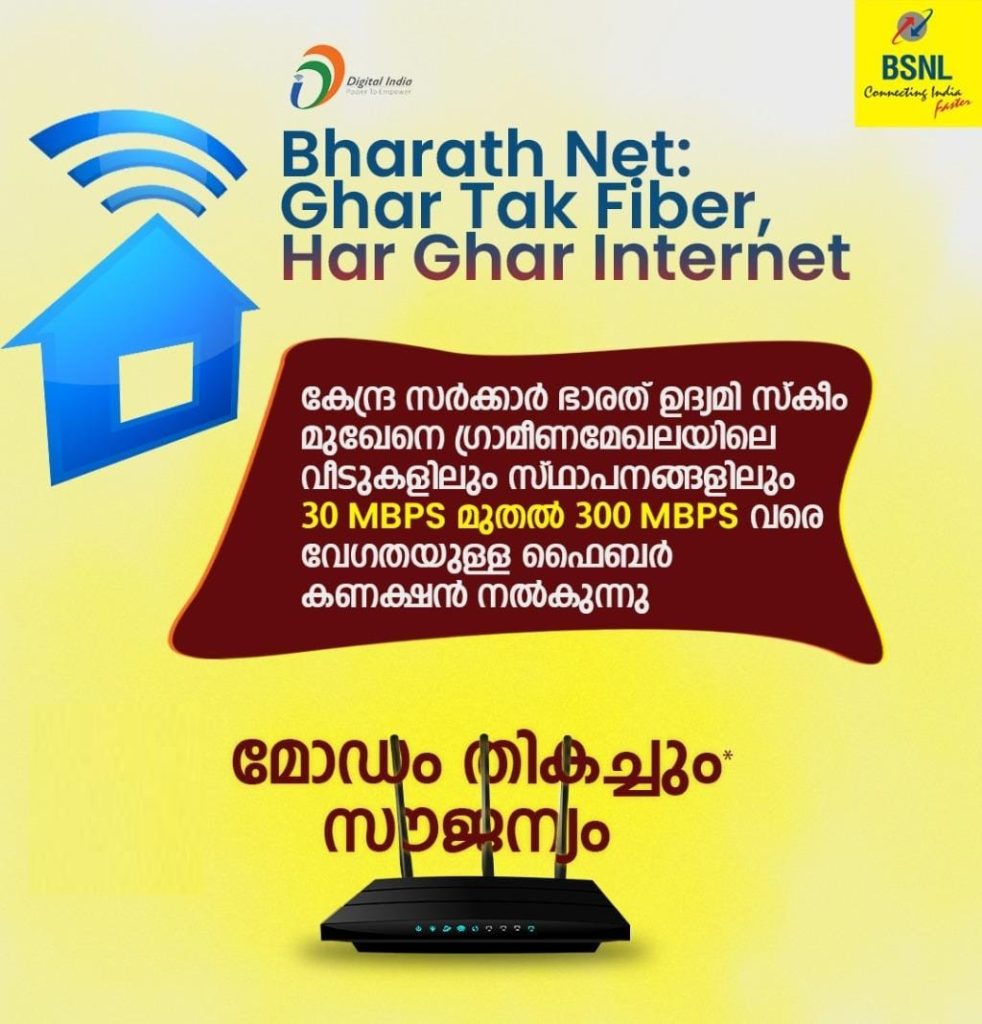 What are the benefits to Customers in Bharatnet Udyami Scheme?
Customers residing in rural areas are the beneficiaries of Bharatnet Udyami Scheme. Urban / City areas such as district headquarters / block head quarters are not convered under this special scheme. Thus, if you are living in a rural area you can avail absolutely FREE Fiber Broadband (FTTH) connection from BSNL under Bharatnet Udyami Scheme. BSNL will offer you FREE FTTH Modem with absolutely FREE Installation under Bharatnet Udyami Scheme. As we said earlier, BSNL will be providing FTTH services under partnership model and hence the availability of FTTH partner who is enrolled under Bharatnet Udyami Scheme is essential to avail this benefit.
DDG (AM) DoT HQ along with Officers of BSNL interacted with BharatNet Udyami at Kechery Telephone Exchange in Thrissur District to get inputs and feedback for proliferation of FTTH connections in rural areas pic.twitter.com/8Oz7PtUAk0

— DOT_KERALA (@KeralaDot) January 27, 2023
What are the BSNL FTTH Plans under Bharatnet Udyami Scheme?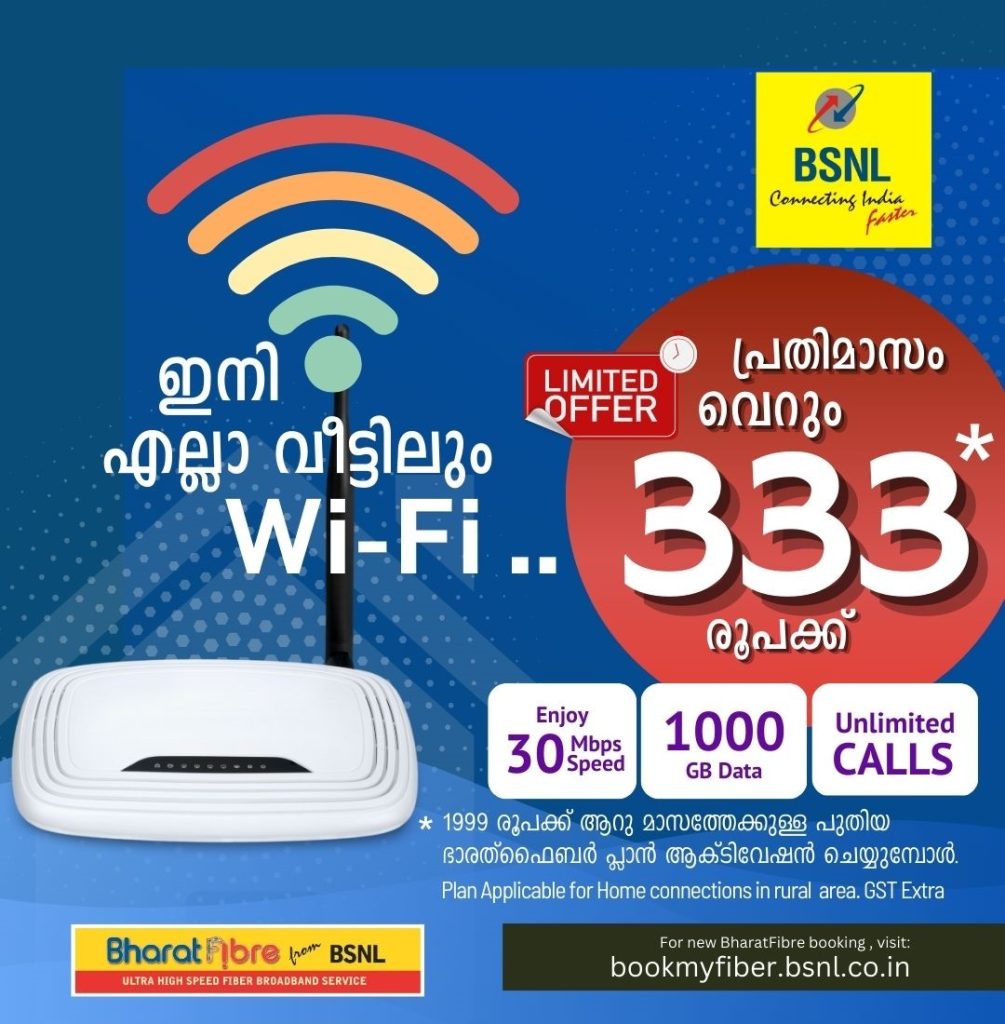 Recently, BSNL launched special Har Ghar WiFi plan with Fixed monthly charge of Rs 399/- and 30Mbps speed exclusively for customers in rural areas all over the country. Customers may also choose from the list of other available FTTH plans as per their requirement. BSNL has also launched special Half Yearly plan at Rs 1999/- for customers in rural areas. If you are living in rural area, you can avail BSNL FTTH for 6 months by paying just Rs 1999/- where FTTH Modem charges and Installation charges will be absolutely FREE under Bharatnet Udyami Scheme. Under 1999/- half yearly plan, per month cost for BSNL FTTH is just Rs 333/- only.
How can I avail BSNL FTTH Connection under Bharatnet Udyami Scheme?
Customers can book BSNL FTTH Connection online via BSNL Book My Fiber Portal or via nearest BSNL Customer Service Centre or BSNL Telephone Exchange. BSNL FTTH partner will get your connection installed within 24 Hrs after collecting documents such as proof of identity and proof of address etc. After getting your BSNL FTTH connection, you will be asked to submit the Utilisation Certificate (UC) via My BSNL App by BSNL Partner where you can submit details about modem charges, installation charges and status of your internet connection. BSNL Partner will get their capital incentive under Bharatnet Udyami Scheme only when the utlisation cetificate submitted by the customer is approved by BSNL authorities.
Dear readers, please share your views and opinions about BSNL Bharatnet Udyami Scheme via comments with us. How many of you have already avail FREE FTTH Connection under BSNL Bharatnet Udyami Scheme?