Cinemaplus is the OTT service launched by BSNL for it's broadband (Bharat Fiber & DSL Broadband) customers all over India. BSNL Cinemaplus OTT service was initially launched by BSNL on 1st February 2021 in associatio with OTT partner cum content aggregator M/s Yupp TV.
BSNL's Cinemaplus Yupp TV Scope service is the one stop destination for all your digital entertainment needs which offers 300+ live tv channels, 500+ TV Series, 8000+ movies, most populat web series etc in 10+ languages. BSNL Customers can avail Over The Top (OTT) streaming services which offers premium subscription to a bundle of streaming apps such as YuppTV Scope, Zee5, Sony Liv and Voot.
With BSNL Cinemaplus subscription, you can enjoy premium content in all the above apps. It means you will not have to buy different packs and services for all these 4 digital streaming platforms anymore. All you have to do is just subscribe to BSNL Bharat Fiber (FTTH) or BSNL DSL Broadband plans and then opt for BSNL Cinemaplus Services. BSNL Customers can avail premium subscription to all the 4 apps at Rs 129 per month. This price is applicalbe as an introductory offer for the first 3 months only i.e., BSNL customers can avail Cinemaplus Yupp TV Scope Services at Rs 129/- per month for the first 3 months.
BSNL YuppTV Scope App Features / BSNL Cinemaplus Features
There are plenty of reasons to choose BSNL Cinemaplus services as compared other OTT platforms / OTT services. The major attraction is the availablility of single subscription plan for all the 4 premium applications and that too at lowest monthly charges. Now let us see what all are the other major attractions of BSNL Yupp TV Scope / Cinemaplus Services.
Live TV Channels : Streaming option for more than 300+ live tv channels is available with BSNL Yupp TV Scope app.
Stream TV Shows & Movies : Choose and stream from 8000+ TV shows & Movies from 10+ different languages.
Stream from Premium Apps with Single Subscription : This streaming service has aggregated TV shows, Movies and more from 4 top streaming services such as YuppTV, Zee5, Sony Live & Voot.
Multiple Device Streaming : Stream through multiple devices without any issues.
Stream from anywhere : You can stream from Desktop / Laptop / Browser, TV, Smartphone with Android or iOS app as well.
Detailed Activation procedure for BSNL Cinemaplus – Yupp TV Scope OTT Services is given below for your quick reference:-
Now let us see detailed procedure to deactivate BSNL Cinemaplus – Yupp TV Scope OTT Entertainment Services. Customers already subscribed to BSNL Cinemplus service may use the following method to deactivate the service which is already active in your BSNL Broadband / BSNL FTTH connection.
BSNL Cinemaplus Service Deactivation Procedure
Open BSNL Cinemaplus Yupp TV Scope Web address (URL) –

https://cinemaplus.bsnl.in/liveyuppott/#plans

There will be two options displayed which are BUY NOW & MANAGE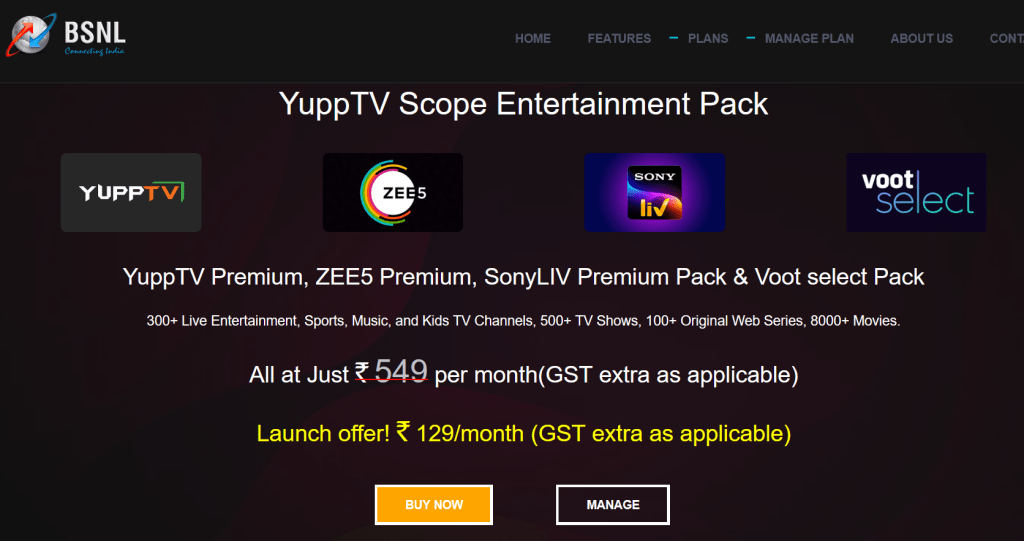 To cancel BSNL Cinemaplus subscription, click on 'MANAGE' button.
Enter your telephone number in the format STD Code – Telephone No. (STD code to be entered with prefix 0)
Select Circle from the dropdown menu / list.
Enter the Code (Captcha) displayed on your screen and click on 'SUBMIT'.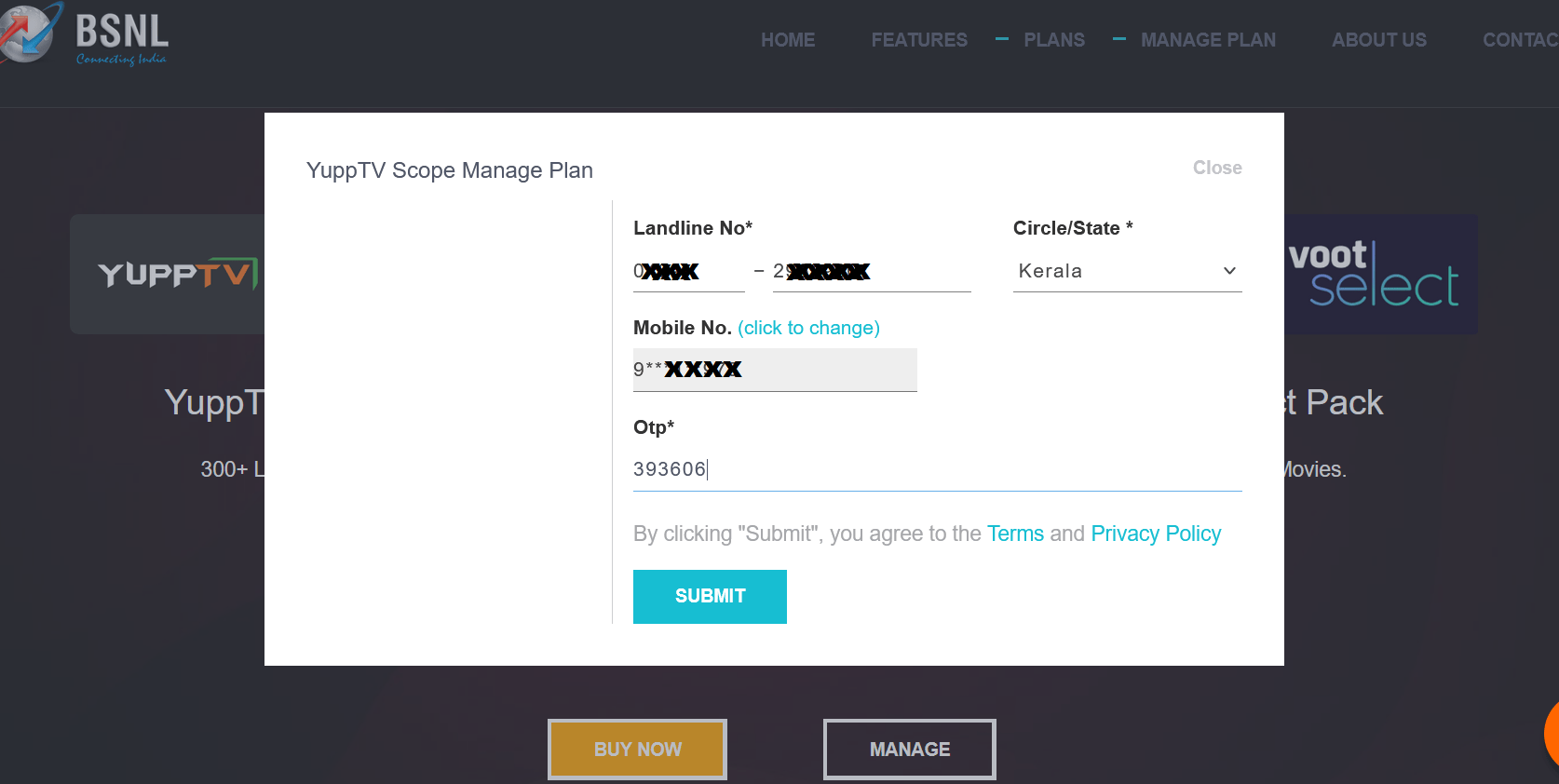 An OTP (One Time Password) will be send to the registered mobile number.
Enter the received OTP and click on 'SUBMIT'.
Then your Subscription Details will be displayed on screen with an option to Deactivate the service.
Now click on 'DEACTIVATE' button
Then another message will get displayed which is nothing but confirmation to deactivate the service. Click on 'Continue Deactivation'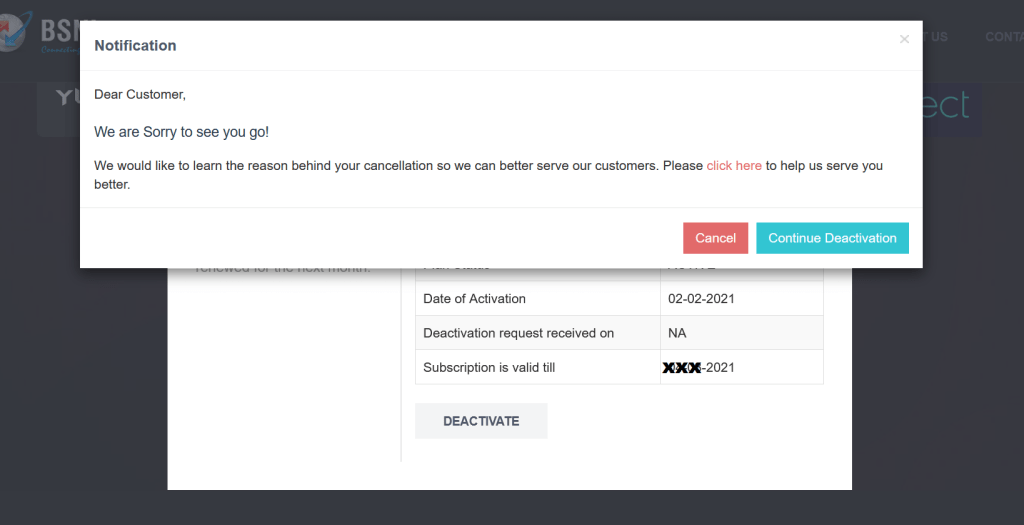 Thats it. You finished deactivation of BSNL Cinemaplus – Yupp TV Scope OTT Service. Now a finaltransaction details will get displayed on screen which will indicate the registered mobile number, reference number, transaction date, subscriber ID and remarks.
BSNL Cinemaplus Yupp TV Scope Customer Support Email Address : [email protected]
Dear readers, how many of you are using BSNL Cinemaplus Services? Whether all premium channels and TV series are available with BSNL Cinemaplus. Please share your valuable suggestions and feedback with us.