Bharat Sanchar Nigam Limited (BSNL) is celebrating it's 21st Anniversary as BSNL Day on 1st October 2021. BSNL – India's first and largest Public Sector Undertaking was formulated on 1st October 2000 by Government of India. The history of Indian telecommunication which began from British India and later developed through Department of Telecommunications (DoT) and finally reached up to BSNL.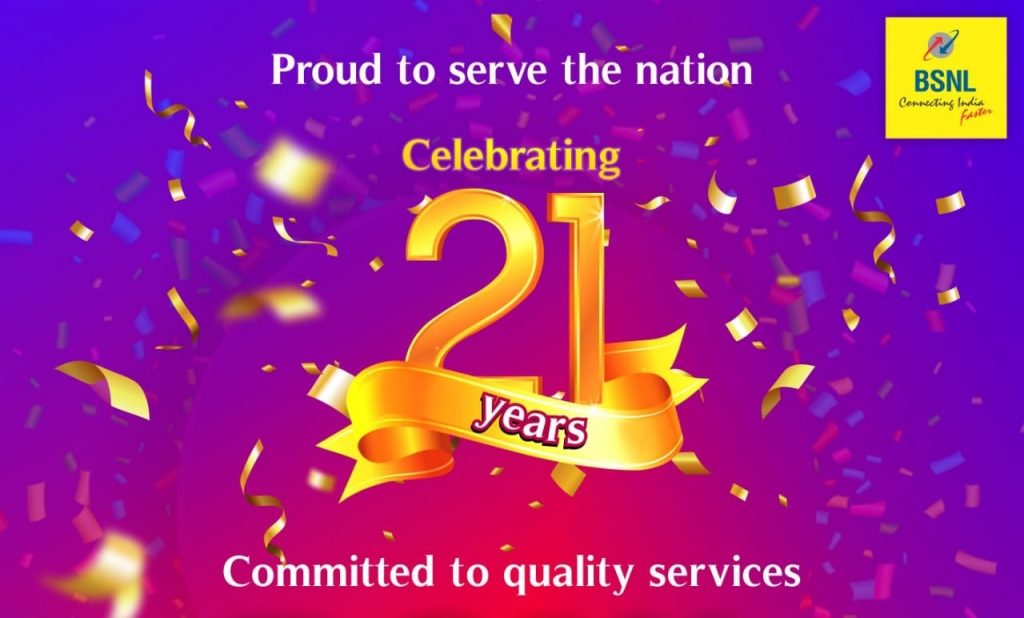 BSNL is the only telecom service provider which is having coverage all over India even in the most remote and rural villages. BSNL connectivity is available in the nook and corner of the country and the same is being used by various security agencies as well as almost all commercial / educational institutions in the country. On the 21st Annual Day celabrations, BSNL CMD (Chairman and Managing Director) Shri. Pravin Kumar Purwar has announced the launch of a bouquet of special initiatives which are primarily focused on improving customer satisfaction.
The major announcements / initiatives launched by BSNL CMD on BSNL Day (on 1st October 2021) are listed below :-
AMOGH (a software tool for monitoring BSNL's Core networks)

Sales Force Automation Solution (SFAS) tool

A New Retail platform for Bulk Push SMS and

Validity Appendment and Revenue Enhancement Platform(VAREP).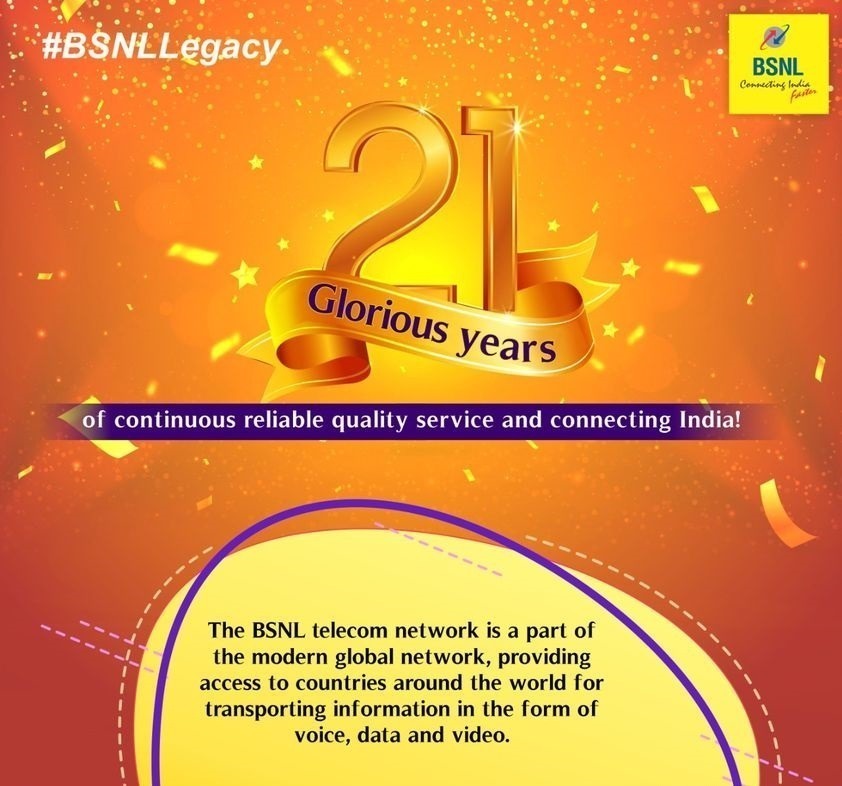 AMOGH – Integrated Software for Effective Network Monitoring
BSNL has developed a centralised IT tool – AMOGH – for the effective monitoring of all core network elements. This new IT tool will help BSNL in identifying and rectifying the faults in BSNL's major network elements. This was mainly focused to reduce the network downtime for BSNL's Enterprise Business customers such as major Banks and Other Corporate firms. This will also help BSNL to reduce the Mean Time To Repair (MTTR) of leased lines and other data circuits by effectively monitoring all the major links and core systems 24×7.
Increasing the Enterprise Business revenue by means of bringing improvement in time taken for commissioning and MTTR of leased circuit in each circle.

BSNL CMD, Shri Pravin Kumar Purwar
EB customers being high revenue paying customers also expect services and faster fault rectification as most of the business depends on it. Proactive monitoring and timely rectification of Transmission faults is needed to improve services in BSNL

Director (Enterprise Business), BSNL, Shri. V Ramesh
Sales Force Automation Solutions (SFAS)
BSNL's newly launched Sales Force Automation Solutions (SFAS) is a new mobile app based software tool to enhance the efficiency of BSNL's Retail Sales Team. With this new mobile app, BSNL can improve their retail sales. There are various tools available in the SFAS system which can also be used to track or monitor BSNL's retail sales team and thereby to increase their efficiency for the benefit of the company. This tool is going to imcrease BSNL's retail sales in mobile as well as enterprise business segment in coming days.
New Retail Platform for Bulk Push SMS Service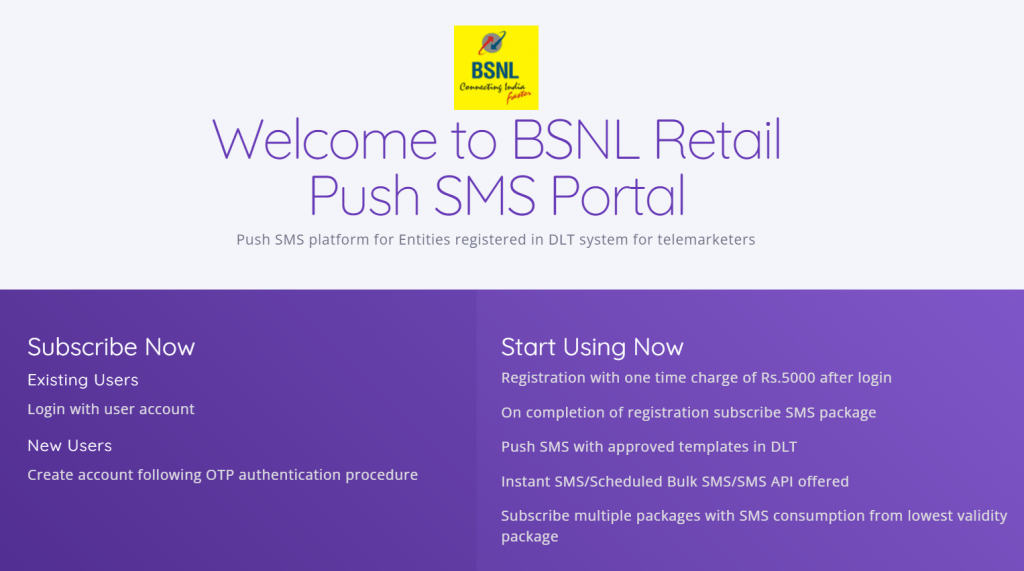 BSNL is going to launch a new retail platform for it's Bulk Push SMS business. The new online platform will be soon available at https://bulksms.bsnl.in/. The new platfor can be used by all the new as well as existing customers of BSNL after it's launch. The new BSNL Retail Push SMS Portal can be used by new customers for registration. There will be an option to make the payment of one time registration charge of Rs 5000/- at the time of login. The new portal will alos offer facilities to customers to purchase BSNL Bulk SMS packs as per their requirement. BSNL also offer API integration with BSNL's Bulk SMS Portal whereby corporate customers can enjoy the facilities through their existing software systems. BSNL Retail Push SMS Portal allows customers to send / schedule SMSs with DLT approved SMS templates. Facility to send instant messages are also there in BSNL's new Retail Push SMS Portal.
Validity Appendment and Revenue Enhancement Platform (VAREP)
BSNL's VAREP – Validity Appendment and Revenue Enhancement Platform will help BSNL prepaid mobile customers to do multiple recharges in advance without the fear of loss of validity of previous recharge. This new plantform – VAREP – will help BSNL to improve sales revenue as customers will be given an option to recharge in advance before the validity expiry date.
Some of the latest BSNL Tariff Updates are listed below for your quick reference:-
Dear readers, please share these newly launched initiatives by BSNL on it's 21st Foundation Day. How many of you are using BSNL Prepaid Mobile Services? Please do share your valuable feedback with us. How many of you have migrated to BSNL FTTH from BSNL Landline Broadband?