Bharat Sanchar Nigam Limited (BSNL) has announced the launch of a new Web Portal – Smart Business Solution 365 ( https://sbs365.bsnl.in/ ) to accept online booking from customers for SIP and EPABX services. This new webportal is now available to customers for online booking of SIP service requirements. The new Enterprise Office solution SBS365 is providing SIP-based Next-Generation Enterprise Voice & Data Solution to meet Enterprise requirements of high volume, high call rate, voice communication over secured MPLS VPN network.
Customers can book for new SIP and EPABX requirement by filling their contact details in the form provided on the homepage of https://sbs365.bsnl.in website. BSNL's dedicated lead management Team at Jaipur and Chennai will reach-out to customer to explain technical and commercial details of service offering. After taking customer confirmation of requirement, lead is passed on to corrsponding circle / business area for final execution. BSNL being leading Telecom Service Provide has pitched SIP Trunk service as a Next Generation Enterprise Business Trunking Solution to meet Enterprise requirement of high volume, high call rate, voice communication over secured MPLS VPN network. SIP Trunk target niche are Call Centres, Telemarketers, Out Bound Dialling Service Operators, Software as a Service providers, Institutions, Government Organisation, Banking, Customer Support Centres etc.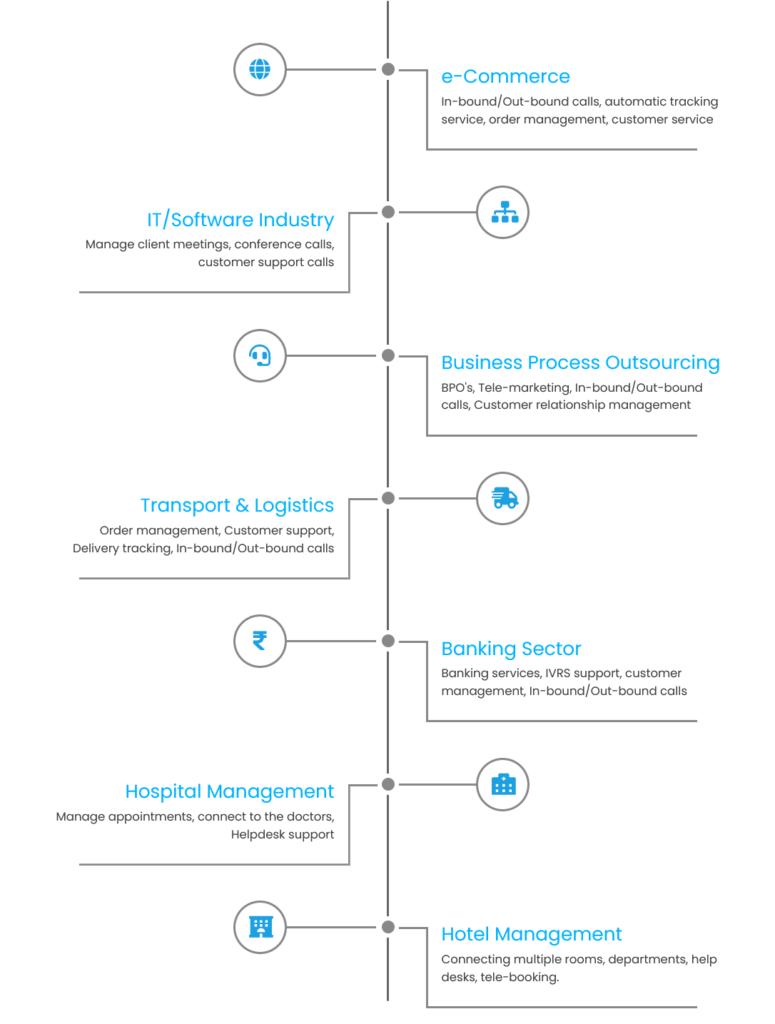 SIP Trunk Services
SIP(Session Initiation Protocol) is an application layer protocol that lets you run your telephone phone system over an internet connection instead of traditional phone lines. Trunking refers to the backbone of phone lines used by multiple users that connects to a telephone network. SIP Trunks provision Voice over Internet Protocol (VoIP) connectivity between an on-premise phone system and the public switched telephone network, also known as PSTN. For instance, an office might have an existing PBX for phone service. SIP trunks provide phone service for the entire office so they can reach the outside world.
SIP was embraced by the open-source community and acted as a catalyst for commercial phone service. Also, SIP's capabilities extend beyond phone service, into broader messaging functions. An excellent SIP trunking service lets you use your existing PBX equipment to transition into an internet-powered telephone network. And that's not all: you can also use a SIP phone as part of your unified communications system. You can synchronize all your communication channels in real-time. This way, you'll enhance productivity, collaboration, and efficiency across your company.
What is SIP Trunking Used For?
The main role of SIP trunking is to replace PRI technology. PRI (Primary Rate Interface), has been used for decades to deliver lines of voice and data using physical copper / optical fiber cables. Essentially, it's a bundle of analog phone lines put together. PRI can be costly to maintain since the hardware is becoming outdated rather quickly. SIP trunking uses VoIP technology. SIP also supports other data like instant messages and video conferencing. SIP trunking is the right choice for any office, who is ready to move their business communication on a light budget.
Salient features of BSNL SIP Trunk Services
Highly scalable, reliable, secured, future ready pan India Enterprise Unified Communication
Best Voice Quality support over G.711 codec. Additional codec support G.729 and AMR
Supports RFC2833 DTMF Transcoding for IVRS application
Surrogate Registration for PBX not supporting SIP registration
Geographical Redundancy
Redundant Network Gateways
IP Multimedia Subsystem (IMS) standard compliant
Scalability from 50 to 1000 concurrent calls on Single SIP Trunk (Fibre) with 50 to 999 DIDs without any additional CAPEX
Service provided over highly reliable, secured and proven State of Art Gold Class MPLS VPN
Service delivery over end to end high speed IP enabled, secured, MPLS fibre network
Highly attractive tariff package with flexible pulse rates and payment options
Customer Requisites for SIP Trunk Services :
IP PBX or Call Managers Supporting SIP with SIP registration and SIP Digest Authentication
EPABX (Electronic Private Automatic Branch Exchange)
A private branch exchange (PBX) is a telephone exchange that serves a particular business or office, as opposed to one that a common carrier or telephone company operates for many businesses or for the general public. PBXs are also referred to as PABX – private automatic branch exchange and EPABX. The EPABX may be defined as a switching system that makes available both internal and external stitching functions of any organisation. The selection of an EPBAX system has to be done after analysing the calling pattern of the office. By using an EPABX both the internal and external needs of the organisation are fully served. The electronic private automatic branch exchange (EPABX) is equipment that has made day-to-day working in the offices much simpler, especially in the area of communication.
More Offers yet to come from BSNL for Corporate Enterprise & MSME Customers !
BSNL has also decided to launch special MSME plans bundled with Cloud based Voice PBX services and Unlimited Centrex calling facility. Proposed plans will also offer Cloud based productivity tools and Toll Free Number at special discounted rate. BSNL's MSME plans will offer Free SIP channels for voice calls, Web conferencing solutions, Digital Assistant, Digital extensions and many other attractive add-on benefits which are essential for a business firm. Stay tuned, we will be updating detailed information about these new MSME plans from BSNL very soon.
Dear readers, please share this latest news about BSNL's new Webportal SBS365 among all your firends and relatives who wish to avail Corporate Voice Solutions from BSNL. Also share your valuable feedback about BSNL's Enterprise Business Solutions.