BSNL has launched a new mobile app for it's customers all over India. The newly launched mobile app is named as 'BSNL Selfcare' which can be freely downloaded from Google Play Store or Apple Store. As per the latest information, this newly launched mobile app – BSNL Selfcare – is very much handy to all BSNL customers to know details about their prepaid mobile plans, main account balance, plan validity, latest offers etc.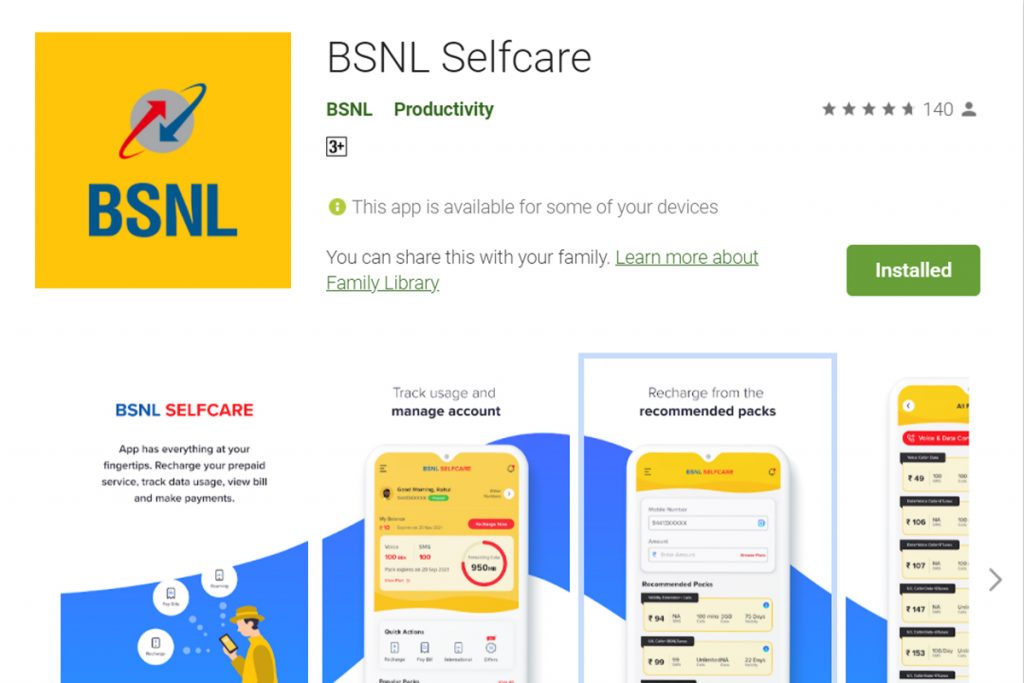 BSNL Postpaid mobile customers are also benefited with this newly launched BSNL Selfcare mobile app since this app allows hassle free bill payment facility. In addition, BSNL mobile customers may also check their existing tariff plan, available packages, total free data included in existing plan, total data usage, remaining data etc. also with BSNL Selfcare mobile application. At present, 'BSNL Selfcare' app provides facilities to it's mobile customers only. BSNL prepaid as well as postpaid mobile customers can download this new mobile app from play store. BSNL customers can get control of all BSNL Mobile services conveniently at a click of your finger with 'BSNL Selfcare' mobile app.
Features of 'BSNL Selfcare' mobile app
The major thing is the newly launched app has a nice user interface which is absolutely superb as compared to all other mobile apps launched by BSNL so far. Now let us explore the various facilities available in BSNL Selfcare app. The menu bar shows the following options in BSNL Selfcare mobile app.
BSNL Selfcare mobile app – Menu Options
Bill Pay

Recharge

Manage Accounts

Transaction History

Special Offers

Help & Support

BSNL Rewards

Language

Settings

Logout
How Can I download BSNL Selfcare mobile app?
'BSNL Selfcare' mobile app is launched by BSNL for it's mobile customers. For android mobile phone users, the app can be downloaded from Google Play Store whereas the same will be available for iphone users in Apple Store. Search for BSNL Selfcare in Google Play Store or Apple Store and tap to download and install the app on your mobile handset.
Android Mobile Compatibility : Compatible for Android versions 5 and above.
iOS Compatibility : Compatible for iOS versions 11 and above.
Is there any cost for downloading the BSNL Selfcare App?
The BSNL Selfcare app is absolutely FREE to all BSNL customers. The only thing is, customers need to have an active internet plan to download the app from app store.
Can I use BSNL Selfcare App on Non-BSNL mobile?
Yes. BSNL Selfcare app works across all operators. However, in case you are using the application on a non-BSNL mobile, to enjoy the BSNL services on BSNL Selfcare App you must link with any of the BSNL mobile number.
What type of Services I can avail through BSNL Selfcare mobile app?
For Postpaid Mobile Customers
View Bill (Unbilled & Outstanding Amount
Data Usage
Pay Bill
Download Bill
Download Payment Receipt
For Prepaid Mobile Customers
View Plan
View Plan Usage Details
Recharge any prepaid plan
Browse Recharge plan based on the category
Download recharge receipt
BSNL Selfcare App User Registration : How can I register in BSNL Selfcare mobile app?
After downloading the BSNL Selfcare app, BSNL Customer can login to the mobile app in two of the following ways.
Registration

Login with OTP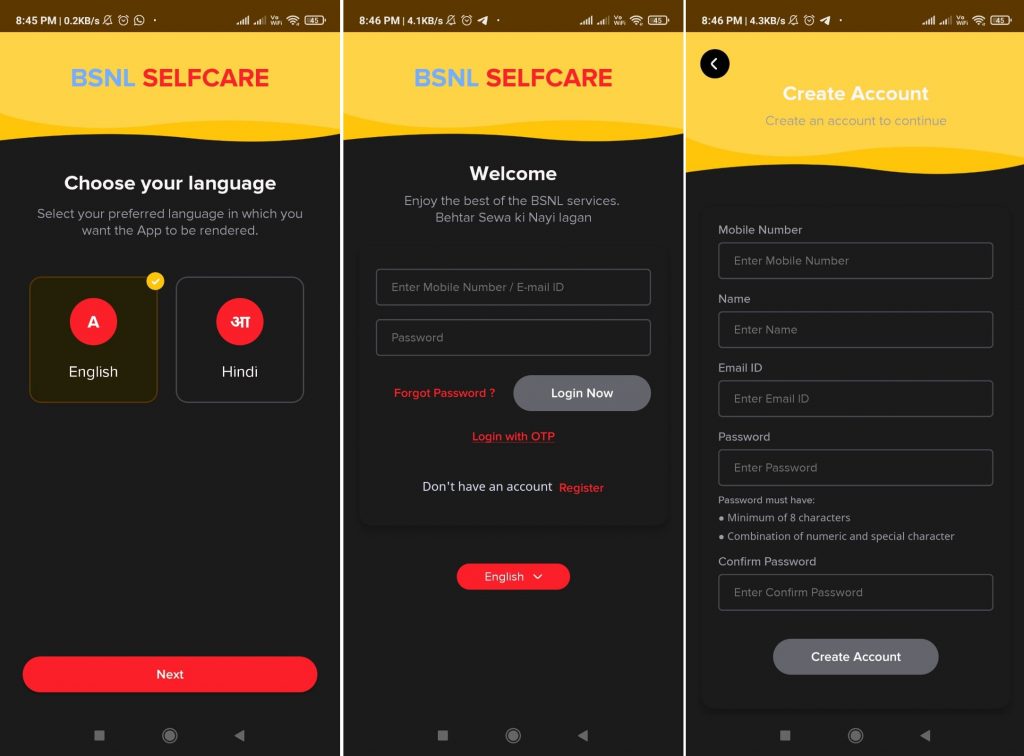 How Can I Topup my BSNL Prepaid Mobile?
The process is very simple and easy with BSNL Selfcare app. Click on Recharge Now on the Home Page of the app. Select your plans from the Browse Plans link. Check plan details. Select the plan or topup. Then you will be redirected to payment desk for completing the payment process. After completing the payment an acknowledgement will be sent through SMS.
How do I avail the special offers for my prepaid mobile?
You can avail special offers as andwhen BSNL announces. You can check the offers by selecting 'Special Offers' option in the Home Page and side menu.
How can I know all about various 4G/3G/2G data packs for my BSNL prepaid mobile?
You can check all available recharge packs including 4G/3G/2G data offers in BSNL Selfcare app from the Recharge option in Home Page or in side menu. To get details, you need to enter your BSNL prepaid mobile number and then click on 'Browse Plans' link provided in the page.
How can I pay my BSNL postpaid mobile bills using BSNL Selfcare app?
BSNL Postpaid mobile bill payment also can be done easily with BSNL Selfcare app. For that, you need to click on 'Bill Pay' option on the Home Page or in Side Menu. Then enter the BSNL Postpaid mobile number or account number to fetch latest bill details. BSNL Selfcare app will fetch the amount to be paid for you or you can enter the amount you would like to pay. After that, click on Quick Pay and app will be redirected to the bill payment desk. After successful payment, an SMS acknowledgement will be sent from BSNL.
How can I view the outstanding bill amount for my BSNL postpaid mobile?
To know your outstanding bill, just login through your postpaid mobile number. The app will show the outstanding bill amount on the Home Page dashboard.
Enahanced Security with Fingerprint Authentication
BSNL Selfcare mobile app allows enhanced security to users via Fingerprint authentication. With this, ay unauthorised access to the app can be avoided and thus BSNL Selfcare app gives you the peace of mind regarding it's security features.
How to edit Profile in BSNL Selfcare app?
You can click on either your Profile Picture on the Home Page or in the Side Menu bar. Then click on Edit Profile. Now you can change your profile pic or edit your details. Aftet that, just click on the Save button on top right of the page.
How to change the App language?
BSNL Selfcare app is available in two languages – English & Hindi. Customers can change language preference by going to the side bar menu and selecting the Language Option. Or else, you can go to profile page and click on language change icon. Then app will ask you to choose the language you want. After selecting the language, the app will render in the language you have selcted.
Some of the latest Tariff Updated are summarised below for your quick refernce:-
Dear readers, please share this latest information about this newly launched BSNL Selfcare mobile app among all your friends, relatives and BSNL fans. How many of you are using My BSNL App to manage services / bill payment? Please do share your feedback about this newly launched app via comments with us.