Bharat Sanchar Nigam Limited (BSNL) has announced the revision in tariff plans for Pull SMS Service (SMS Long Code). Long Code is a 10 digit number like a normal mobile number used for P2A (Person To Application) messaging. The PSU has released four new tariff plans with effect from 6th September 2021 onwards across all the telecom circles. BSNL Pull SMS tariff plan starts at just Rs 1000/- which allows 30,000 free incoming SMS.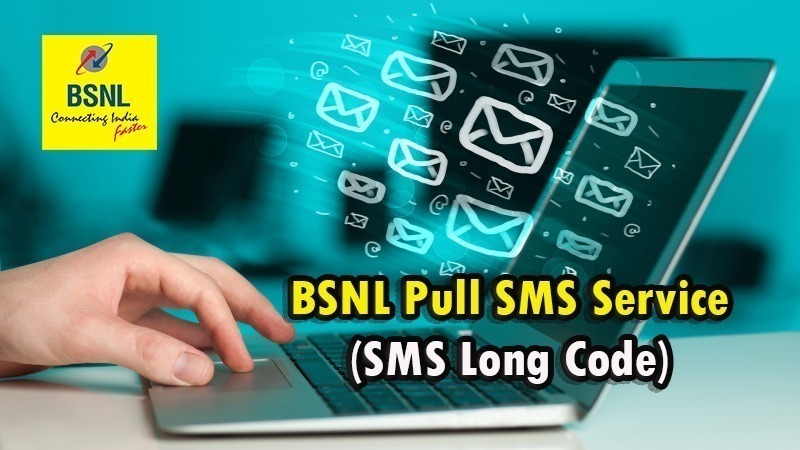 What is actually Pull SMS Service? We all are familiar with Bulk Push SMS Service and daily we are getting transactional as well as promotional SMS from various Banks, Insurance Agencies, Super Markets, Retail Chain networks, etc. which is actually Push SMS service. The one which you pushes from your software or online dashboard to your customers or target mobile users is Push SMS Service. It can be either promotional SMS or Transactional SMS. The reverse is the case for Pull SMS Service. In Pull SMS Service, one can manage to receive the incoming messages for different services on a single number using a keyword. Pull service is commonly classified as short code service and long code service. Now let us check the latest BSNL Pull SMS (Long Code) tariff plans.
BSNL Long Code Service (Pull SMS Service) Revised Tariff (As on 06-09-2021)

Plans available across all the telecom circles

Plan

Monthly Rental per Long Code

FREE Incoming SMS

Rate / SMS (After FREE SMS)

LC_1000

1000/-

30,000

2.00 paisa / SMS

2000/-

1,00,000

1.50 paisa / SMS

LC_3000

3000/-

1,50,000

1.40 paisa / SMS

LC_5000

5000/-

2,50,000

1.30 paisa / SMS
Note:
The above charges are exclusive of GST.
Outgoing SMS from the Long Code is not allowed.
Cost of end user to send SMS to a Long Code applied as per the SMS plan he/she have.
The above tariff will be applicable with effect from 06-09-2021 across all the telecom circles. Long Code can be issued various Business Firms or Companies or Enterprise Business / Corporate Customers. Interested customers can purchase Long Code from any of the telecom circles of BSNL. Each telecom circle can auction Vanity Numbers as Long Code to prospective bidder/customer.
What is Long Code SMS Service (Pull SMS Service)?
Pull SMS is the backbone for Leads Generation business. This is the best lead generation tool as it works for 24×7. As we said, Long Code is just a 10 digit mobile number which is used to get incoming SMS from customers. P2A Messaging is the process of sending messages from a mobile user to an application. It is also referred to as Mobile Originated (MO) messages. Long Code mobile number is also called a "Virtual Mobile Number" as the number is not physically connected to a mobile handset. Instead of a mobile handset, all incoming messages to that number will be routed to application software for processing.
Keywords for Long Code Service
Multiple Keywords can be created for a single Long Code as per customer requirement. When an SMS from a mobile user reaches the application based on Keyword, the application can have an option to reply using Bulk Push Messaging Service.
Example :- Send message from your mobile with Keywords <BALANCE> , <ACCOUNT> etc to a Long Code Mobile Number <9447xxxxxx> of a Bank to get your Bank Account Balance.
Recieve SMS from Anywhere in the World with BSNL Long Code Service
With BSNL Long Code Service, enterprise business customers / companies can receive SMS from anywhere in the world like an ordinary mobile number. Long Code Service can be used by Banking and Financial Institutions for transactions, Educational Institutions to know exam results of students, Poll Surveys, Multi Recharge Companies, Electricity DISCOMs (Electricity Distribution Companies), Sharemarket Tips, Customer Feedback, Cutomer Poll by Television Channels etc.
How Can I Avail BSNL Pull SMS Service?
Business Firms / Units can directly contact Enterprise Business Units of your concerned BSNL Office. In addition, you may also book BSNL Pull SMS Service Online via BSNL Corporate Website www.bsnl.co.in. Just submit your order for BSNL Pull SMS Service via URL – https://ebportal.bsnl.in/WebUserSpace.jsp
Dear readers, please share this latest tariff for BSNL Pull SMS Service among all your friends and relatives. How many of you are familiar with BSNL Push SMS / Pull SMS Service? Please do share your valuable feedback as comments below.