BSNL Kerala Telecom Circle today crossed a historic landmark in total number of Bharat Fiber (FTTH) customers. As per the latest information, the total number of BSNL Bharat Fiber (FTTH) customers in Kerala Telecom Circle is 3,00,423 on today, 1st September 2021. Major contributors are Calicut, Ernakulam and Kollam Business Areas of BSNL.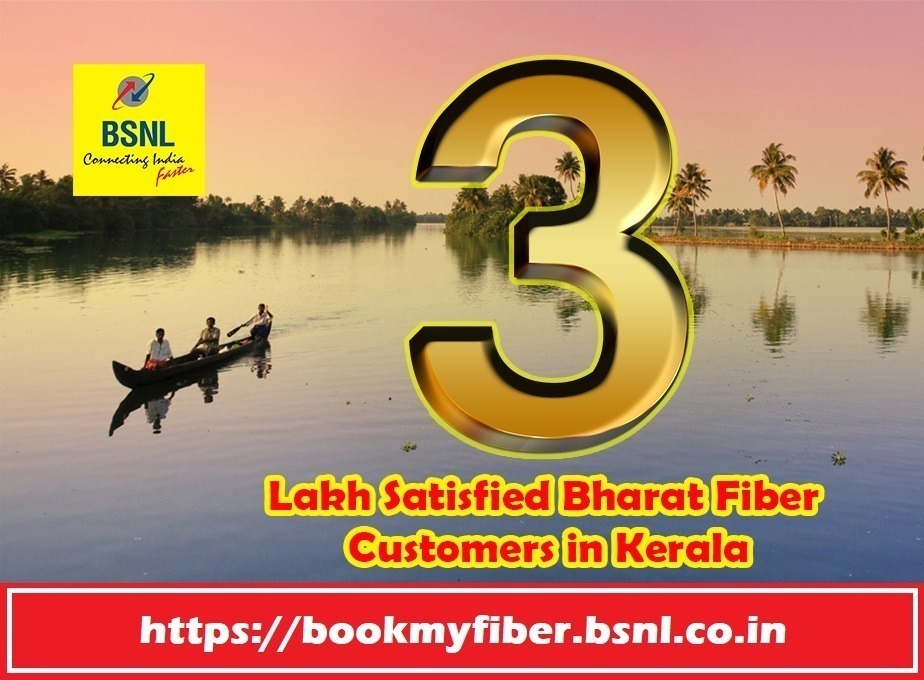 BSNL Bharat Fiber (FTTH Broadband) Internet connections are now being provided with the help of Local Cable TV Operators (LCOs), Musti System Operators (MSOs) and Telecom Infrastructure Providers (TIPs). BSNL has already made revenue share agreements with cable TV operators in almost all areas and hence BSNL FTTH connections are available everywhere in the country even in the most rural and remote villages.
BSNL Kerala Telecom Circle : Total No. of Bharat Fiber Connections As on 1st September 2021

Total No. of BSNL Bharat Fiber (FTTH) Connections

Calicut

43,864

Ernakulam

41,420

Kollam

32,664

Kannur
31,145
Kottayam
23,984
Thrissur
23,440
Palakkad
22,546
Alappuzha
21,953
Trivandrum
20,943
Pathanamthitta
20,182
Malappuram
18,282

Total

3,00,423
Total number of BSNL FTTH connections in Calicut (Kozhikkode) is 43,864 which is followed by Ernakulam (41,420), Kollam (32,664) and Kannur (31,145). Malappuram and Pathanamthitta Business Areas are at bottom positions with total connections of just 18,282 and 20,182 respectivley. Out of the total 11 Business Areas, all 10 business areas crossed 20,000 customer base except Malappuram. The performance of BSNL Calicut Business Area is really wonderful and they could achieve the No.1 position in total no. of FTTH provisions in the entire BSNL for the last couple of months.
BSNL Bharat Fiber (FTTH) – The Most Stable and Secured High Speed Fiber Broadband Connectivity
BSNL Bharat Fiber (FTTH) connections are simply superb in terms of performance and customer satisfaction. BSNL could offer the promised download and upload speed – not just the promised speed – even higher than the promised speed at most of the times and even during peak hours. This is the only reason behind this wonderful achievement made by BSNL during these pandemic period. Now every household require a stable and fast high speed broadband internet connectivity which is essential for Online Classes, Work From Home, Online Business, Audio and Video Conferences etc. With BSNL's most economical pocket friendly FTTH plans, customers can enjoy 4K UHD streaming, Live Videos and Online Gaming without any interruptions.
BSNL Bharat Fiber Plans starts at just Rs 399/- per month !
BSNL FTTH plans are now the most populat fiber internet plans currently available in the country. BSNL launched promotional Fiber Experience Plan 399 which offer 30Mbps download speed till 1000GB and 2Mbps beyod 1000GB. All BSNL Bharat Fiber (FTTH) plans are bundled with Free Voice Calls to Any Network without any additional cost. In addition, BSNL also offer Free OTT subscription with selected FTTH plans where customers can enjoy Diney+Hotstar Premium Subscription absolutely FREE!. BSNL launched FREE Installation Offer till 2nd November 2021 for new FTTH, Air Fiber, Landline and Broadband Connections so it is the best time to get your BSNL Bharat Fiber Connection.
Migration of Private ISP connections to BSNL FTTH
There is one more reason for this sudden spike in BSNL FTTH connections in Kerala. Earlier, customers were taken fibernet connections from private ISPs like Kerala Vision, DWan, Alliance, Asianet etc. Now, such customers started migrating to BSNL FTTH becuse of the superior performance of BSNL FTTH as compared to any other private ISP. BSNL is the only ISP who could satisfy the ever increasing demand from customers for high speed data.
Migration of BSNL Landline Numbers to BSNL FTTH
Now, BSNL allows their existing Landline or ADSL Broadband customers to migrate to Bharat Fiber (FTTH) by retaining their old landline number. This facility is now extended to more and more exchange areas in Kerala Circle. After the introduction of this scheme, a large number of disconnected landline / broadband customers joined BSNL family by activating their old landline number via FTTH. So if you are facing any service related issues in your BSNL ADSL Broadband (Broadband connection provided over Copper Cable pair), you can simply upgrade to BSNL FTTH without changing your existing number.
Dear readers, please share your views and opinions about this remarkable acheivement made by BSNL Kerala Circle via comments with us. How many of you have already shifted to Bharat Fiber (BSNL FTTH) from your private ISP? Please do share your feedback with us.