Bharat Sanchar Nigam Limited (BSNL) has decided to slash SMS charges for it's eSIM / M2M SIM cards across all the telecom circles with immediate effect. As per the latest information, there will be 66.67% reduction in the existing SMS tariff for BSNL eSIM customers. The reduction in SMS charges is applicable to both Onnet (BSNL Network) and Offnet SMS (Other Network) beyond the subscribed tariff plan.
As we reported on 2nd August 2021, BSNL introduced two new additional eSIM tariff plans for IoT and M2M applications with monthly charge as low as Rs 15/- per eSIM. The base SMS tariff i.e., the SMS charges after freebies in the selected eSIM plan was published as 15ps/SMS (To BSNL and Other Network numbers). Now, BSNL authorities has decided to revise this SMS base tariff as 5ps/SMS to BSNL and 10ps/SMS to Other network. Which means, after exhausting the SMS freebies in the subscribed eSIM / M2M plan, a customer need to pay just 5ps/SMS (To BSNL) or 10ps/SMS (To Other Network).
An Official Statement from BSNL regarding this latest tariff revision for eSIM / M2M SIM plans read as follows:-
Following is the tariff for Add-on On-Net SMS Packs:
New SMS Add-On Packs for BSNL eSIM / M2M IOT SIM Cards

(New SMS Plans applicable across all telecom circles for 13 Digit M2M SIM Cards)

Pack Name

Free On-Net SMS
Add-On Pack Rate per SIM per Month (In Rs)

IOT SMS1

500
12.50
1000

20.00

IOT SMS3

2000

25.00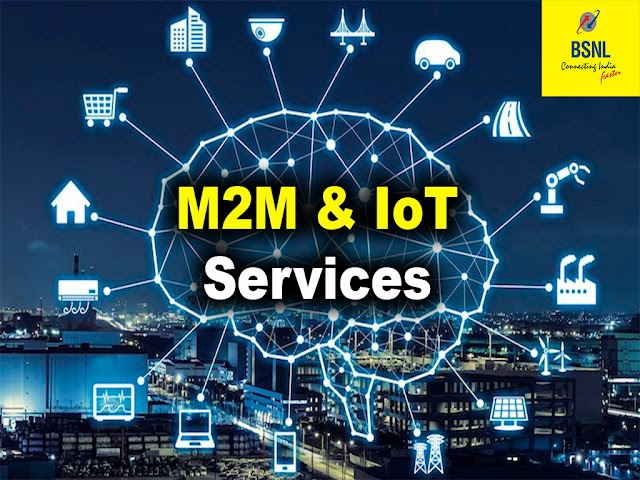 Modified Additional SMS Charges (in BSNL Area) shall be as under:
BSNL M2M / IoT Service – Additional Usage Charges After Free Usage in BSNL Area

Data Charges after free usage
1 paisa / 10KB for Home LSA and National Roaming

SMS Charges after free SMS limit

REVISED

On-Net SMS Charges
05 paisa per SMS

REVISED

Off-Net SMS Charges
10 paisa per SMS
Outgoing Voice Calls (On-net & Off-net)
30 paisa per 60 sec
Incoming Voice Calls (On-Net & Off-Net)
FREE
Applicable GST shall be charged Extra. All other terms and conditions will remain as per the old tariff update. <<Click Here For Details>>
BSNL eSIM for IoT/M2M Applications
IoT / M2M services are those which require communication between two or more devices (machines) without the intervention of a human. It is the backbone of the Internet of Things (IoT) and which needs connectivity from telecom service providers for this communication to happen. M2M / IoT services are the future revenue opportunities for telecom service providers and hence TRAI implemented a dedicated 13-digit numbering pattern for M2M services. Here telecom service providers will provide backhaul connectivity to the application servers of M2M / IoT service providers and actual services are being offered by M2M service providers to their end customers. Most of the major telecom service providers (TSPs) started signing agreements with M2M / IoT Service Providers who in turn will provide services to end customers using the connectivity provided by TSPs.
BSNL will be providing two types of SIM cards for M2M / IoT applications depending on the customer requirement / application.
Normal SIM (Physical SIM)

eSIM (SIM embedded in M2M smart devices)
Cost of M2M SIM Cards : Physical SIM cards will be issued at Rs 10/- per SIM card whereas e-SIM cards are absolutely FREE.
Recent Tariff revisions for BSNL eSIM plans for M2M/IoT Applications are listed below for your quick reference:-
How Can I Avail BSNL eSIM ? or BSNL IoT SIM Card or BSNL M2M 13 Digit Mobile Connection?
Small & Medium Business Units including Corporate firms are using BSNL's MPLS backbone network for connectivity. Those who are interested to avail BSNL eSIM cards may contact BSNL Enterprise Business Unit of your area. Business establishments / corporate customers may also register online via BSNL Official Website – www.bsnl.co.in. The url for registarion of BSNL's Enterprise Business / Corporate Services is https://ebportal.bsnl.in/WebUserSpace.jsp
Dear readers, please do share this latest news about BSNL's Next Generation IoT Services (eSIM / M2M SIM Cards) among all your firends and relatives. How many of you are familiar with BSNL M2M SIM Cards (13 Digit Mobile Connections).?