Department of Telecommunication (DoT) has allocated additional 13 digit M2M numbering series to BSNL to cater the increasing demand for IoT applications. As per the latest information, DoT access service wing has approved the request from the state run telecom operator – BSNL for opening additional 13 digit numbering series in Andhra Pradesh and Tamilnadu (Including Chennai) LSAs (Licenced Service Areas).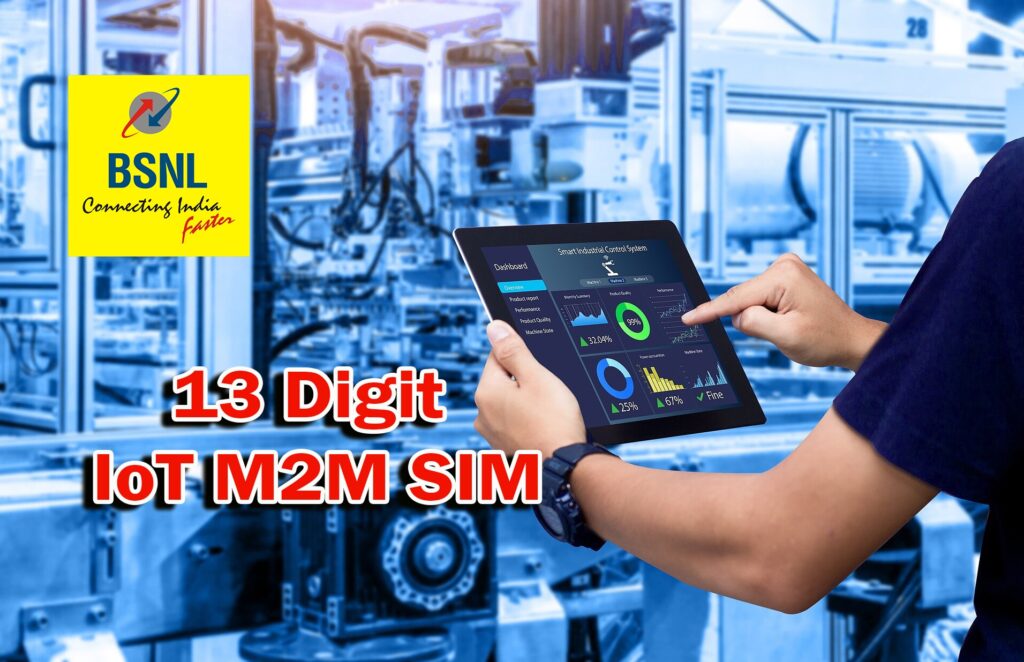 Now, BSNL can issue 1 lakh additional M2M 13 digit mobile numbers to it's corporate enterprise customers in both Andhra Pradesh and Tamilnadu (Including Chennai) telecom circles. For those who unaware, 13 digit mobile numbers are used by telecom operators to provide eSIM cards for IoT (Internet of Things) and M2M (Machine to Machine) applications which include – Smart Vehicles (Connected Vehicles), Vehicle tracking, Smart meters, Data aquisition sensing, PoS – swiping machines, Smart Advertisement Panels, Automatic Demand Management etc. In India, DoT allocated M2M numbering series to BSNL for the next generation IoT applications.
An official statement in this regard read as follows:- In consideration to the request of BSNL for allocation of additional a lakh 13-digit M2M numbering series in Andhra Pradesh and Tamil Nadu LSAs, DoT has decided to allocate the following 13-digit M2M numbering series.
New 13 Digit M2M Numbering Series Allocated to BSNL

Country Code

[2 Digits]

M2M Identifier

[3 Digits]

Licencee Identifier

[4 Digits]

(10000 blocks)

Device Number

[6 Digits]

(1 Lakh)

LSA Allocated

91

575

2005

1xxxx

Andhra Pradesh

575

2185

1xxxxx
Tamilnadu (including Chennai)
DoT has instructed BSNL to issue only 13 digit mobile numbers to new clients requesting M2M / IoT applications. DoT has also instructed all access service proders to open the newly allocated 13 digit M2M series in all local exchanges, TDM TAX, IP-TAX, Soft Switches, Mobile MSC, GMSC and NGN switches under their jurisdiction.
BSNL M2M / IoT SIM Cards
IoT / M2M services are those which require communication between two or more devices (machines) without the intervention of a human. As we reported in last month, BSNL launched new exclusive eSIM tariff plans starts from just ₹15/- for new as well as existing corporate customers. Enterprise customers may avail eSIM with private APN for IoT (Internet of Things) and M2M (Machine to Machine communication) applications.
BSNL will be providing two types of SIM cards for M2M / IoT applications depending on the customer requirement / application.
Normal SIM (Physical SIM)

eSIM (SIM embedded in M2M smart devices)
Cost of M2M SIM Cards : Physical SIM cards will be issued at Rs 10/- per SIM card whereas e-SIM cards are absolutely FREE.
What are eSIMs?
e-SIMs are embedded in M2M Devices. BSNL will provide soft e-SIM profile, which are subsequently uploaded on physical e-SIMs by the device manufacturers. M2M service provider selects the e-SIM manufacturer on its own. BSNL will supply soft e-SIM profiles to M2M service provider and device manufacturer in turn, burn the e-SIM profile into physical devices and supply it to M2M Service provider.
Dear readers, please share your views and opinions about this latest news via comments with us. How many of you are aware of BSNL's M2M SIM card / eSIM card for IoT applications.