Bharat Sanchar Nigam Limited (BSNL) has announced the launch of new more new eSIM tariff slabs for M2M and IoT connections. As per the latest information, the PSU has introdced two new slabs for number of connections betweeen 1 lakh to 1.5 lakh and for more than 1.5 lakh.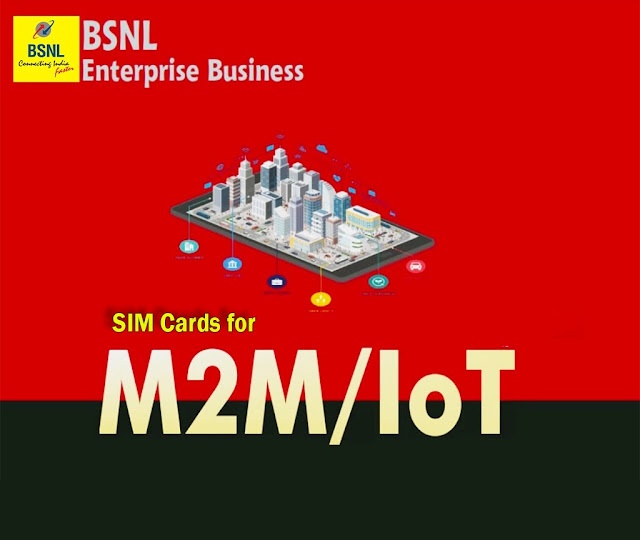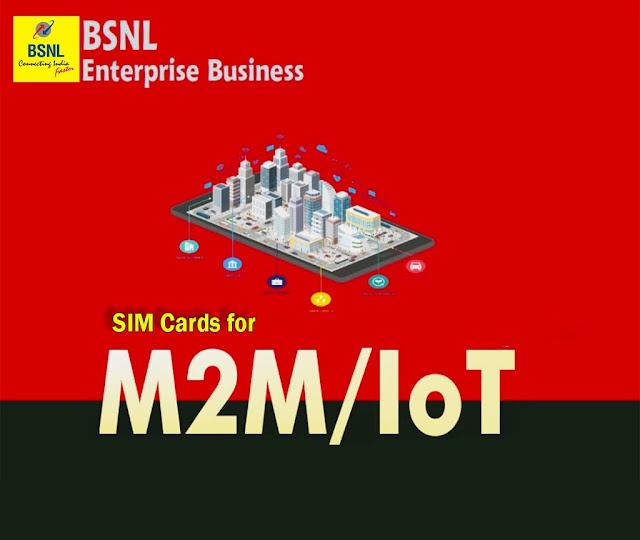 Now, BSNL eSIM tariff plans starts from just ₹15/- per month onwards. BSNL recently revised their eSIM plans by waving off the annual recurring charges for private APN. Enterprise customers may avail eSIM with private APN for IoT (Internet of Things) and M2M (Machine to Machine communication) applications by paying Rs 10,000 as one time charge for each private APN.
BSNL Tariff (Prepaid & Postpaid) Plans for M2M / IoT Services (Prepaid Tariff) – Revised on 30th July 2021

Plan Name

Free Mobile Data Per Month

Free Onnet SMS Per Month

Plan Charge
(Rs per SIM per Month)

10-10,000 SIMs

10,001-50,000 SIMs

50,001-1,00,000

SIMs

1,00,001-1,50,000 SIMs




[NEW SLAB]

More than 1,50,000 SIMS

[NEW SLAB]

A
B
C
D
E

IOT 1

50
20
18
17
16
15

IOT 2

50 MB

100
22
20
18
17
16

IOT 3

100 MB

200
24
22
20
18
16

IOT 4

300 MB

500
31
28
25
22
20

IOT 5

500 MB

1000
35
32
30
27
25

IOT 6

1 GB

1000
62
56
50
45
40

IOT 7

5 GB

1000
100
90
80
70
60

IOT 8

10 GB

2000
150
135
120
105
90

IOT 9

25 GB

2000
200
180
160
140
120

IOT 10

60 GB

2500
250
225
200
175
150

Private APN charges for M2M/IoT Services

One Time Charge for each Private APN
Rs 10,000/-
Annual Recurring Charge for each Private APN
NIL

BSNL M2M / IoT Service – Additional Usage Charges After Free Usage in BSNL Area

Data Charges after free usage
1 paisa / 10KB for Home LSA and National Roaming

SMS Charges after free SMS limit & Off-net SMS
15 paisa per SMS
Outgoing Voice Calls (On-net & Off-net)
30 paisa per 60 sec
Incoming Voice Calls
FREE
The above tariff charges are exclusive of GST. The plan applicable to a customer will be reviewd on month-to-month basis on the number of working connections. All other terms and conditions shall remain the same. The above revised BSNL eSIM plans are applicable with immediate effect from the date of issue of this circular i.e., with effect from 30th July 2021 across all the telecom circles until further orders.
Recent Tariff revisions for BSNL eSIM plans for M2M/IoT Applications are listed below for your quick reference:-
BSNL eSIM for IoT/M2M Applications
IoT / M2M services are those which require communication between two or more devices (machines) without the intervention of a human. It is the backbone of the Internet of Things (IoT) and which needs connectivity from telecom service providers for this communication to happen. M2M / IoT services are the future revenue opportunities for telecom service providers and hence TRAI implemented a dedicated 13-digit numbering pattern for M2M services.
Here telecom service providers will provide backhaul connectivity to the application servers of M2M / IoT service providers and actual services are being offered by M2M service providers to their end customers. Most of the major telecom service providers (TSPs) started signing agreements with M2M / IoT Service Providers who in turn will provide services to end customers using the connectivity provided by TSPs.
Dear readers, please share your views and opinions about BSNL eSIM plans. How many of you are currently using BSNL Mobile Services? Please do share your feedback about service quality.