Bharat Sanchar Nigam Limited (BSNL) has issued a press release today regarding the fake SMS and Voice messages being sent by fraudsters for completing KYC of mobile connections. As per the latest information, such false messages are being received by customers of all mobile operators including BSNL.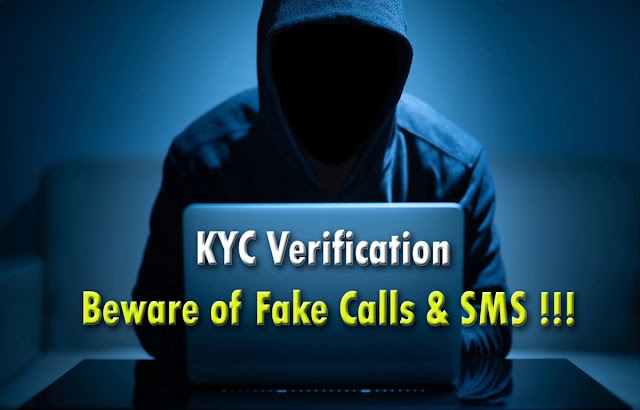 Many incidents were already reported from various parts of country where innocent customers have been deceived by such fraudulent people. The modus of operandi of these fraudsters are the same. In all the cases, customers will receive an SMS regarding completion of KYC of their existing mobile number. Such messages also carry a false warning that the mobile number will be disconnected within 24 hours if KYC is not verified.
We have received an official communication from BSNL Kerala Circle from Deputy General Manager BSNL Trivandrum, which read as follows:-
[Malayalam Version]
PRESS RELEASE IN PUBLIC INTEREST
പ്രസിദ്ധീകരണത്തിന് പൊതുജനതാല്പര്യാർത്ഥം
വ്യാജ SMS/VOICE സന്ദേശത്തിലൂടെ വഞ്ചിക്കപ്പെടാതിരിക്കാൻ സൂക്ഷിക്കുക
വിവിധ സന്ദേശങ്ങൾ അയച്ചു ഉപഭോക്താക്കളെ തെറ്റിദ്ധരിപ്പിച്ചു മോബൈൽ ആപ്പ് ഇൻസ്റ്റാൾ ചെയ്യിപ്പിക്കുകയും അത് വഴി ചെറിയ തുക ട്രാൻസ്ഫർ ചെയ്യാൻ ആവശ്യപ്പെട്ടുകൊണ്ട് അക്കൗണ്ട് ഡീറ്റെയിൽസ് കവർന്നെടുത്തു വൻ തുക കരസ്ഥമാക്കുന്ന രീതി വ്യാപകമായിക്കൊണ്ടിരിക്കുകയാണ്. പുതിയ കണക്ഷൻ ഫ്രീ നൽകിയതായും, നിലവിലെ മൊബൈൽ കണക്ഷൻ ക്ലോസ് ആകുമെന്നും തുടങ്ങിയ തെറ്റിധരിപ്പിക്കപ്പെടുന്ന സന്ദേശങ്ങൾ വഴി വരുന്ന നമ്പറിലൂടെ തട്ടിപ്പുകാരെ വിളിക്കാൻ ഉപഭോക്താക്കളെ പ്രേരിപ്പിക്കുകയും അതു വഴി അവരുടെ നിർദേശങ്ങൾ അനുസരിപ്പിക്കുകയും ചെയ്യുന്നു. കൂടാതെ സ്ത്രീ–പുരുഷ ശബ്ദത്തിൽ ഫോൺ വിളികൾ വരുന്നതും ശ്രദ്ധയിൽ പെട്ടിട്ടുണ്ട്. ആയതിൽനാൽ ഇതു പോലെയുള്ള സന്ദേശങ്ങളും ഫോൺ വിളികളും ഉപഭോക്താക്കൾ അവഗണിക്കാനും അത് പോലെ വ്യാജ സന്ദേശങ്ങളിൽ വരുന്ന ഒരു ലിങ്കുകൾ ഒരു കാരണവശാലും ക്ലിക്ക് ചെയ്യാതിരിക്കാനും ശ്രദ്ധിക്കുക. സംശയദൂരീകരണത്തിനു നിങ്ങളുടെ മൊബൈൽ കമ്പനികളുടെ അംഗീകൃത കസ്റ്റമർ കെയർ നമ്പറുകളിലേക്കു ബന്ധപ്പെടുക
പൊതുജനതാല്പര്യാർത്ഥം BSNL പ്രസിദ്ധീകരിക്കുന്നത്. (BSNL TOLL FREE No.1503). കേരള പോലീസ് സൈബർ സെൽ ഈ മുന്നറിയിപ്പ് മൊബൈൽ ഉപഭോക്താക്കൾക്ക് നല്കിട്ടുള്ളത് ശ്രദ്ധിക്കുക.
Deputy General Manager (HR/Admn)
O/o CGMT BSNL Kerala Circle
Thiruvananthapuram
PRESS RELEASE IN PUBLIC INTEREST
Beware of being deceived by fake SMS / VOICE message
The practice of misleading customers by sending various messages, installing mobile apps and asking them to transfer small sums of money by stealing account details is gaining popularity. Misleading messages such as that the new connection has been given for free and that the existing mobile connection will be closed, prompting customers to call the fraudsters through the incoming number and thereby follow their instructions. It has also been noticed that male and female voice calls are coming. Customers should therefore ignore messages and phone calls like this and never click on links that appear in fake messages for any reason. Contact the authorized customer care numbers of your mobile companies for clarification.
Published by BSNL in the public interest. (BSNL TOLL FREE No.1503) Note that the Kerala Police Cyber ​​Cell has issued this warning to mobile users.
Deputy General Manager (HR/Admn)
O/o CGMT BSNL Kerala Circle
Thiruvananthapuram
Kerala Police Facebook Post Regarding KYC Fraud
Do Not Respond to Such Fake Calls / SMS
Beware of fraudulent messages / SMS asking you to call any number or offer free mobile data to update your KYC. Do not call or click on any of the links provided in these messages. Do not share personal details with callers from unknown / suspicious numbers. In view of the above, all of our readers are advised not to respond to any of such fake SMS / Voice calls asking for OTP or KYC verification.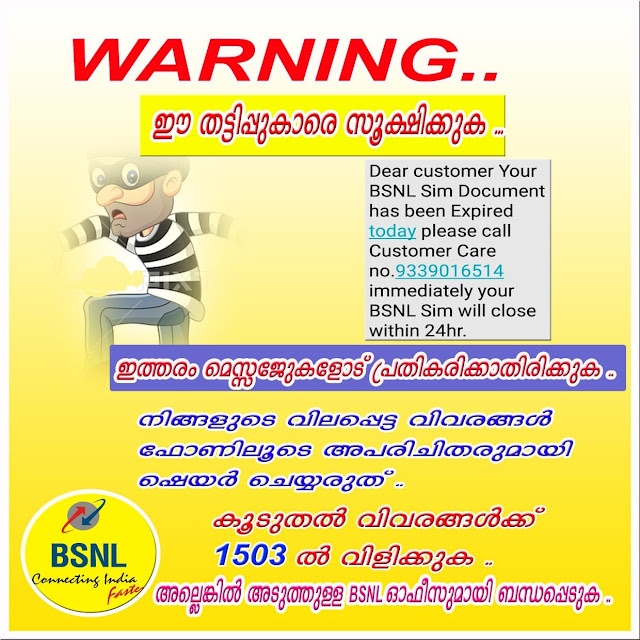 Telecom Commercial Communication Customer Preference Regulation, 2018
Telecom Regulatory Authority of India (TRAI) notified Telecom Commercial Communication Customer Preference Regulation, 2018 dated 19th July 2018 to curb the problem of Unsolicited Commercial Communication (UCC). The objective of the new regulation is to effectively deal with the nuisance of spam experienced by the subscribers. The new system was implemented with effect from 1st April 2021. In this new system, mandatory registration in DLT platform is required to send all commercial communication to their subscribers/prospects. Moreover, the SMS template also need to be registered with telecom service providers. This system will reduce the percentage of SMS frauds since any SMS that is not verified by the telecom service provider will be blocked and not delivered to the customers.
Fraudsters started using Personal Mobile numbers to tackle the issue of SMS Template Registration
It is to be noted that, after the introduction of SMS template system with the help of DLT platform working in block chain technology, fraudsters started to send spam messages from personal mobile numbers instead of SMS headers like – CP-SMSFST, AD-VIRINF, CP-BLMKND, BP-ITLINN etc.
Dear readers, all are requested to share this important information among all your friends and relatives. Fraudsters may ask you to share your Aadhar, PAN or other personal details and we should be vigil not to share our personal information with third parties. How many of you have already recieved such fake calls & SMSs? Please do share your feedback with us.