BSNL has introduced a new facility to it's Bharat Fiber (BSNL FTTH), Broadband as well as Landline customers all over India. As per the latest information, BSNL customers can

pay higher amount than the actual invoice amount online

via

BSNL Payment Portal.
Till now, BSNL customers were allowed to make online payment only for the generated bill amount. Hence customers who wish to pay higher amount than the invoice amount were forced to visit BSNL Customer Service Centre to make advance payment for their BSNL Bharat Fiber (FTTH) or BSNL Broadband or BSNL Landline connection. In order to help customers during these pandemic period, BSNL authorities has introduced this advanced facility where customers can make online payment of any amount which is higher than the invoice amount.
Now let us see how we can pay BSNL Bharat Fiber (FTTH) or BSNL Broadband or BSNL Landline Bill online via BSNL Payment Portal.
How to Pay BSNL Bills Online via BSNL Payment Portal?
Step 1: Visit BSNL Online Payment Portal https://portal.bsnl.in/
Step 2: Select

'Landline'

tab on the top menu.
Step 3: Enter your BSNL Bharat Fiber (FTTH) or Broadband or Landline telephone number with STD code.
Eg:- If your BSNL FTTH Number is 0471-2950000, enter 4712950000.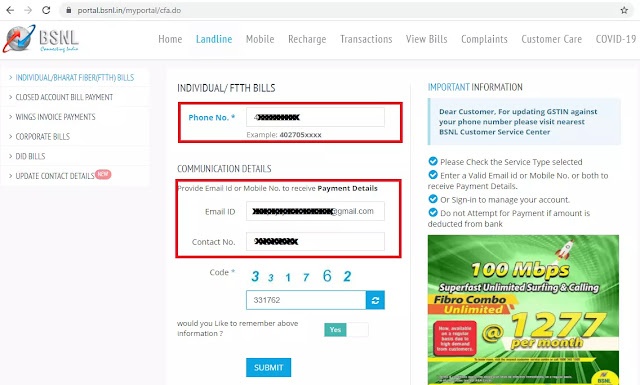 Step 4: Enter Communication Details to receive payment alert/receipt.
Here you need to enter your email address and mobile number. BSNL will send payment receipt to entered mobile number and email address after successful payment.
Step 5: Now enter the code as displayed on screen and click on Submit button.
Step 6: Now you can see your BSNL Bharat Fiber (FTTH) / BSNL Broadband / BSNL Landline Bill details getting displayed on screen. The following details will be displayed on screen for verification.
Customer Name

Bill Amount

Pay By Date

Account Number

Invoice Number

Invoice Date

State/Circle

Contact Mobile number.
Step 7: Now, enter the amount you wish to make payment by correcting the displayed amount at the bottom of the screen. By default, invoice amount will be displayed. If you wish to pay higher amount, just type the desired amount and click on Pay Now button. Here in the above picture, Rs 998/- (Invoice Amount) was displayed by default which is corrected as 2000/-.
Step 8: After that, you can make payment with different payment options like – Debit Card, Credit Card, Internet Banking, UPI Payment etc. Select the appropriate payment method and just complete the transaction.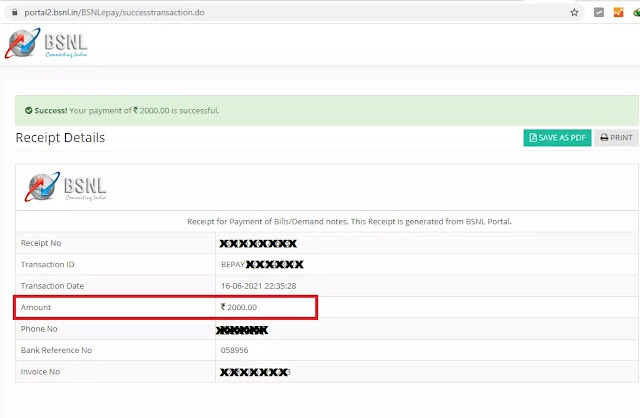 Step 9: After completing the payment transaction, BSNL will issue a payment receipt as displayed in the above picture. Customers can download this receipt in pdf format for future reference.
Pay Higher Amount Online and Forget Non-Payment Disconnection!!!
The main advantage of this facility is that, customers can make advance payment online and avoid issues with non-payment disconnection. Since BSNL services are postpaid, customers need to pay bill amount in time to avoid disconnection.
BSNL's schedule of pay-by-date and dunning for Landline, Broadband & FTTH Customers

Activity

Revised Schedule for bill issue month November 2020 onwards

Invoice Date
3rd Day of Every month

Pay-by-date

15th day from invoice date

Outgoing barring (OGB)

22nd day from invoice date

Incoming barring (ICB)

Permanent Disconnection (PD)

60 days after OGB
BSNL normally issue postpaid bills (invoice) to their Landline, Broadband and Bharat Fiber (FTTH) customers on 3rd day of every month.
As per the revised schedule, pay-by-date will be the 15th day from invoice date. Pay-by-date is the last day upto which a customer can make payment without late fee. All bills paid after pay-by-date will be charged late fee at the rate of 2% of the billed amount.
Outgoing Barring Date (OCB)
As per the revised schedule, BSNL will be barring all outgoing voice calls and Data Services of unpaid customers on 22nd day from invoice date. It means, customers should make their payment before 22nd day from invoice date to get keep their service active. The service (Voice / Data) will be blocked/barred on 28th of every month (i.e., 22nd day after invoice date || Invoice Date is 6th day of every month) for all unpaid customers. During this period, customers may enjoy incoming call facility.
Some of the most important Online Facilities available to BSNL Customers are listed below for your quick reference:-
Dear readers, please share your views and options about this new Advance Higher Payment option via BSNL Payment Portal via comments with us. Please do share this useful information among your friends and relatives using BSNL Services.