Bharat Sanchar Nigam Limited (BSNL) has announced the revision in tariff plans for

eSIM cards

for

IoT (Internet of Things) & M2M (Machine to Machine)

applications. As per the latest information, the PSU has decided to waive off annual recurring charges for private APN.
Earlier, BSNL was offering differential charges for private APN based on the number of eSIM / SIM cards purchased by customer. Now BSNL has decided to charge Rs 10,000/- only for private APN without any additional recurring charges. As per the old tariff plan, a customer need to pay annual recurring charges in addition to one time charge. The revised charges are applicable for all the existing as well as new customers with effect from 2nd July 2021 onwards.
IoT / M2M services are those which require communication between two or more devices (machines) without the intervention of a human. It is the backbone of the Internet of Things (IoT) and which needs connectivity from telecom service providers for this communication to happen. M2M / IoT services are the future revenue opportunities for telecom service providers and hence TRAI implemented a dedicated 13-digit numbering pattern for M2M services.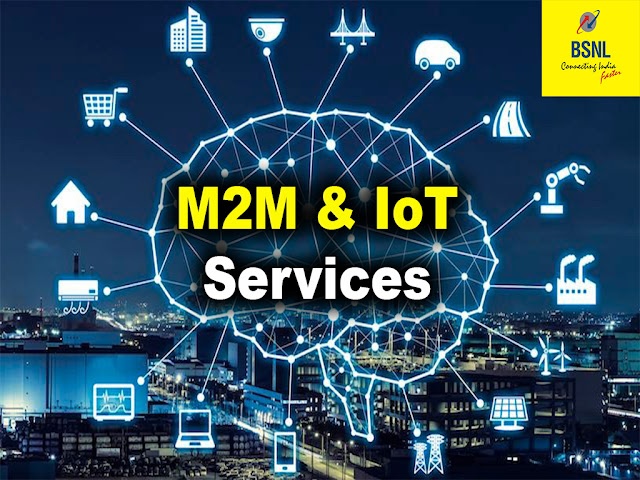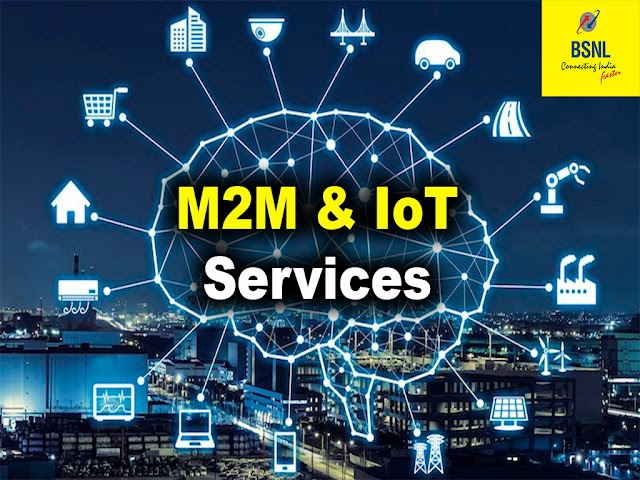 BSNL M2M / IoT SIM Cards
BSNL will be providing two types of SIM cards for M2M / IoT applications depending on the customer requirement.
Normal SIM (Physical SIM)

eSIM (SIM embedded in M2M smart devices)
Cost of M2M SIM Cards : Physical SIM cards will be issued at Rs 10/- per SIM card whereas e-SIM cards are absolutely FREE.
What are eSIMs?
e-SIMs are embedded in M2M Devices. BSNL will provide soft e-SIM profile, which are subsequently uploaded on physical e-SIMs by the device manufacturers. M2M service provider selects the e-SIM manufacturer on its own. BSNL will supply soft e-SIM profiles to M2M service provider and device manufacturer in turn, burn the e-SIM profile into physical devices and supply it to M2M Service provider.
(A) BSNL Tariff Plans for M2M / IoT Services (Prepaid Tariff)

Plan Name

Free Mobile Data Per Month

Free Onnet SMS Per Month

Plan Charge
(Rs per SIM per Month)

10-10,000 SIMs

10,001-50,000 SIMs

More than 50,001 SIMs

IOT 1

50
20
18
16

IOT 2

50 MB

100
22
20
18

IOT 3

100 MB

200
24
22
20

IOT 4

300 MB

500
31
28
25

IOT 5

500 MB

1000
35
32
30

IOT 6

1 GB

1000
62
56
50

IOT 7

5 GB

1000
100
90
80

IOT 8

10 GB

2000
150
135
120

IOT 9

25 GB

2000
200
180
160

IOT 10

60 GB

2500
250
225
200

Private APN charges for M2M/IoT Services

One Time Charge for each Private APN
Rs 10,000/-
Annual Recurring Charge for each Private APN
NIL

BSNL M2M / IoT Service – Additional Usage Charges After Free Usage in BSNL Area

Data Charges after free usage
1 paisa / 10KB for Home LSA and National Roaming

SMS Charges after free SMS limit & Off-net SMS
15 paisa per SMS
Outgoing Voice Calls (On-net & Off-net)
30 paisa per 60 sec
Incoming Voice Calls
FREE
APN Requirements
APN stands for Access Point Name. An APN acts as a middle man between a particular network and the devices trying to connect with it, adding a layer of security to all of the devices on your network. Using an APN starts with the right SIM card. Any device that wants to connect to an APN network needs to have a specially programmed SIM. There is no way for someone to connect to your IoT devices without also having access to your APN network. Having a private APN network means that you'll only be sharing that network with your other devices, which also helps prevent network congestion.
Unique, fixed APN will be allocated to any new customer availing M2M/IoT services.

The unique APN shall be whitelisted with a set of 4 IPs in accordance with the DoT guidelines.

Any existing customer using default APN should be migrated to unique APN.
Pooling of Data SMS Benefits
BSNL also offers pooling of Data or SMS benefits available with individual IoT/M2M SIM cards. However, this choice is optional to customer. For allowing pooling of Data / SMS benefits, 10% surcharge on plan charge will be levied. Pooling of benefits among different IOT plans are not allowed. It means, pooling is allowed only for IoT/M2M SIM cards which are in the same tariff plan.
Minimum Hire Period, Various Payment Schemes & Activation Charges
Minimum hire period is One Year. Customers can choose from different options like – Annual / Half Yearly / Quarterly recharge in all IoT / M2M plans. For postpaid, bills to be issued only for bulk connection (not to individual IoT/M2M SIM).

Exact half yearly, quarterly, and annual options available. (e.g if FMC is Rs 31 then half yearly=31×6, quarterly=31×3, annual=31×12).

There shall be no extra activation charges to be paid by customer.
Charges for Static IP and VPN over M2M Service
BSNL will not allot public static IPv4 address to IoT/M2M connections. However, static IPv6 address will be allotted per SIM as per the following tariff.
BSNL Tariff Plans for M2M / IoT Services (Prepaid Tariff)

Sl No

Charges for static public IPv6 address per SIM

For Number of SIMs

10-10,000 SIMs

10,001-50,000 SIMs

More than 50,001 SIMs

1

Rs 2.00/-
Rs 1.50/-
Rs 1.00/-

2

Annual

Rs 24.00/-
Rs 18.00/-
Rs 12.00/-

One Time VRF (Virtual Routing & Forwarding) Creation Charges

One Time VRF Creation Charges

For Number of SIMs

10-10,000 SIMs

10,001-50,000 SIMs

More than 50,001 SIMs

One Time VRF creation charges for each VRF
Rs 20,000/-
Rs 15,000/-
Rs 10,000/-
Customers requesting VPN over M2M need to pay the charges as mentioned in the above table as per their requirement. The above charges are applicable with immediate effect across all the telecom circles. The implementation of this tariff plans is made in accordance with Telecom Tariff Orders / guidelines / clarifications issued by TRAI from time to time.
M2M / IoT Business Opportunities
Vehicle – GPS Tracking System
Smart Meters – SIM based on off.
Automatic metering – Smart meters
Data acquisition sensing – Hydrology
POS – Swiping machines
SIM based Advertisement in Luxury Buses
Fault Passage management system
Automatic Demand Management
Data Acquisition – SOURA Projects of KSEBL
Dear readers, please share your views and opinons about this latest next generation services launced by BSNL via comments with us. How many of you are familiar with IoT/M2M services?