FTTH Broadband is the next generation high speed internet connectivity which everyone need for their day to day activities. Earlier, fiber broadband (FTTH) connections were only available in cities and that too for commercial institutions. The present COVID 19 pandemic helped all telecom service providers to get customers even from rural and remote villages.
The two major customer segments who need stable fiber broadband connectivity are Students (for Online education) and Professionals (for Work From Home). All major internet service providers like – BSNL, Jio and Airtel have launched special Entry lever fiber broadband (FTTH) plans with fixed monthly charges starting from Rs 399/- onwards. Now let us see which are the best fiber net plans available for online classes and work from home.
Entry Level Fiber Broadband (FTTH) Plans Comparison : Jio Fiber vs BSNL Bharat Fiber Vs Airtel Xstream

(Data as on 25th July 2021)

Particulars

Jio Fiber 2394

BSNL Fiber Experience 399

BSNL Fiber Basic 449

Airtel Xstream Fiber 499

Bandwidth (with best effort Download Speed)

Upto 30 Mbps till 3300 GB, up to 1 Mbps beyond

Upto 30 Mbps till 1000 GB, up to 2 Mbps beyond




(Plan available in Kerala, Tamilnadu, Telangana & Gujarat Circles)

Upto 30 Mbps till 3300 GB, up to 2 Mbps beyond

(Plan Available in all telecom circles)

Upto 40 Mbps till 3333 GB, up to 1 Mbps beyond

2394

[Advance Half Yearly Scheme Only]

399

(For First 6 months, then plan will be changed to Fiber Basic 449)

449
499

Free Calls & Additional facility

24 Hrs Unlimited calling (Local + STD) on any network within India

OTT Apps Included
NIL
NIL
Airtel Xstream Apps
Availability
Only in Limited Cities
Available even in rural and remote villages through Local Cable Operators / Telecom Infra Structure Providers
Only in Limited Cities
*Postpaid Plans. The above charges are exclusive of GST.
Jio Fiber Plan ₹2394
At present, Jio allows only semi annual plans (half yearly) for Jio Fiber Broadband connections under postpaid segment. At the time of launch, monthly Jio Fiber plans were also there for new customers to choose from. It means, a new Jio Fiber customer need to opt for minimum semi annual (half yearly) plan which comes at Rs 2394 + GST.
This plan comes with 30Mbps download speed and 3300GB monthly data usage. After 3300GB data usage in a month, data speed will be throttled to 1Mbps for the rest of the days. Customers may get bundled voice calling benefits in Jio Fiber plan. If you need to get a new Jio Fiber postpaid connection, you need to compulsorily opt for advance half yearly payment scheme.
BSNL Bharat Fiber Experience Plan ₹399
BSNL recently launched
Fiber Experience 399 plan
with 30Mbps download speed. This plan is launched as a welcome offer for new customers who are migrating to BSNL FTTH from other private ISPs. BSNL Fiber Experience 399 plan allows 1000GB high speed data usage at 30Mbps speed. After crossing 1000GB, data speed will be limited to 2Mbps.
Customers need to pay for monthly charges only. There is no compulsory condition to opt for half-yearly or annual advance payment schemes to get the service.
Customers opting BSNL FTTH 399 plan will change automatically to Plan 449 (Fiber Basic Plan) after completing 6 months. As this plan is exclusively launched for new customers, existing customers are not allowed to change their plan to Fiber Experience 399 plan. At present, BSNL Experience Fiber 399 plan is available in Kerala, Tamilnadu, Telangana and Gujarat Telecom circles.
BSNL Bharat Fiber Basic Plan ₹449
BSNL Bharat Fiber Basic Plan 449 allows 30Mbps download speed till 3300GB data usage in a month. This plan is available to all the existing as well as new customers in all the telecom circles. There is no compulsory condition to opt for half-yearly or annual advance payment schemes to get the service.
By opting annual payment scheme, a customer may get one month free service
i.e.,
pay for 12 months and get 13 months service
. Also, customers need not compulsorily change this plan to Fiber Basic Plus 599 plan after 6 months. Customers in Fiber Basic 449 plan can continue in the same plan till he changes his plan to
any other BSNL FTTH plan
as per his choice.
Airtel Xstream Fiber Plan ₹499
Airtel's entry level FTTH broadband plan is priced at ₹499 per month. Airtel offers 30Mbps download speed till 3333GB data usage in a month. Customers may get unlimited internet access at reduced speed of just 1Mbps after crossing this high speed data usage limit. Similar to BSNL and Jio, Airtel also offer unlimited voice calls bundled with its Fiber Broadband connection. Airtel Xstream plans are priced a little bit high as compared to BSNL and Jio. The availability service is also a concern for new customers as Airtel Xstream services are available only in limited cities. Airtel Xstream apps are also bundled with entry level plan ₹499.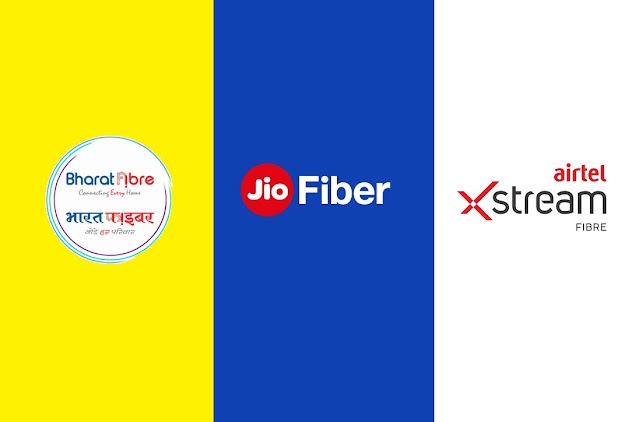 Stability and Availability Matters !
BSNL FTTH (Bharat Fiber) service is considered to be the best fiber broadband connection with assured speed and stable performance even during peak hours. This is the reason why netizens in India prefer BSNL FTTH than any other ISP. BSNL FTTH is the best for online education, Work From Home, Online Gaming and for all those who need a stable internet connectivity 24×7. With the help of LCOs/TIPs/MSOs BSNL could activate provide more than
1.1 lakh new FTTH connections in last month
i.e., in June 2021.
How Can I migrate my fiber connection to BSNL Bharat Fiber?
If you are facing any speed or connectivity issues with your existing ISP, just switch over to Bharat Fiber (BSNL FTT) to enjoy uninterrupted services. You can book BSNL FTTH connection Online via
BookMyFiber portal or My BSNL App.
The fastest way to get BSNL FTTH connection is to ask to your existing operator for BSNL FTTH. If you are facing issues in getting BSNL FTTH from your existing operator, just contact your nearest
BSNL telephone exchange or BSNL Customer Service Centre
.
Dear readers, please share your views and opinions about your present internet service provider. Are you satisfied with the performance or do you have any plans to change your ISP?