Bharat Sanchar Nigam Limited (BSNL) has announced the launch of Online Facility to Update contact details of customers during this pandemic period. As per the latest information, BSNL customers can update their contact mobile number as well as Email ID of their existing Landline, Broadband as well as Bharat Fiber (FTTH) connection online without visiting BSNL Customer Service Centres (BSNL CSCs) or BSNL Offices.
The major hurdle during these pandemic days is the restrictions on movements for general public to access BSNL Offices and BSNL CSCs. This online facility will help the PSU in updating the correct email address and contact mobile number of millions of existing customers all over India. This will also improve the customer satisfaction level as customers will get regular alerts and promotional schemes from BSNL. By using this online facility an existing BSNL customer can update his/her mobile number or Email ID or both mobile number and Email ID.
Now let us see the step by step procedure for updating contact mobile number and email ID of existing BSNL telephone connection [BSNL Landline / DSL Broadband / Bharat Fiber (FTTH)].
Step 1 :
The link for updating Contact Details for BSNL customers is now provided in BSNL Payment Portal –
https://portal.bsnl.in/
as shown below.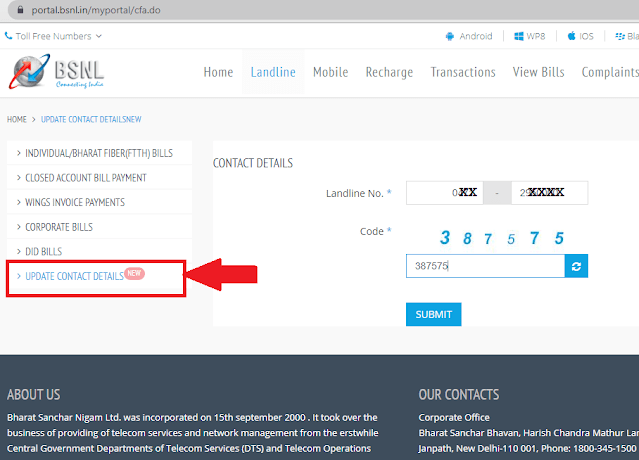 Step 2 :

On clicking the link, it will ask you to enter your BSNL Landline number (Landline Number – is the telephone number allotted for your BSNL Landline / Broadband / Bharat Fiber (FTTH) connection) which will normally printed on your telephone bill. Here you have to enter the STD Code and Phone Number and the captcha code displayed on screen and then click on the

'SUBMIT

' button.
Step 3 :

After submitting your telephone number, it will display existing contact mobile number (registered mobile number) and email address which was already updated in BSNL records.
Here it will display all available options for updating Customer Contact Details which include the following:-
Modify

Registered Mobile Number Only

Modify

Email ID Only

Modify both Registered Mobile Number & Email ID
Now, you can select the desired option and proceed further for verification and updation.
Step 4 :

For example, If you want to change your Registered Mobile number, it will ask to enter your new mobile number and an OTP also will be sent to the new number for verification.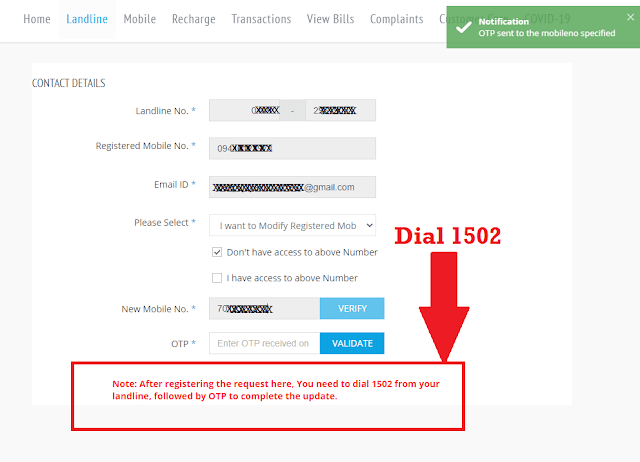 You need to enter the OTP received on your newly added mobile number and click on
'VALIDATE'
button to proceed further.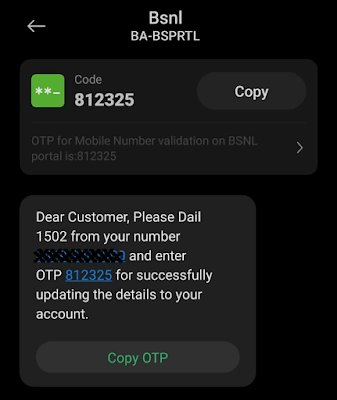 Step 5 : Now, you need to verify this OTP received on your new mobile by calling '1502' from your existing BSNL telephone number [Landline / Bharat Fiber (FTTH)]. The OTP will be valid for 24 Hrs only. It means, you need to call 1502 from your BSNL Landline / FTTH number within 24 Hrs of generating OTP on your new mobile number.

BSNL Registered Mobile Number (RMN) Service on 1502
To verify new mobile number customers need to dial 1502. If you are not getting connected to 1502 from your BSNL landline / FTTH, you may dial 1800-599-9954 (For East & South Zones) or 1800-180-1502 (For West & North Zones).
East Zone (EZ) includes the following telecom circles:-
Andaman & Nicobar, Assam, Bihar, Jharkand, Kolkata, North East I, North East II, Orissa & West Bengal.
South Zone (SZ) includes the following telecom circles:-
Kerala, Tamil Nadu, Chennai, Karnataka, Telangana & Andhra Pradesh
West Zone (WZ) includes the following telecom circles:-
Gujarat, Maharashtra, Madhya Pradesh & Chhattisgarh.
North Zone (NZ) includes the following telecom circles:-
Punjab, Haryana, Himachal Pradesh, Rajasthan, Jammu & Kashmir, Uttar Pradesh (W), Uttar Pradesh (E) and Uttaranchal.
Step 6 :
On dialing 1502 from your BSNL Landline / FTTH, it will ask you to enter the OTP received on your mobile number for verification and updation.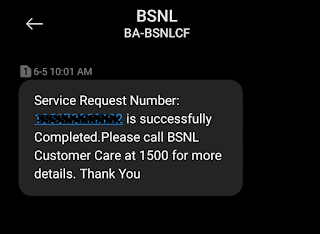 After successful OTP verification, your new mobile number will be updated in BSNL system and you will also receive a confirmation SMS within 24 Hrs. If you need to update both email ID and mobile number, firstly you need to update mobile number and then your email ID by following the same procedure.
Procedure to Update Email ID
To update your email ID, BSNL will send an email OTP to the new email address and then you need to confirm the same by dialing 1502 from existing BSNL telephone number.
Dear readers, please share this valuable information among all your friends and relatives using BSNL Services. How many of you are receiving BSNL's SMS/Email alerts regularly?