Bharat Sanchar Nigam Limited (BSNL) has launched Full Talk Time Offer for Top Up ₹100 for its prepaid mobile customers all over India. As per the latest information, this special offer has been launched by BSNL during these pandemic period in a attempt to help the ordinary people all over the country.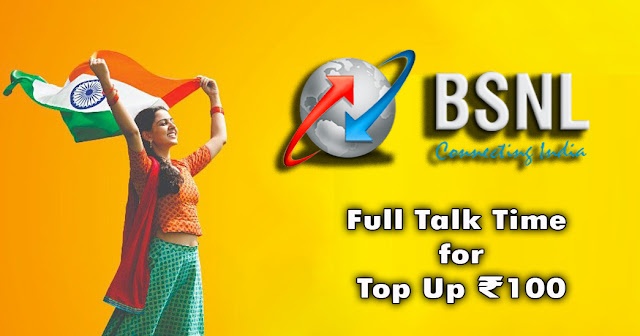 BSNL has already extended helping hands to the people of India by offering 100 minutes free calls as well as free validity extension till 31st May 2021 for those who are affected by the recent cyclone – Tauktae and the second wave of Covid-19 pandemic. BSNL customers may also get 4% additional upfront discount on all recharge / top up transactions done via My BSNL App. However, this special discount scheme is limited to new users of My BSNL App.
BSNL Special Full Talk Time Offer for Top Up 100

(Applicable to BSNL Prepaid Mobile Customers in All Telecom Circles till 20-08-2021)

Top Up Denomination
Talk Value in Rs
Remarks
(NORMAL TOP UP / FULL TALK TIME)

(FTT)

Top Up Rs 100

Talk Value of Rs 100

FULL TALK TIME OFFER
(Offer is applicable to all BSNL Prepaid Mobile Customers Till 20-08-2021 in all telecom circle)
The above full talk time offer is applicable to all BSNL prepaid mobile customers in all the telecom circles till 20th August 2021. This offer is in addition to the existing Full Talk Time Offers which are currently available from Top Up 220. Full talk time on small top up denomination of Rs 100/- is really a great offer from BSNL as no private operators are allowing full talk time offers to their customers on any top up denominations now a days.
BSNL's 4% Discount Scheme for Online Recharge / Top Up
BSNL has already launched promotional offer of 4% upfront discount to users of My BSNL app for recharging BSNL prepaid mobile of other subscriber on 17th May 2021. The offer is applicable for a period of 180 days from the date of implementation across all the telecom circles. The conditions for availing 4% discount scheme is as given below:-
A. Users already registered on My BSNL mobile app will not get discount on recharge of their registered mobile number.
B. New users of My BSNL app will get discount on recharge of registered mobile number only once during the scheme period.
C. Discount shall be provided for recharge of all pre-paid mobile numbers other than point A & B above.
D. Discount shall be provided upfront, hence the collected amount shall be lower up to the extent of discount.
The implementation of the tariff is made in accordance with 43rd Amendment of Telecom Tariff Order and orders/guidelines/clarifications issued by TRAI from time to time.
Read More : How to configure BSNL FTTH Voice on Soft SIP Client on Mobile / Laptop? Enable WiFi calling facility for BSNL FTTH Voice
Dear readers, please share your views and opinions about this latest customer friendly step taken by BSNL via comments with us. How many of you have availed Full Talk Time Offer from BSNL?