State run telecom major – BSNL – today announced the waival off of installation charges for all types of new connections for a period of 90 days in all the circles. As per the latest information, BSNL's Free Installation Charge Offer is applicable for new Bharat Fiber (FTTH), Bharat Air Fiber (BAF), BBoWiFi, DSL Broadband as well as Landline connections.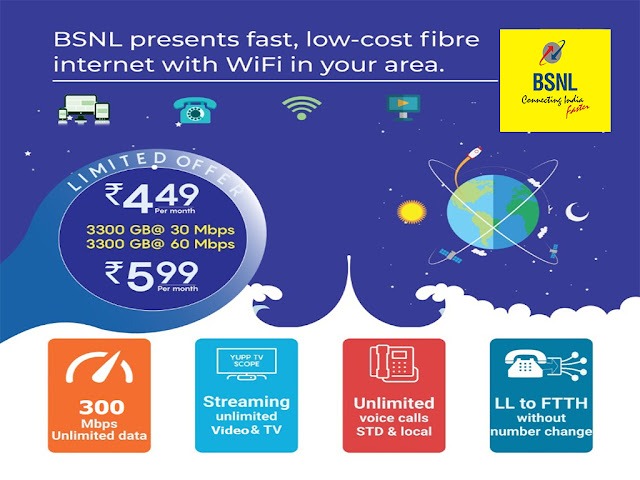 As we reported earlier, BSNL's promotional scheme of Free Installation Charges was earlier available for a period up to 30th April 2021. With this scheme, the PSU could achieve 1 million customer base in Bharat Fiber (FTTH) segment within a short span of time. Based on the overwhelming response from people all over India, the BSNL authorities has decided to extend the scheme further for a period of 90 days with immediate effect.
BSNL FREE Installation Charges Offer for Bharat Fiber / LL / BB / BBoWiFi / Bharat Air Fiber connections till 03-08-2021

(Offer is Applicable to All Telecom Circles)

Facility
Existing Installation Charges (in Rs.)
Revised Installation Charges (in Rs.)
New Landline Connection
250/-

FREE (Till 03-08-2021)

New Broadband Connection on existing Landline
250/-

FREE (Till 03-08-2021)

New Bharat Fiber (FTTH) / BBoWiFi / Air Fiber Connection
500/-

FREE (Till 03-08-2021)
Click Here to See Latest BSNL Bharat Fiber (FTTH) Plans
An Official statement from BSNL regarding the re-launch of this promotional scheme read as follows:-
Now, competent authority has decided "to waive off installation charges of Rs. 250/- (for Cu connections) and Rs. 500/- (for Bharat Fibre connections) currently levied on BSNL Landline/Broadband connections (Cu/Fibre/BBoWiFi/Bharat Air Fibre) on promotional basis for 90 days in all the circles".
The above instructions shall be applicable with immediate effect, on promotional basis for a promotional period of 90 days i.e., up to 3rd August 2021 in all the circles. 100% waiver off installation charges is applicable to traditional telephone connections also. It means, new BSNL telephone / broadband / internet connection provided via copper cables (Landline / ADSL Broadband) also comes under this offer. At present BSNL is charging Rs 250/- as installation charges for new telephone / broadband connections provided via copper cable.
New Customers need to pay FTTH Modem (ONT/ONU) Charges
New BSNL Bharat Fiber (FTTH) customers need to pay the modem charges at the time of installation. The type of modem can be decided by the customer as per his/her selected plan and usage requirements. For plans above 100Mbps, it is always suggested to use dual band wifi router which will offer superior performance than single band FTTH modems.
BSNL Bharat Air Fiber (BAF) – True Wireless Broadband Service
As we reported on 9th April 2021, BSNL launched special exclusive tariff plans for Bharat Air Fiber (BAF) service where base plan starts at just Rs 499/- (Air Fibre Basic Plan) with 30Mbps download speed. BSNL's Bharat Air Fiber Services are getting momentum all over India as it requires no fiber laying and splicing. It uses WiFi technology (Point to Point / Point to Multi Point) to deliver ultra fast wireless broadband to customers at affordable tariff. It is well suited in areas where OFC laying is extremely difficult. BSNL Air Fiber Customers may also enjoy true unlimited voice calls bundled with BSNL Air Fiber plans. Maximum download speed available at present is 70Mbps in Air Fibre Premium Plan at fixed monthly charge of Rs 1199/-. <<<Click Here to See More Details of BSNL Bharat Air Fiber Plans>>>
Read More : BSNL FAQ on FTTH (Bharat Fiber) for improving customer experience; Contact details of FTTH helpdesk numbers for complaint booking
Dear readers, please share your views and opinions about this latest offer via comments with us. How many of you have already subscribed to BSNL FTTH Services? Please do share your feedback about service quality and performance.