Bharat Sanchar Nigam Limited (BSNL) has announced the revision in tariff plans for

IoT (Internet of Things) / M2M (Machine to Machine) Services

for bulk user customers all over India. As per the latest information, BSNL's IoT/M2M SIM cards are available at cheapest monthly charges of just Rs 16/- onwards.
For those who unaware, IoT / M2M services are those which require communication between two or more devices (machines) without the intervention of a human. It is the backbone of the Internet of Things (IoT) and which needs connectivity from telecom service providers for this communication to happen. M2M / IoT services are the future revenue opportunities for telecom service providers and hence TRAI implemented a dedicated

13-digit numbering pattern

for M2M services.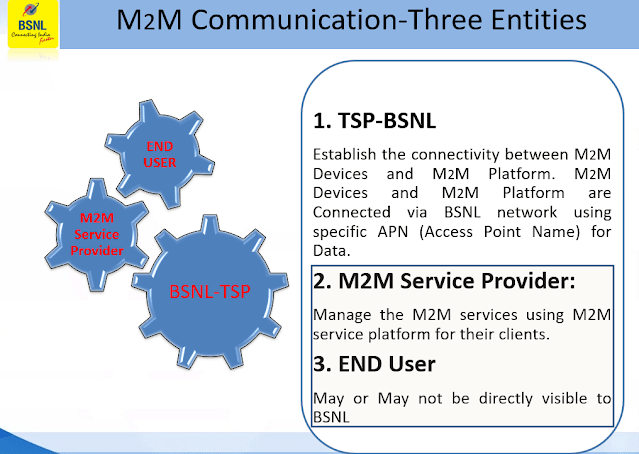 The major difference in M2M/IoT services is that, here telecom service providers are will provide backhaul connectivity to the application servers of M2M / IoT service providers. The actual services are being offered by M2M service providers to their customers. Most of the major telecom service providers (TSPs) started signing agreements with M2M / IoT Service Providers who in turn will provide services to end customers using the connectivity provided by TSPs.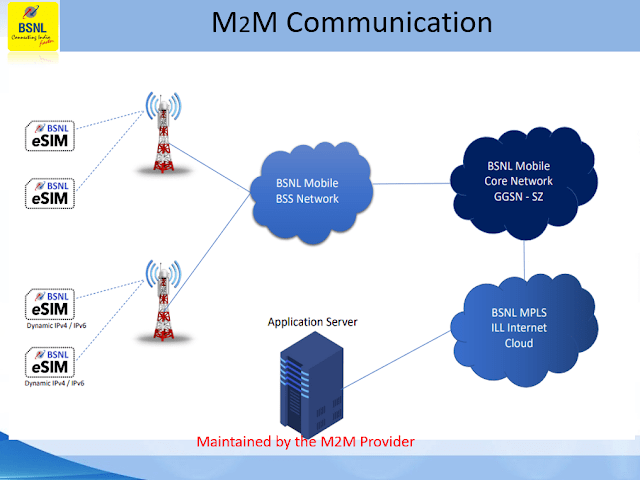 BSNL M2M / IoT SIM Cards
BSNL will be providing two types of SIM cards for M2M / IoT applications depending on the customer requirement.
Normal SIM (Physical SIM)
eSIM (SIM embedded in M2M smart devices)
Cost of M2M SIM Cards : Physical SIM cards will be issued at Rs 10/- per SIM card whereas e-SIM cards are absolutely FREE.
What are eSIMs?
e-SIMs are embedded in M2M Devices. BSNL will provide soft e-SIM profile, which are subsequently uploaded on physical e-SIMs by the device manufacturers. M2M service provider selects the e-SIM manufacturer on its own. BSNL will supply soft e-SIM profiles to M2M service provider and device manufacturer in turn, burn the e-SIM profile into physical devices and supply it to M2M Service provider.
M2M Numbering Scheme (13 Digit Numbers)
Previously, all telecom operators were providing the same 10 digit numbers for M2M applications. Later, as per TRAI directions 13-digit numbering scheme was launched in India from 1st July 2018 exclusive to M2M / IoT Services. TSPs were also directed to migrate all the existing 10 digit mobile numbers which were previously allotted for M2M / IoT / Smart City projects to the new 13 digit numbering plan.
13 Digit M2M Number consist of Three Parts:-
M2M Identifier (3 Digits)

Licensee Identifier (4 Digits)

Device Number (6 Digits)
M2M Bandwidth Requirements / Type of Applications
Very low Bandwidth <1Kbps (Monthly usage 10KB to 1MB) e.g. remote sensors applications.
Low Bandwidth, 1kbps to 50 kbps (Monthly usage 1 MB to 10 MB) e.g. utility, health, security monitoring
Medium Bandwidth, 50kbps to few MB, (Monthly usage 10MB to 300MB) e.g. retail, ticketing, inventory control, gaming, digital picture frames
High Bandwidth, in Mbps (Monthly usage >300MB to 90GB) e.g. Digital signage, Video surveillance.
M2M/IoT Services – Features / Facilities
Outgoing / Incoming calls shall be allowed to/from predefined set of maximum one number only.
Outgoing / Incoming SMS shall be allowed to/from predefined set of maximum two numbers only.
Data communication –The APN shall be white listed with a set of 4 IPs in accordance with the DoT guidelines.
Responsibilities of M2M Service Providers
e-SIM cards are to be procured from a GSMA certified SIM Manufacturing facility
e-SIM card/Device is to be certified from an accredited laboratory
Use of BSNL subscriptions in M2M SIM Cards/Devices are compliant to applicable standard of GSMA
BSNL Tariff Plans for M2M / IoT Services (Prepaid Tariff)

Plan Name

Free Mobile Data Per Month

Free Onnet SMS Per Month

Plan Charge
(Rs per SIM per Month)

10-10,000 SIMs

10,001-50,000 SIMs

More than 50,001 SIMs

IOT 1

50
20
18
16

IOT 2

50 MB

100
22
20
18

IOT 3

100 MB

200
24
22
20

IOT 4

300 MB

500
31
28
25

IOT 5

500 MB

1000
35
32
30

IOT 6

1 GB

1000
62
56
50

IOT 7

5 GB

1000
100
90
80

IOT 8

10 GB

2000
150
135
120

IOT 9

25 GB

2000
200
180
160

IOT 10

60 GB

2500
250
225
200

Private APN charges for M2M/IoT Services

10-10,000 SIMs

10,001-50,000 SIMs

More than 50,001 SIMs

One Time Charge for each Private APN
Rs 20,000/-
Rs 15,000/-
Rs 10,000/-
Annual Recurring Charge for each Private APN
Rs 20,000/-
Rs 15,000/-
Rs 10,000/-
NB: For Post paid, FMC 10% Extra will be charged. GST extra as applicable. At present only Post paid services are available.
BSNL M2M / IoT Service – Additional Usage Charges After Free Usage

Data Charges after free usage

1 paisa / 10KB for Home LSA and National Roaming

SMS Charges after free SMS limit & Off-net SMS
15 paisa per SMS
Outgoing Voice Calls (On-net & Off-net)
30 paisa per 60 sec
Incoming Voice Calls
FREE
APN stands for Access Point Name. An APN acts as a middle man between a particular network and the devices trying to connect with it, adding a layer of security to all of the devices on your network. Using an APN starts with the right SIM card. Any device that wants to connect to an APN network needs to have a specially programmed SIM. There is no way for someone to connect to your IoT devices without also having access to your APN network. Having a private APN network means that you'll only be sharing that network with your other devices, which also helps prevent network congestion.
Unique, fixed APN will be allocated to any new customer availing M2M/IoT services.

The unique APN shall be whitelisted with a set of 4 IPs in accordance with the DoT guidelines.
Any existing customer

using default APN should be

migrated

to unique APN.
Additional Tariff Details
Minimum Hire Period is One Year.
Post paid bills are issued only for bulk connection.
Exact half yearly, quarterly, and annual options available. (e.g if FMC is Rs 31 then half yearly=31×6, quarterly=31×3, annual=31×12)
Pooling of data is possible with in an IOT plan for 10% extra charge on FMC per connection.
The advance Security Deposit is 10 times the FMC in post paid.
International Roaming (Out bound roaming) : Activation charge Rs 99/- +GST for post paid and Rs 58(MRP) for Prepaid.
M2M / IoT Business Opportunities
Vehicle – GPS Tracking System

Smart Meters – SIM based on off.

Automatic metering – Smart meters

Data acquisition sensing – Hydrology

POS – Swiping machines

SIM based Advertisement in Luxury Buses

Fault Passage management system

Automatic Demand Management

Data Acquisition – SOURA Projects of KSEBL
Selling voice and data services has previously allowed operators to offer customers a point of difference on minutes of use, data plans, and the different device types. But to provide greater value to their customers, telecom operators need to branch into non-traditional telecommunications services and products by collaborating with M2M & IoT Service Providers.
Dear readers, please share your views and opinions about BSNL's M2M / IoT Tariff plans for bulk user customers. Whether these new services will get additional revenue for Indian telecom service providers?