BSNL is aggressively adding Bharat Fiber (FTTH) customers all over India during these pandemic days. Netizens started promoting BSNL FTTH services because of it's superior performance and assured bandwidth even during peak hours as compared to other fiber broadband operators. Since most of the day to day activities are now based on internet during these lockdown period, a stable internet connectivity is a major concern for everyone.
Recently, BSNL has surpassed 1 Million customer base in FTTH segment with the active support and collective efforts made by BSNL's Channel Partners like – TIPs / LCOs / MSOs. As the number of Fiber Broadband (FTTH) customers are increasing exponentially within a short span of time, the PSU has

enabled IPv6

in it's Bharat Fiber (FTTH) Broadband network. With IPv6 implementation, BSNL FTTH customers are expected to enjoy a better browsing experience.
Earlier, BSNL was providing public IPv4 addresses to customers in FTTH network. As the number of FTTH customers are increasing exponentially during these days, there are chances that, IPv4 addresses will get exhausted within a short period of time. To address the issue of acute shortage in IPv4 addresses BSNL Broadband Network team has implemented dual stack / IPv6 for all the FTTH customers who are parented towards BSNL's Juniper BNGs(Broadband Network Gateway). In the present implementation, BSNL is configuring a public IPv4 address and a public IPv6 prefix in all the Juniper BNGs across India.
What is BNG ?
BNG (Broadband Network Gateway) is a device for terminating subscriber traffic. BNG is a basically a router. it is responsible for routing within the service network, meaning that the subscriber can receive various services (Internet, telephony, IPTV) via single connection.
How can I configure IPv6 in my FTTH ONT?
Now majority of websites are compatible with IPv6 and customers may get a better browsing experience by enabling IPv6 in their FTTH ONT / ONU (FTTH Modem). To enable IPv6 in your BSNL FTTH connection, you may change the WAN settings in your ONT / ONU (FTTH Modem).
The IP protocol for your WAN profile for Internet connection is to be changed to IPv4 / IPv6. Presently it is configured as IPv4 in your ONT.
IPv6 Configuration for Netlink / Syrotech / Technext ONTs are explained below:-
Step 1 : Change the IP Protocol Mode to IPv4/IPv6 for the WAN profile created for Internet. (Path: Network>Internet). Select IPv6 Address – 'Staleless' & enable DHCP PD (DHCP Prefix Delegation).
Step 2 : In addition to the above changes, you may also need to do some changes LAN IP Address > IPv6 Configuration as shown in the picture below. Here, you need to select the WAN profile created for Internet for LAN DNS and LAN IPv6 Prefix settings. (Details displayed below).
Step 3 : IPv6 DHCP Configuration. Here you need to enable DHCPv6 Mode (Details shown below).
Step 4 : RA Configuration. Now, you need to enable Router – Advertisement (RA) messages in your FTTH ONT. For that, you need to access RA Configuration tab and enable all the three options as shown in the below picture. RA (Router Advertisement messages are periodically sent out each configured interface of an IPv6 router. RA messages enables your router to control the routing configuration for selecting the correct network interface to communicate with its neighboring network elements.
That's it. You have successfully configured your BSNL FTTH ONT for IPv6. Now you can check whether your BSNL FTTH ONT got an IPv6 address under Status tab > IPv6 Connection Information. You can see that, IPv6 address, IPv6 Prefix and IPv6 DNS also get assigned as shown in the below picture.
Your computer / laptop may also get IPv6 from your router. If you are not getting IPv6 address in your computer, just tick IPv6 option for your Network Adapter. (As shown in the picture below).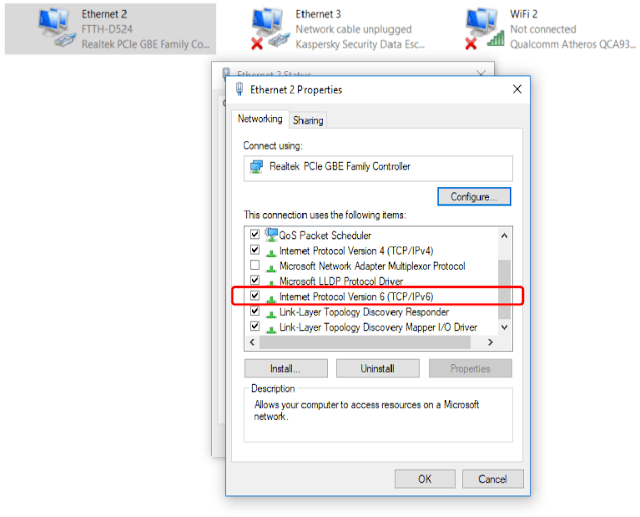 Now, you can see that IPv6 address and IPv6 DNS are assigned apart from IPv4 from Connection Details (As shown below)
Now, you can check IPv6 by visiting https://test-ipv6.com/ (As shown in the picture below). You may also check your IP address by searching 'What is my ip' in Google.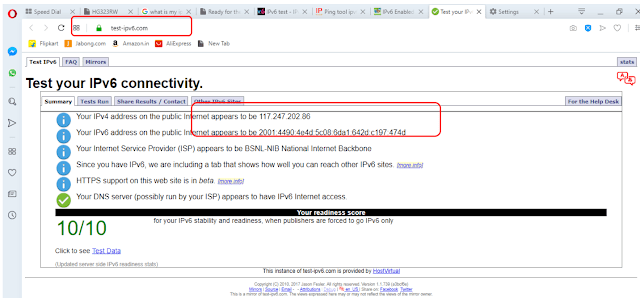 You may also check whether you have IPv6 address by visiting the website http://42.be/ which will open only in IPv6. It you have successfully configured IPv6, you may get a screen as shown below.
IPv6 Configuration Guide for some of the most popular FTTH ONTs are given below for your quick reference.
Still you are not getting IPv6 Address on your BSNL FTTH (Bharat Fiber)?
At present, BSNL has implemented IPv6 only in their Juniper BNGs. So customers who are connected from Juniper BNGs only may get IPv6 addresses as of now. If you are not getting IPv6, it means you are not connected to Juniper BNG and hence you may still get IPv4 address till BSNL upgrade your BNG server to IPv6.
Dear readers, how many of you are currently using BSNL FTTH (Bharat Fiber) Services? How many of you have migrated to BSNL FTTH from BSNL Landline? How will you compare the service quality of these two connections?