Bharat Sanchar Nigam Limited (BSNL) has decided to offer Wi-Max modem (Customer Premise Equipment) on rental basis to

Bharat Air Fibre

customers all over India. As per the latest information, BSNL will be providing Wi-Max outdoor CPE (Wi-Max outdoor modem / Customer Premise Equipment) to Bharat Air Fibre customers on

monthly rental of just
₹
99/-.
BSNL has taken this decision in an attempt to increase Bharat Air Fibre customer base and to help BSNL's partners in rolling out this service in rural and remote village areas. BSNL's Bharat Air Fibre service is very much useful in rural areas where fiber penetration is less and is not economical. Bharat Air Fibre services were introduced by BSNL as part of Digital India initiatives by the Government of India and it aims at providing
Wireless Broadband Connectivity
in the range of 20 KMs from the BSNL locations.
An official statement from BSNL about the launch of offering WiMax CPE to BSNL Bharat Air Fibre customers read as follows:-
a) BSNL shall provide Wi-MAX outdoor CPEs to BSNL's Bharat Air Fibre customers directly on monthly rental of Rs. 99/-.
b) The revenue share with Bharat Air fibre partners on above mentioned monthly rental shall be as per revenue share policy.
c) BSNL shall provide Wi-max outdoor CPEs on "as and where basis" to Bharat Air Fibre partners for further providing the same to BSNL's Bharat Air Fibre customer i.e., any cost involved in transportation, modification etc. shall be borne by Bharat Air Fibre partners only.
Above charges are exclusive of GST. All other terms and conditions, shall remain unchanged. These instructions shall be effective from 23-03-2021 onwards across all telecom circles. Since BSNL Wi-Max service was also operating in 2400MHz band, the same equipments can be used with Bharat Air Fibre Services. Since Wi-Max service was discontinued, a large number of customer premise equipments (Wi-Max modems) which were kept idle can be reused with this new decision.
BSNL Bharat AirFiber : What is it?
BSNL Bharat AirFiberis a last mile telecom connectivity solution based on Radio Network using unlicensed Spectrum band.
BSNL Bharat Fiber offers high-speed wireless broadband connectivity by deploying Point to Point / Point to Multi point Radio network in collaboration with franchisee partners with a Robust Backhaul connectivity from the nearest BSNL Nodes.
Open policy has been approved by BSNL Corporate Office, New Delhi to provide Broadband / Voice on last mile over Radio Frequency Technology on the un-licensed band wherein RF base stations and associated equipments in the customer premises shall be deployed and managed by partners with CAPEX and OPEX on their part on non-exclusive basis.
Roles & Responsibilities of Bharat Air Fibre Partners
Partners shall design, build and operate the system to provide highspeed Broadband / Voice services through RF Technology at its own cost. Revenue share may be made through existing FTTH prepaid wallet system. All the Franchisees Access Point / Radio devices are directly integrated with BSNL network elements as in the case of third party OLTs. Radio Equipments can be installed in BSNL Exchanges which is an added advantage especially for the Franchisees in Rural Areas. The network deployment and associated authentication flows are similar to standard FTTH call flow. Franchisee activities for this service will be managed through FMS system with facilities like e-wallet, revenue share etc. The existing FTTH customer acquisition process will be used.
BSNL Bharat Air Fibre – Revenue Share Model with Radio Broadband Service Providers (RBSPs)

Sl No
Tariff Plans with FMC (Excluding GST) in Rs

% Revenue share to Channel Partners in Year 1

% Revenue share to Channel Partners in Year 2 and thereafter

1
Rs 450/- to < Rs 700/-

40%

35%
2
Rs 700/- and above

40%

30%
The maximum revenue share to Radio Broadband Service Provider per month per customer is capped at Rs 1000/-
How BSNL Bharat Air Fibre Works?
BSNL Bharat Air Fibre can be provided in two different ways:-
Point to Point &
Point to Multi Point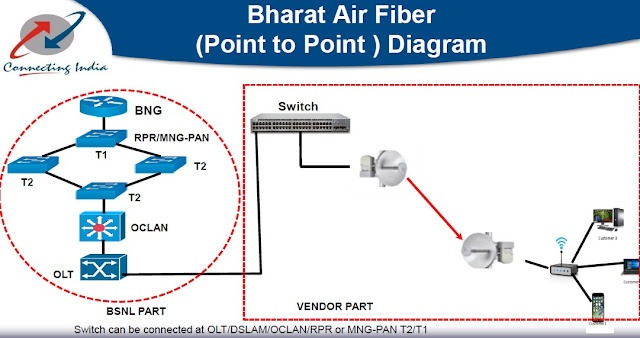 The list of vendor partners providing the Bharat Air Fiber equipment's are given below:-
UTSTARCOM
D-Link
Aruba
CommScope
Ruckus
GoIP
Ubiquiti
Engenius
MikroTik
Cambium Networks
Klovertel etc
Who can apply for BSNL Franchisee for Bharat Air Fiber Services?
BSNL is providing unique opportunity to Builders, Resident Welfare Associations (RWAs), Telecom Infrastructure Providers, Franchisees, System Integrators, DID Franchisees of BSNL, any registered company or society, Local Cable TV Operators, Telecom Service Providers, BSNL Retailers, Direct Selling Agents, Start-ups or local entrepreneurs.
Where to Apply ?
Online Application : BSNL Channel Partner / Franchisee Registration url is https://fms.bsnl.in/partnerRegistration.jsp
Offline Application : Interested people may directly contact your nearest BSNL Business Area Office for signing agreement and to become BSNL's Bharat Fiber business partner.
BSNL Franchisee Facilitation Centre (FFC)
BSNL already launched Franchisee Facilitation Center at Bangalore to provide all the technical support for BSNL Franchisees and node in charges for improving Bharat Fiber business across the country. This centre is exclusively created to facilitate the Franchisees in starting their partnership business with BSNL. BSNL FFC website also provides all latest firmware upgrades of third party OLTs & ONTs. Franchisees can also get technical contact details of third party OLT & ONT vendors.
Contact details of BSNL Franchisee Facilitation Centre
Toll Free Number : 1800 599 0088
Website : https://bharatfibre.bsnl.co.in/
Dear readers, please share your views and opinions about BSNL's Bharat Air Fiber Services via comments with us.