Bharat Sanchar Nigam Limited (BSNL) has announced the launch of a new prepaid mobile plan PV ₹197 bundled with ZING music app with effect from 3rd April 2021 onwards. The validity of new plan voucher PV ₹197 will be 180 days.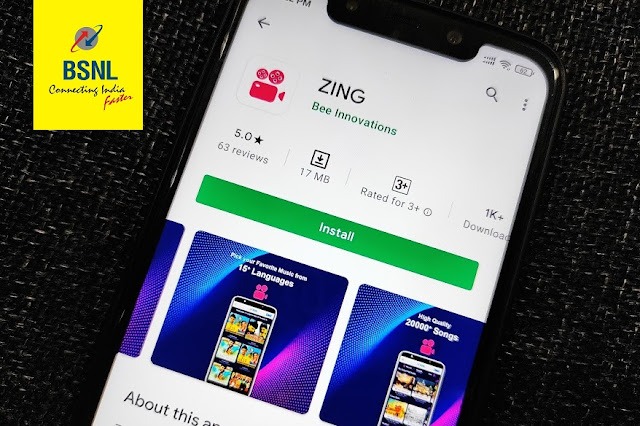 Customers opting the new Plan Voucher PV 197 will get Truly Unlimited Local / STD / Roaming calls including Mumbai and Delhi, Unlimited Data speed reduced to 80kbps after 2GB/day, 100 SMS/day and access to Zing music app. Even though BSNL allows 180 days plan validity, the validity of freebies will be just 18 days only from the date of activation.
New BSNL Prepaid Mobile Plan – Plan Voucher 197 from 03-04-2021

(Plan is Available Across All Telecom Circles)

MRP of Plan Voucher Amount (in Rs)

Features / Freebies

Validity of Freebies

Validity Perid (in Calendar Days)

Selfcare Activation

197

Truly Unlimited voice Local / STD / Roaming calls any net in
Home LSA and national roaming including
MTNL network in Mumbai and Delhi for 18 Days

+

Unlimited data (speed reduced to 80 kbps
after 2 GB/day) for 18 Days

+

100 SMS/day for 18 Days

+

ZING app for first 18 Days


18 Days


180 Days

SMS Keyword : PLAN BSNL197

(Send SMS Keyword to 123)

USSD Code : *444*197#

(Dial & Proceed)
Click Here to See Latest BSNL Prepaid Mobile Plans with Truly Unlimited Calls, SMS & Data Benefits
BSNL is providing bundling services in association with M/s Bee Innovation India Pvt. Ltd. Customers who is activating PV 197 via selfcare (SMS or USSD) will not get ZING music app subscription. The tariff above will be implemented with effect from 03-04-2021. The implementation of the tariff will be made in accordance with 43rd Amendment of Telecom Tariff Order and orders / guidelines / clarifications issued by TRAI from time to time. OTF (On The Fly) commission payable to BSNL retailer / DSA / RD / OCSC will be Rs 90/- per activation.
Regional Languages included in ZING App
BSNL customers can activating the above recharge offer can access ZING! content absolutely free. At present, ZING provide entertainment content in 15+ Languages. Hindi, Punjabi, Haryanvi, Himachali, Bengali, Bhojpuri, Assamese, Gujarati, Marathi, Telugu, Tamil, Kannada, Malayalam, English, Oriya. And more to come…!
Music on ZING!
ZING! present Music of all Genres and Moods. All music on streaming. Party, Hip hop, Happy, Sad, Foot tapping, Retro, Classics, Artists and Devotional. Religion being a deep rooted flavour of Indians, ZING! hosts the devotional content catering to all religions followed in India. Hindu, Sikh, Christian, Islam. Region specific festive music. State specific Folk music that brings out the rich culture and heritage of India. Users can create their own interest specific playlists and share to friends or post on social media.
MOVIES ON ZING!
Popular movies in all languages, Classics and Hit movies form the diverse ZING! Movie catalogue. Movie content is available to be seen in full screen and can be earmarked as favourites for later or repeat watch.
SHORT VIDEOS ON ZING!
Fitness, Health, Cooking, Film Gossips, Film and Non filmy comedy scenes, Latest Movie Trailers, Celebrity Bdays,Fashion n style, Makeup and hairstyle, and many more. There are about 30000+ short format videos for binge watch anytime and anywhere. These videos are available across all regional languages and updated on a daily basis.
Read More : BSNL launches extra validity offer with prepaid mobile plan vouchers – PV ₹699 & PV ₹2399 with effect from 1st April 2021
Dear readers, please share your views and opinions about this newly announced prepaid mobile plan from BSNL via comments with us. How many of you are using BSNL Mobile Services? Please do share your feedback about service quality.