Bharat Sanchar Nigam Limited (BSNL) has announced the regularization of one of it's promotional prepaid unlimited combo STVs – STV ₹298 – having 56 days validity bundled with EROS Now premium OTT subscription. As we reported in February 2021, BSNL revised Combo STV ₹298 with increased validity period of 56 days as a promotional offer till 31st March 2021.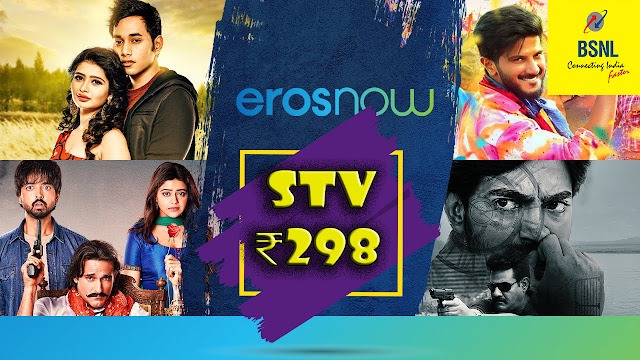 BSNL's Unlimited Combo STV 298 offers true unlimited voice calls to any network including MTNL coverage areas of Delhi & Mumbai, Unlimited Data 1GB/Day (speed will be reduced to 40Kbps after 1GB/Day), 100 free SMS/day to any network (including MTNL coverage areas of Delhi & Mumbai) and EROS NOW Entertainment Services for 56 days. Now, based on the overwhelming response from customers, BSNL authorities has decided to regularize the same scheme all over India without any change in freebies or validity period.
Regularized Unlimited Combo STV bundled with EROS Now Premium OTT Subscription

(Offer available across all telecom circles)

MRP of STV in Rs (Inclusive of GST)

Freebies

Validity in Calendar Days
298

Unlimited Voice calls (HPLMN/Roaming
including Mumbai and Delhi)

+

Unlimited free
Data with speed reduced to 40 Kbps after 1GB/Day

+

100 SMS/day is including MTNL
area Mumbai and Delhi

+

EROS NOW
Entertainment Services for 56 days

56
Click Here To See Latest BSNL Prepaid Mobile Plans bundled with True Unlimited Voice Calls, Data & SMS Benefits
The above tariff is implemented with immediate effect across all the telecom circles. The implementation of the tariff will be made in accordance with 43rd Amendment of Telecom Tariff Order and orders / guidelines / clarifications issued by TRAI from time to time.
How to Activate BSNL's Unlimited Combo STV ₹298?
Customers may activate BSNL's unlimited combo STV 298 either by online recharge of retailer shops/BSNL CSCs. Selfcare activation option (SMS / USSD activation) is not available for BSNL Eros Now STV ₹298. Online recharge may be done directly through BSNL or through other online recharge apps/portals like – Google Pay, Amazon Pay, PayTM etc. However, it is always suggested to make payment directly to BSNL either via My BSNL App or BSNL Payment Portal.
Some of the latest Prepaid Mobile Tariff Updates announced by BSNL in April 2021 are listed below for your quick reference:-
How to activate EROS NOW on My BSNL Prepaid Mobile ?
Soon after the activation of BSNL EROS Now STV 298, customer will receive an SMS that will contain a URL for downloading the application from Google Play Store or Apple App Store. The SMS also contains the username and a unique password for customers to login to the application. Open the EROS NOW app and login with your username and password to enjoy unlimited entertainment absolutely free.
BSNL EROS Now Bundle Service Frequently Asked Questions (FAQ)
Question 1: I forgot my EROS NOW password. How do I recover it?
Answer: Customers can recover lost/forgotten Eros Now password using the following options:-
From ErosNow.com, click "Log in" from the top right corner of the page.

From the dialog box, click "Forgot Password."

Enter the email you use for your Eros Now account.

Click "Send Email" and look for an email with a link to reset your password.
Question 2: What happens at the end of the offer period?
Answer: Post the validity expires of the STV offer, the customer needs to recharge again with an eligible bundled STV of BSNL to avail the service. The service is not auto-renewed.
Question 3: How can I cancel Eros Now subscription?
Answer: You cannot cancel your Eros Now membership that is available for eligible BSNL plans at no additional cost.
Question 4: I can't log in at all. What should I do?
Answer: If you do not see the "Log In" link in top right corner of ErosNow.com or if nothing happens when you enter your login information, be sure you have enabled JavaScript and cookies via your browser have advanced settings.
Question 5: I forgot my password. When I tried to reset it, I received an error that my email address is not recognized. What should I do?
Answer: When you submit your email address in the Forgot Password dialog and you see the message "You are not registered for this service using this email", then that particular email address is not associated with an Eros Now account. Please check all email addresses you may have used, including those you might not normally associate with online subscriptions.
Question 6: Can I watch Eros Now on my Apple TV?
Answer: Yes, Eros Now is available on the new Apple TV (4th Generation). To download it, go to the App Store on your Apple TV and login. You also can use Airplay with the Eros Now application to stream movies from your iPad or iPhone to your Apple TV.
Question 6: Having trouble verifying your account?
Answer: If you didn't receive a verification email, check your spam folder. Be sure you inputted your email correctly. If the link has expired simply input your email address again and click resend link to get a fresh link.
Read More : BSNL re-launches promotional Bharat Fiber (FTTH) Broadband plans Fibre Basic, Fibre Value, Fibre Premium & Fibre Ultra till 6th July 2021
Dear readers, please share your views and opinions about BSNL's Unlimited Combo STV 298 via comments with us. How many of you are using BSNL prepaid mobile?