State run telecom major – BSNL has issued a press release to its esteemed customers regarding fake messages being sent by fraudsters for completing KYC of the mobile connection. Most of the BSNL customers are getting these type of fake SMS messages which instruct customers to share their KYC details by calling a mobile number.
These fake SMS messages also warns BSNL customers to complete their KYC verification at the earliest to keep their mobile number active otherwise their mobile number would get deactivated. In most of these cases, fraudsters are misusing KYC details of customers to withdraw money from customers bank account. Normally these messages are received with header such as CP-SMSFST, AD-VIRINF, CP-BLMKND, BP-ITLINN etc.
In view of the above, BSNL authorities informed that, such fake KYC verification messages are not being sent by BSNL and hence customers are advised not to entertain such type of messages.
Telecom Commercial Communication Customer Preference Regulation, 2018
Telecom Regulatory Authority of India (TRAI) notified Telecom Commercial Communication Customer Preference Regulation, 2018 dated 19th July 2018 to curb the problem of Unsolicited Commercial Communication (UCC). The objective of the new regulation is to effectively deal with the nuisance of spam experienced by the subscribers. The new system was implemented with effect from 1st April 2021. In this new system, mandatory registration in DLT platform is required to send all commercial communication to their subscribers/prospects. Moreover, the SMS template also need to be registered with telecom service providers. This system will reduce the percentage of SMS frauds since any SMS that is not verified by the telecom service provider will be blocked and not delivered to the customers.
Fraudsters started using Personal Mobile numbers to tackle the issue of SMS Template Registration
It is to be noted that, after the introduction of SMS template system with the help of DLT platform working in block chain technology, fraudsters started to send spam messages from personal mobile numbers instead of SMS headers like – CP-SMSFST, AD-VIRINF, CP-BLMKND, BP-ITLINN etc. One such message received by one of our readers is shared below:-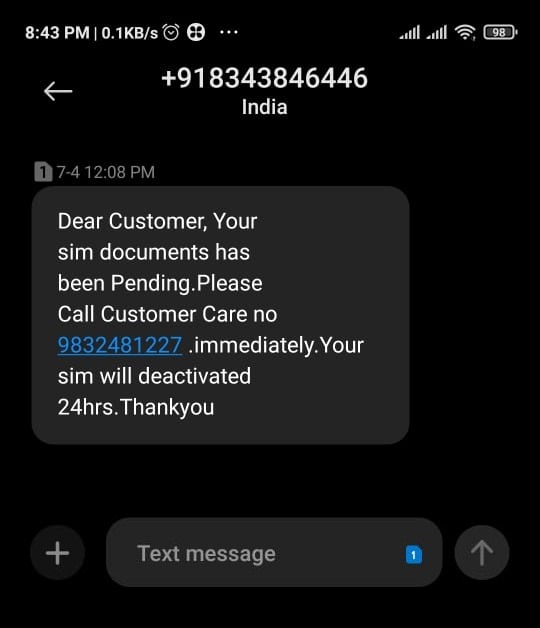 On dialing the above number, one gentleman answered the call and introduced himself as BSNL Customer Care Executive and asked to complete the KYC verification by downloading an app (BSNL Quick Support) from Google Play Store. He further told that, this is a one time activity which needs to be done online. The above number is showing as in True Caller as –

'BSNL KYC Department Vinay Sharma'

. We tried to call the same number on the very next day and found that the number is switched off.
After the launch of SMS template filtering system, fraudsters are now using personal mobile numbers to send spam messages. This is not a single case. Our readers are now getting other spam messages from personals 10 digit mobile numbers. A few of them are given below:-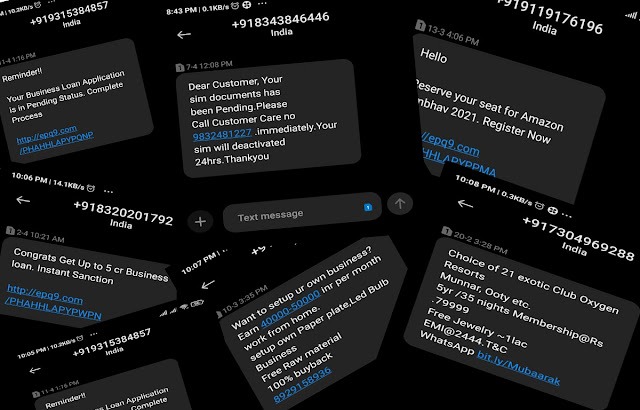 Dear readers, all are requested to share this important information among all your friends and relatives. Fraudsters may ask you to share your Aadhar, PAN or other personal details and we should be vigil not to share our personal information with third parties. How many of you have already recieved such fake calls & SMSs? Please do share your feedback with us.