Bharat Sanchar Nigam Limited (BSNL) today announced the launch of a special incentive scheme to it's staff members in Customer Service Centers who are engaged in Aadhaar enrolment and modification activities.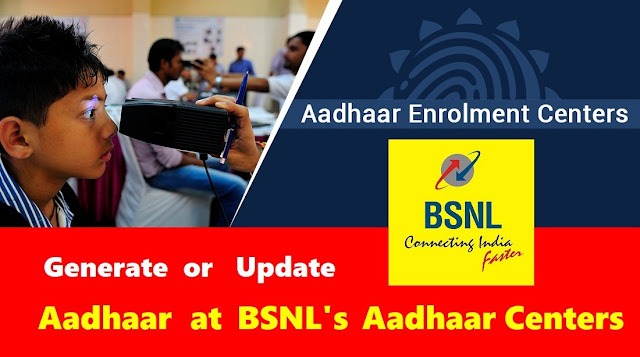 As per this latest information, BSNL will be giving

Rs 10/- per each new Aadhaar enrolment

and

Rs 5/- for each Aadhaar modification as in incentive

to BSNL staff entrusted with the duty of Aadhar Verification. This scheme is named as – BSNL Verifier Incentive Scheme for verification of documents at CSCs or Outsourced CSCs or other locations. 
BSNL's incentive scheme is applicable to the one who is doing document verification for new enrolment or modification of Aadhaar. This incentive would be paid to verifiers on monthly basis as a personal claim. Verifier may need to work beyond normal working hours for verification. One verifier may need to go to different nearby locations for document verification as instructed from BSNL.
Aadhar Enrolment & Modification through BSNL CSCs
BSNL launched Aadhaar activities viz – Aadhaar generation as well as modification/updation  through 3000+ BSNL's Customer Service Centers (BSNL CSCs) across India. Now residents of India can update their address / mobile number, date of birth and other details online by visiting nearest BSNL's Aadhaar Centers.
The following are the facilities extended by BSNL through it's CSCs in association with Unique Identification Authority of India (UIDAI):-
Aadhaar Enrolment (New Enrolment & Child Enrolment)
Aadhaar Update (Demographic & Biometric Update)
FAQs on Aadhaar Enrolment
New Aadhaar Enrolment at BSNL CSCs. What are the documents required?
New Aadhaar enrolment can be done for any resident who resided in India for a period of 182 days or more who posses required documents is eligible for Aadhaar Enrolment. Child enrolment can be done before the age of 5 and data (biometric & demographic) can be updated after later.
Residents of India need to fill up an application form available at Enrolment centre along with supporting documents which are Proof of Identity (PoI), Proof of Address (PoA), Proof of Relationship (PoR) and Date of Birth(DoB) document. UIDAI accepts 31 PoI and 44 PoA , 14 PoR and 14 DoB documents. View the nationally valid list of supporting documents.
Do I need to bring original documents for Aadhaar enrolment?
Yes, you need to bring original copies of supporting documents for Aadhaar enrolment. These original copies will be scanned and handed back to you after the enrolment.
Do I have to pay any fee for Aadhaar enrolment?
No, Aadhaar enrolment is totally free of cost therefore you need not pay anything at the enrolment centre.
What kind of data gets captured during Aadhaar Enrolment?
There are two types of data gets captured for Aadhaar enrolment i.e. Demographic (Name, Gender, DoB, Address, Mobile number and email id) & Bioemtric (10 Finger Prints, Both Iris and photograph). Mobile number and email id are optional.
How much time it takes to get my Aadhaar generated after the enrolment?
It takes up to 90 days for Aadhaar generation from the date of enrolment.
How can I update my details in Aadhaar?
There are 2 different ways you can get your details updated:-
By Visiting Permanent Enrolment centre. Search nearest enrolment centre by clicking on "Locate Enrolment Center" on uidai.gov.in.
Online using Self Service Update Portal (SSUP). Click "Update Your Address Online" on uidai.gov.in.
Which are the items which can be corrected / updated through modification process?
Name
Address
Gender
Date of Birth / Age
Information sharing consent
Mobile Number
Email Address
Biometric update (Finger Prints/Iris)
The resident's photo is also captured during correction and Update process. The correction in data will be reviewed with the resident and any one of the biometrics of the resident will also be taken to confirm that the resident is OK with corrections.
Is there any fee involved for updation in Aadhaar details?
For Demographic updation, you have to pay Rs. 50/- (including taxes) to the service provider each time you get your details updated.
For Biometric updation, you have to pay Rs. 100/- (including taxes) to the service provider each time you get your details updated.
What are the documents required for updation in Aadhaar details?
You need to submit supporting documents. List contains 32 Proof of Identity (PoI), 45 Proof of Address (PoA), 14 Proof of Relationship (PoR) and 15 Proof of Date of Birth documents.
Will my Aadhaar number get changed after updation?
No, your Aadhaar number will remain same throughout even after update.
Shall I get Aadhaar letter again after updation?
Aadhaar letter with updates will be delivered at the given address only in case of Updation in Name, Address, Date of Birth and Gender. For Update of Mobile number/Email ID, the notification will be sent on the given mobile number/email ID.
How much time it takes to get updation in Aadhaar?
It takes upto 90 days for updation in Aadhaar after the request.
Does submission of request guarantee Updation of information?
Submission of information for update does not guarantee update of Aadhaar data. The information submitted is subject to verification and validation. Furnishing of incorrect information/suppression of information would lead to rejection of application.
Dear readers, please share this valuable information among all your friends and relatives. Now we may update our Aadhar by simply visiting nearest BSNL Customer Service Centre with all supporting documents.