BSNL launches the most economic prepaid mobile plan – FRC Plan ₹47 – with true unlimited voice calls to any network, 14GB data & 100 free SMS per day as a limited period offer for new customers in Kerala Circle. New BSNL prepaid mobile customers can also avail free 4G SIM card with FRC Plan ₹47.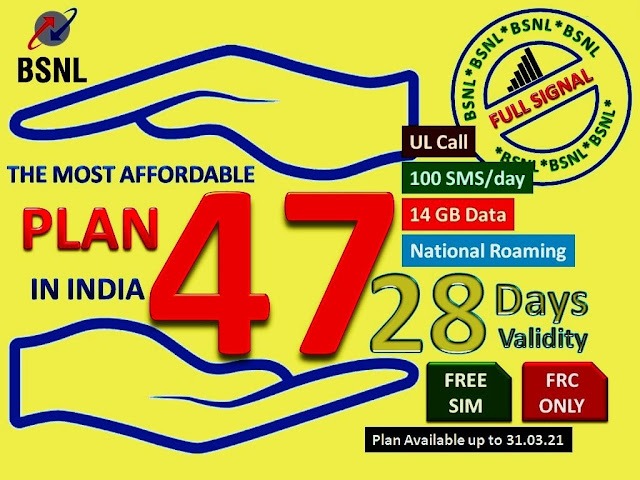 As per the latest information, this promotional plan will be available for a limited period upto 31st March 2021 in Kerala Telecom Circle. The validity of freebies bundled with FRC Plan 47 will be 28 days. However, this plan is exclusively available for new customers and not available for validity extension or plan migration. It means, new prepaid mobile customers activating their BSNL mobile number till 31st March 2021 may avail FRC ₹47 to avail these exciting benefits.
BSNL FRC PLAN 47 – ONLY FOR NEW PREPAID CONNECTIONS


( Promotional Offer from 20-02-2021 to 31-03-2021 in Kerala Circle )

MRP of Plan Voucher in Rs (Incl. GST)

Freebies / Features
Freebies & Plan Validity in Calendar Days
Mode of Activation
47
Unlimited Voice (On-net / off-net / local / STD) in Home LSA and National Roaming including MTNL Roaming area
+
14 GB Data
+
100 SMS / Day
28
CTOP UP / Online Recharge
All other tariff, terms and conditions as per Plan Voucher PV107. FRC plan 47 is applicable to new connections only. After 28 days, validity extension can be done by recharging with any other plan. Migration from other plan is not allowed. BSNL will also provide FREE 4G SIM Card with FRC 47 plan during this promotional period.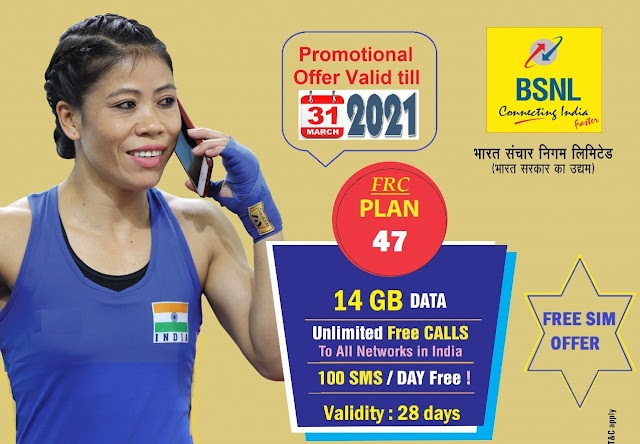 BSNL FRC PLAN 47 – The Most Affordable Plan in India
BSNL has launched this promotional prepaid plan in an attempt to increase SIM activations during the last period of this financial year. As compared to all other prepaid plans, FRC 47 plan is the best and most economic plan which is currently available for new prepaid mobile customers. Since this plan comes bundled with Free 4G SIM card, a new customer need to pay for the First Recharge amount only. Plan activation can be done either through C-Top Up or through Online Recharge portals.
Read More : BSNL revises STVs(₹99, ₹298 & ₹319) and Plan Vouchers (₹399 & ₹699) with extra data, SMS and increased validity till 31st March 2021
Dear readers, please share this valuable information among all your friends and relatives. How many of you are currently using BSNL Mobile Services? Please do share your feedback about service quality.