Bharat Sanchar Nigam Limited (BSNL) today published detailed tariff plans for satellite based Narrow Band IoT (Internet of Things) services being provided in association with M/s Skylo Tech India (Skylo). BSNL has just launched the world's most affordable IoT satellite network for digitizing India's unconnected industries that need data in remote & rural parts of the country.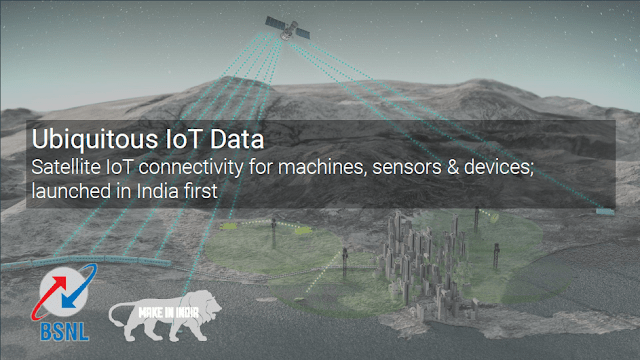 India is one of the largest and fastest-growing markets for digital data consumption. To enable the explosive IoT growth projected for India, full geographic coverage by a secure, ubiquitous, reliable, and cost-effective M2M connectivity solution will be required. BSNL-Skylo is a breakthrough solution combining 2-way satellite connectivity, sensor networks, a mobile & web digital platform with AI (Artificial Intelligence) to provide real-time data services to multiple sectors. The solution, fully developed and manufactured in India, can be leveraged in intelligent transport systems, smart farming and market access for farmers, agriculture and construction equipment tracking, fisheries safety, disaster management operations, among many other domains.
BSNL Satellite Based Narrow Band IoT Services – Tariff Plans [ BSNL Skylo Tariff Plans ]

1) Monthly Tariff Plans (Advance Payment)
Plan
Data Usage Permitted (Per Month)
Auto Message – UTP (Update frequency in minutes)
Manual Messages (in No.s max per month)
Monthly Charges (MRP in INR)

Plan

25U

25 kB

1440 Min
30
Rs 300/-

Plan

50U

50 kB

60 Min
30
Rs 400/-

Plan

100U

100 kB

30 Min
50
Rs 600/-

Plan

150U

150 kB
20 Min
100
Rs 800/-

Plan

175U

175 kB
10 Min
200
Rs 900/-

Plan

300U

300 kB
5 Min
250
Rs 1500/-

Plan

2200U

2200 kB
1 Min
1000
Rs 7500/-
2) Biennial & Triennial Payment Options
Plan Name
Validity
Price
Remarks

Biennial Plan

24 Months

Advance Payment of Monthly Plan x 23
1 Month FREE

Triennial Plan

36 Months

Advance Payment of Monthly Plan x 33
3 Months FREE
NOTES:
Auto-Message:

It is the regular, periodic update that has internal sensor data like location, time stamp, speed etc. It is the regular update from UT to Platform(UTP). Max data size for the auto-message is 50 bytes and value are usable for the customer and do not include any overhead.

Message:

Message is the manual communication initiated from the device. Maximum data size for message is 100 bytes.

The permitted data usage in each plan includes the data consumed in Auto Message (UTP) and Manual Message.
Other Terms & Conditions:
Minimum service commitment period is for one year. All subscription fees are to be deposited in advance by the customers for minimum commitment period for one year. Any charges for the unused period within the first year due to early termination are not refundable.

All applicable taxes including GST will be charged extra.

Monthly rollover of messages or data will not be permitted.
BSNL-Skylo Satellite based Narrow Band IoT Services
This disruptive low-cost two-way satellite network will make India lead the world in IoT for asset monitoring, remote two-way data, location tracking and includes a complete dashboard from where you can monitor data from connected remote sites anywhere. Unlike the erstwhile VSAT systems, the connectivity hardware itself is very small (8 inches wide), highly affordable (Rs.9,999/- and monthly service plans starting at Rs. 300), easy to self-install and easy to power (supports solar-powered/direct-VAC/vehicle battery/in-built portable battery), and provides the most reliable and instantaneous data communication over satellite from anywhere in Indian Geography, additionally providing facility of 2 way text communication (through dedicated Android app in all major Indian Languages).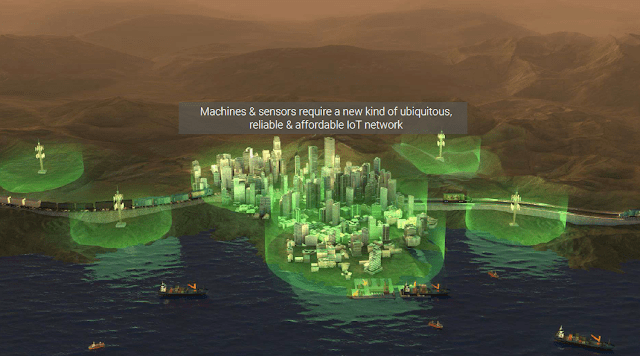 BSNL-Skylo Network Architecture – An Overview
Skylo has developed a global wireless network that is purpose-built for low-bandwidth sensor and machine data. There are billions of sensors, machines, industrial IoT devices and associated applications that are presently unconnected due to the sparse coverage and/or the high cost of service of existing cellular and satellite networks. Skylo's end-to-end service enables a reliable, low-cost, low-bandwidth connectivity fabric for these devices. It accomplishes this connectivity by combining the low-cost and high-volume benefits of consumer-grade wireless hardware with a purpose-designed satellite-based network.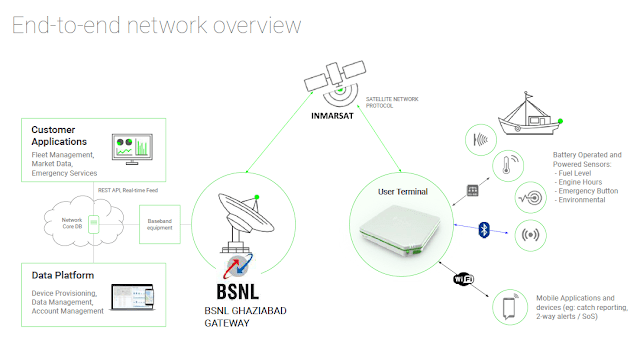 The BSNL-Skylo's network architecture consists of 3 distinct components – 1) User Terminals (UT) or "Hubs", 2) Base Stations (BS), and 3) virtual Data Centers (vDC) aka Data Warehouses. User Terminals (UTs) behave as Hubs for IoT devices that connect to it using standard protocols such as Bluetooth, WiFi, Zigbee, LoRA etc. The UTs communicate via Geo-Synchronous Satellite (GSS) links, to one or more Base Stations (BS) that are collocated at a Satellite Gateway/Earth Station. From here, the data is backhauled over private Internet connections to the Data Warehouses (vDC) for further processing. The vDCs host servers, databases, analytics engines, and Customer Portals. Depending on the needs of the end-user, data is either forwarded to customer-specified destinations or viewed and managed directly through a Customer Portal.
User Terminal (UT) aka "Hub"
The UT is an access and aggregating platform with advanced traffic management and edge computing capabilities. It consists of an intelligent IoT Gateway that provides wireless "fronthaul" access to sensors, machines, Point-of-Sale (PoS) terminals among other IoT devices. The traffic from these devices are intelligently identified, prioritized based on classes or grades of service, and then aggregated towards the satellite link.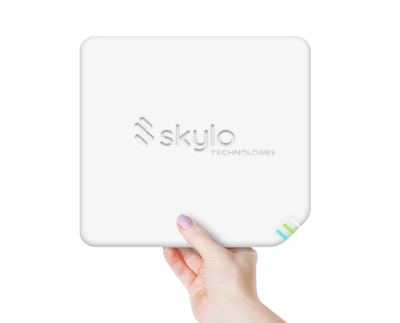 Sensors and devices attach to the Hub using well-established wireless protocols such as Bluetooth, WiFi, Zigbee, as well as wired mediums such as RS485. Through the use of external adapters, other connectivity options such OBD, MODBUS, CANBUS, NMEA-2000 are also supported.
Satellite based Narrow Band IoT Services – Applications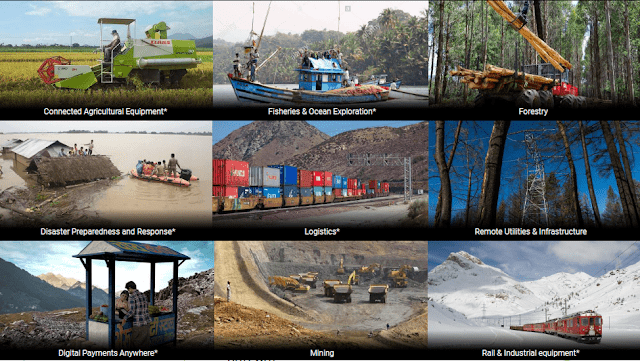 The use cases for this affordable, reliable and ubiquitous satellite network for different Govt. of India Ministries.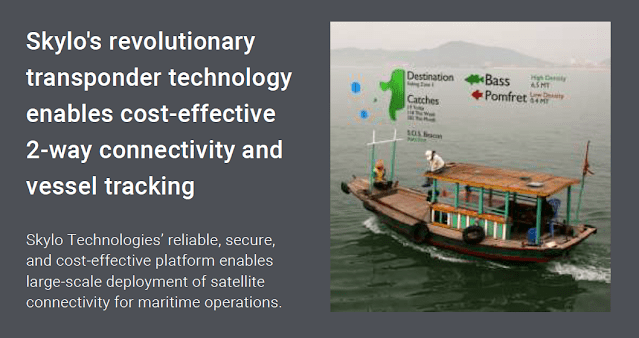 Department of Fisheries (Ministry of Fisheries, Animal Husbandry and Dairying): Contributing to the Prime Minister's Blue Revolution mission through empowerment of fishermen, low-cost IoT connectivity at sea provides fishermen an end-to-end solution for safety, productivity, and e-Commerce with ubiquitous data, network and platform. Regular location and vessel monitoring, with maritime boundary alerts and geo-fenced fishing zones, deliver the ability to generate reports on total fishermen at sea, departure/return, etc thus helping the government security agencies. Two-way emergency messaging system for distressed vessels, inclement weather, and disaster response caters to the safety of the fishermen.

On the first day of POC at A&N Islands, BSNL Technology saved the lives of two fishermen.
Ministry of Commerce | Ministry of Road Transport : BSNL NB-IoT network can bring National Logistics into being an organized sector through monitoring and tracking movement of goods and services by providing complete end-to-end ubiquitous connectivity for vehicles to: (a) Ensure high uptime and operational efficiency with geo-location of each vehicle (b) SOS functionality (c) Platform compatible to add sensors such as OBD2, fuel-level, temperature of cargo, etc.
Ministry of Home Affairs/ Ministry of Defence: BSNL Solution can be useful in providing secure and dedicated connectivity to Armed Forces and Police Forces in Border Security and remote areas for communications within various units and Patrols. This would be useful in maintaining law and order by tracking patrol vehicles at Control Rooms through ubiquitous connectivity.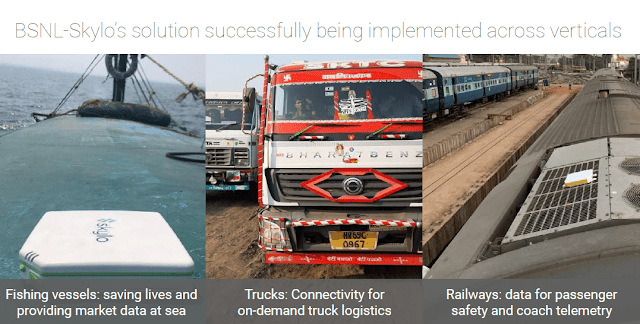 Ministry of Railways: Smart coaches with IoT connectivity are rapidly increasing the uptime, efficiency and overall quality of passenger experience, besides contributing to critical safety needs. BSNL's Satellite-based ubiquitous technology will directly connect our Indian Railway coaches and their smart sensors like water level, car vibration and fire alarms etc will help the railways take action on time. The country's lifeline, which is the railways, will be able to reap the benefits of IoT directly to improve the bottom-line and financial health of the railways, which is directly correlated to safety, efficiency and throughput.
Ministry of Agriculture & Farmer's Welfare: Agriculture sector can harness the power of affordable sensors data like soil moisture sensors, pH sensors, flow meter sensors etc to maximize farm profitability. Direct agricultural sensors are a proven method to increase farmers' crop yield and decrease their resource usage. From something as simple as providing faster real-time access to markets to AI monitoring plants for spraying chemicals and fertilizers and robots being used in fields, low-cost BSNL IoT connectivity is going to revolutionize farming. It can also completely digitize the current manual Soil Health Card program which takes 14 days and manual observations to get results. The dairy farmers can also use IoT technology to track the movement and eating habits of their cattle and also monitor their health.
National Disaster Management Authority: India is particularly vulnerable to natural disasters due to its unique geography and climate conditions. Floods, droughts, cyclones, earthquakes, wildfires, and landslides are regular occurrences in India. By deploying IoT technologies that can securely, reliably and ubiquitously deliver real-time alerts, improve response time, and monitor disaster management resources, the government can mitigate negative economic impacts and save lives.
Ministry of Health & Family Welfare: BSNL's IoT technology can enable 2-way messaging support for remote testing stations and emergency support, log transactions for distribution of medicines & vaccination and also support patient, bed, and first responder counts to enable coordinated, centralized response. AI and health-related IoT devices for monitoring patients and healthcare professionals advising treatment online to these medical records being available for AI-managed medical research, the benefits of these technologies are humongous. Ambulance Tracking is essential for reducing evacuation time and to ensure patients are taken to the right medical care centers where beds and staff are available and ready.
Ministry of Power: BSNL's Satellite based IoT connectivity offers a wide number of applications in the energy sector, i.e. in energy supply, transmission and distribution, and demand. IoT can be employed for improving energy efficiency, increasing the share of renewable energy, and reducing environmental impacts of energy use. Additionally, with the continuous increase in energy consumption, smart grid services will collect and analyse consumption data to improve the economy of power usage.
Ministry of Environment & Forests: Several important issues are affecting the forest environment due to deforestation and natural disasters (for example forest fires, or increased gas emissions). BSNL's IoT based intelligent forest environment monitoring solution can measure key parameters in forest areas on a regular basis, with no need of human intervention and to send this information via satellite to a central platform. Parameters such as temperature, gas concentrations, soil humidity etc. can be monitored with sensors while background sounds can be analyzed with an algorithm on the basis of which the generated event can be classified into one of the following categories: Chainsaw, Vehicle, or Forest background noise. The user's accessibility to the collected data is ensured via satellite based NB IoT Network and a mobile applications that allows the user to receive notifications, whenever fire, pollution sources, or illegal deforestation are detected.
Ministry of Mines: Geo-fencing together with connectivity enables alerts for trucks entering and leaving defined geographic zones, such as mines and hazard areas. These geo-fencing alerts can be sent in real time to Coal Department officers. This will increase the safety of the industry while simultaneously decreasing fraudulent activity, increasing tax revenue & collections. This can be made possible by the BSNL's satellite based IoT network.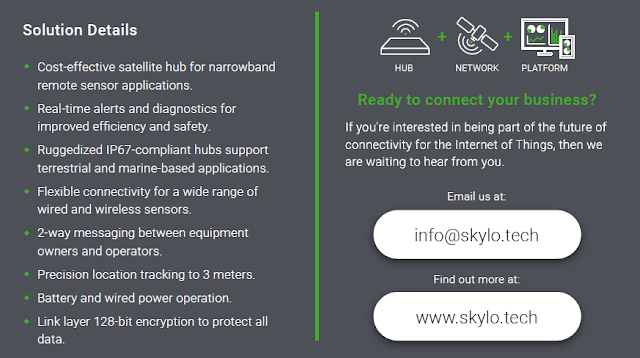 Dear readers, please share this latest and innovative satellite based IoT services by BSNL among your friends and relatives. Whether this new service will help BSNL to compete with other private players in Enterprise Business segment?