Bharat Sanchar Nigam Limited (BSNL) today announced the launch of a new prepaid plan voucher PV 699 with unlimited calls and data benefits for 160 days. As per the latest information, BSNL Prepaid Plan 699 will be available from 25th January 2020 onwards in Kerala Telecom Circle as 'Republic Day Special Offer 2021'.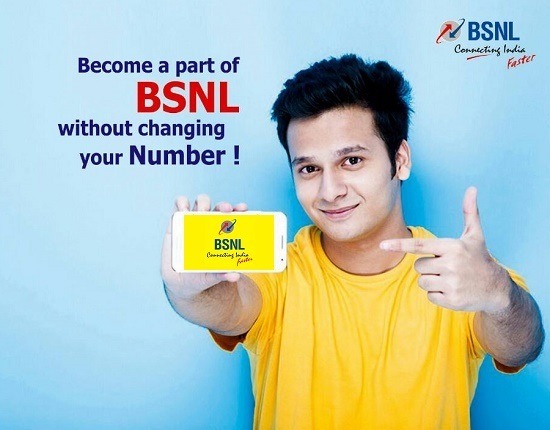 BSNL had introduced the same plan – Prepaid Plan Voucher PV ₹699 – in other telecom circle way back in May 2020. However, the plan was not available in Kerala Circle till now. Now BSNL authorities has decided to offer the same plan – BSNL Prepaid Plan 699 – to its customers in Kerala Telecom Circle with effect from 25-01-2021. BSNL Prepaid Plan ₹699 comes bundled with unlimited data – 0.5GB/Day and true unlimited voice calls to any network anywhere in India and free 100sms/day to any network. All the above freebies are valid for 160 days.
Particulars

First Recharge Coupon / Plan Voucher 699
Price of FRC / PV in Rs
Voice Freebies ($)

Unlimited free calls in home and national roaming including MTNL area of Delhi and Mumbai

Free Data Usage
Unlimited Data with speed reduced to 80Kbps after 0.5GB/Day
Free SMS Any net ($)

The 100 Free SMS/day will be applicable in home and national roaming including MTNL network roaming area of Delhi and Mumbai

Validity of above Freebies
160 Days
Initial Plan / Tariff validity in Days
160 Days
Base Plan / All other tariff / terms and conditions as per
Advance Per Minute Plan
Selfcare activation of Plan Voucher

USSD Short Code(Dial & proceed) *444*699#

SMS Keyword (Send SMS to 123) PLAN BSNL699
($) The Voice/SMS benefits ( if any) under this voucher cannot be used for outgoing calls/SMS to premium numbers, IN numbers, international numbers and other chargeable short codes; the subscriber will be charged applicable tariffs for the same. This voucher is intended only for personal use of included services. BSNL reserves the right to discontinue service immediately in case of misuse/fraudulent use/unauthorized telemarketing and commercial use. Unutilized free benefits will be forfeited at the expiry of current recharge of the plan.
The above tariff will be applicable from 25-01-2021 in Kerala Circle. The implementation of the tariff will be made in accordance with 43rd Amendment of Telecom Tariff Order and orders/guidelines/clarifications issued by TRAI from time to time.
Click Here to See Latest BSNL Prepaid Mobile Plans and Offers
How can I activate BSNL Prepaid Plan 699?
BSNL Prepaid Plan 699 is available to all the existing and new prepaid mobile customers. Existing customers can activate the plan by sending SMS in the format PLAN BSNL699 to 123. Customers may also dial USSD short code *444*699# to activate the same. Existing customers need to ensure that, their prepaid main account balance is above Rs 699/- before sending SMS or dialing the USSD code.
SMS Activation : Send PLAN BSNL699 to 123
USSD Activation : Dial *444*699#
New Prepaid Mobile Customers can activate this plan by recharging their number with Rs 699/- as FRC. As we reported on yesterday, BSNL Kerala Circle is offering FREE 4G SIM cards to all new as well as MNP Port-In customers till 31st January 2021. All those who wish to get a new BSNL prepaid mobile connection may utilize this golden opportunity to grab their BSNL Mobile connection absolutely free during this offer period. Customers activating new BSNL prepaid mobile connection till 31st January 2021, need to pay only for the plan voucher amount. It is also to be noted that, BSNL will be offering FREE 4G SIM card only with Plan Vouchers above Rs 100/-.
BSNL's True Unlimited Prepaid Plan 398
For heavy data users, BSNL launched a new TRUE UNLIMITED OFFER – STV ₹398 – where customers can enjoy unlimited data without any FUP limits and true unlimited voice calls for 30 days. BSNL's STV 398 is getting momentum as this plan is best suited for Work From Home and other online activities which need heavy data usage. No other operator in India is offering TRUE UNLIMITED OFFER under prepaid mobile segment at cheapest rate of just Rs 398/-.
Read More : BSNL Republic Day Offers 2021 : Additional validity with annual prepaid plans ₹1999 & ₹2399 from 10th January 2021
Dear readers, please share your views and opinions about this newly launched prepaid plan 699 via comments with us. How many of you are using BSNL Prepaid Mobile Services? Please rate service quality via comments with us.