BSNL Kerala Telecom Circle has announced 'e-Auction of Fancy and Vanity Mobile Numbers' for the month of January 2021 from 22-01-2021 to 29-01-2021 through online portal –

http://eauction.bsnl.co.in

.
Mobile Numbers having some specific sequence, often termed as – Vanity / Fancy / Premium
Numbers are available for this e-auction.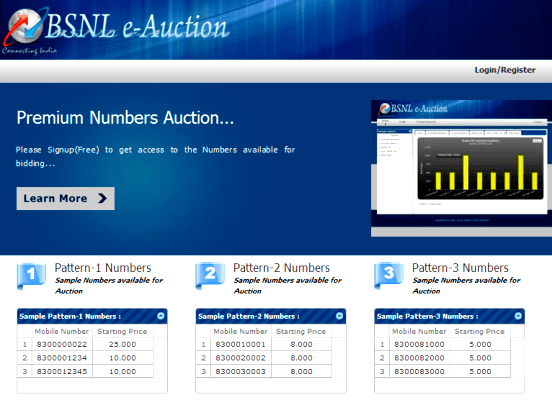 Customers can participate in the bidding of selected premium numbers through web. The registration and participation in the e-auction process is very simple and easy. Earlier, there was an option participate in e-Auction through SMS. As per the latest information, SMS bidding option has been stopped in Kerala Circle. Now individuals interested in BSNL Fancy Mobile numbers may participate in e-Auction only through web portal. The Auction will start from 00:00 Hrs of 22-01-2021 and will end at 23:59 Hrs of 29-01-2021.
Registration Charges for BSNL Fancy Number e-Auction
BSNL has also revised the registration charges for the bidding process. It is also informed by BSNL authorities that, registration charges is non-refundable in the case of unsuccessful bidder.
Registration Charges to participate in BSNL e-Auction of Fancy Mobile Numbers
Base Price (in Rs)
Registration Fee (in Rs)
0-5000
500
5001-10000
1000
10001-19999
2000
20000-29999
3000
30000-49999
4000
50000 and above
5000

Who can participate in the e-auction ?

BSNL
intends to offer e-auction for the allotment of Vanity Numbers in the
Corresponding Licensed Service Area (which includes corresponding
Telecom Circle customers) to the eligible customers / companies /
Similar firms.
The
vanity Number will be provided to the successful bidder. This vanity
number will be in the Corresponding Licensed Service Area (which
includes Corresponding Telecom circle) with all facilities as per the
plan like SMS, Data, ISD, International roaming as per the published tariff of BSNL.

The prospective customers / Companies / firms must be an Indian Registered Company / Citizen of India.

Certificate
of Incorporation with copy of articles and Memorandum of Association
should also be submitted along with the bid for companies / firms.

The prospective customers/companies/similar firms should submit latest acknowledged copy of Income Tax returns form.

Individual customers should submit the address proof/Identity proof as per the guidelines of BSNL.
How to Register in the Online Portal ?
To register, customer has to access the site

http://eauction.bsnl.co.in

, portal registration is free.
The customer can select the number of his choice and proceed for
registration of the same by paying non-refundable fee which will be charged as registration
Fee for each vanity number. The Registration fee will be deducted from
the talk balance of Pre-Paid customers and will be included in the next
bill of the postpaid customers.


How to Participate in the Premium / Fancy Number Auction ?
Customers
can participate in the bidding of selected premium numbers through web –
http://eauction.bsnl.co.in
.
Participate in the Premium Number Auction through website: (Google chrome / Mozilla Browser required)
To register, customer has to access the site http://eauction.bsnl.co.in or https:goo.gl/pmRgVs portal registration is free

Customer can register through "Login/register" link in menu bar. Customer has to login with Mobile no. &email id. After successful registration customer will be informed a password via SMS & email.

Customer has to click "Login" & login using the password received & click accept terms & conditions to proceed further.

After successful login customer will be directed to welcome page. Customer can change password using "Change Password" option available in menu bar. Customer can fill his details in "profile form". Customer can select the vanity numbers by clicking "Available numbers".

For bidding a vanity number, customer has to pay the required registration fee shown against the selected number and the registration charges can be paid online.

After paying the requisite registration charges for a number, customer can bid for that particular number available in "My Bid Status" menu. Customer can start bidding numbers for which registration is successful.

Select the number from left hand side, customer can see the number of bids & its current bid value. Incremental value for each bidding number is already available in the portal.

If the customer wants to bid higher than the present maximum bid value, he can increase his/her bidding amount by clicking "Click to bid" in My bid status.

The bidding closes at 23:59 Hrs at 29-01-2021 and successful bidders list will be published to BSNL field units on 30-01-2021.

All successful highest bidders (H1) will be given mail/SMS on 30-01-2021 mentioning the number bidded, PIN number & amount to be paid inclusive of GST – minus registration charge initially paid.

All successful bidder can approach any BSNL CSCs in Kerala by showing the SMS/mail intimation and can take the respective vanity number after paying the above charges &by producing the necessary documentary proof.
BSNL is intended to set a platform in order to make these Premium numbers available for the customers who are more fascinated towards Fancy Numbers. As the demand is extremely high these numbers are pooled for auction so that every individual can make out a chance to grab the number of their choice by participating in Auction conducted on this website. As a whole this Website sets a transparent medium which opens a way to explore our valuable services to the public.
Readers, are you interested in Fancy / Vanity / Premium Numbers? Have
you participated in the e-auction process of BSNL? Fancy numbers are
necessary for the promotion of business? Please share your views with
us.