Bharat Sanchar Nigam Limited (BSNL) has released FAQ on FTTH (Bharat Fiber) & Contact details of FTTH helpdesk numbers across Kerala for improving customer experience. BSNL FTTH FAQ (Frequently Asked Questions) is released by BSNL Kerala Telecom Circle for the benefit of customers in resolving issues related to BSNL Bharat Fiber (FTTH Broadband) Services.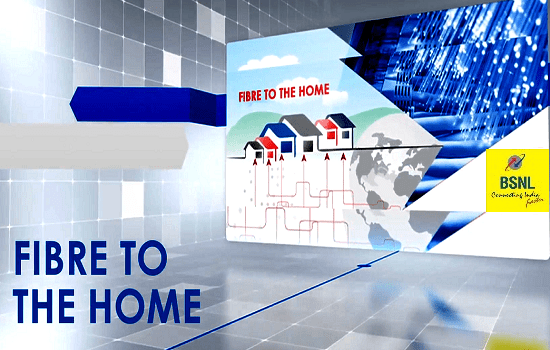 This FAQ cover all major customer complaints related to BSNL FTTH like – internet slowness in WiFi, weak WiFi signal and low coverage, page loading issues with particular websites, voice facility bundled with FTTH, BSNL IPTV services and tariff, OTT streaming services bundled with BSNL FTTH, complaint booking number or helpdesk number for BSNL Bharat Fiber (FTTH) etc.
FAQs on improving BSNL FTTH customer experience
1) Why is my FTTH internet slow when accessed over WiFi?
The speeds that can be attained over WiFi depends on how close you are to the WiFi router or the FTTH WiFi enabled ONT and various other factors including the hardware capabilities of the WiFi router, interference from nearby WiFi networks etc.
2) My WiFi signal is weak at the corner of my room. What can I do to improve it?
WiFi signal strength depends on how close you are to the WiFi router. Walls and other obstacles like cabinets obstruct the signal and reduce the signal strength thereby seriously impacting the speeds. Keep your desktops, laptops, mobiles and other devices closer to the WiFi router / ONT so that you will be having a better WiFi signal. WiFi coverage can be extended to other rooms by employing WiFi mesh network devices or by installing additional Wireless Access Points or WiFi extenders which are now available from various manufacturers. Use dual band WiFi routers / ONT that support latest WiFi standards like 802.11 AC / 802.11 AX. Connect to 5GHz Wifi band for better speeds, although the range is less.
3) What equipment do I need for BSNL FTTH?
The basic device required is an FTTH ONT (Optical Network Terminal). Most ONTs currently available comes along with dual band WiFi capability and is sufficient for supporting a few number of wireless devices with moderate traffic. It is advisable to go for a separate WiFi router with suitable technical specification, if number of wireless devices with moderate to high traffic is high or stringent WiFi performance is required.
4) Do I need a separate WiFi router for FTTH?
Most FTTH ONTs now available in the market come with dual band WiFi and is enough for supporting a few users with moderate traffic over wireless. But if your ONT is not WiFi enabled or if you have more number of wireless devices with moderate to high traffic, a separate WiFi router is desirable. High traffic video streaming, applications requiring low latency etc., will benefit from having a Wifi router with decent technical specifications.
5) Will BSNL support me to configure WiFi or purchase proper Router ONT?
You may contact FTTH help desk number 12678 for support, depending on the support needed BSNL can guide the customer through the LCO or any of its employees. FTTH help desk in Kerala numbers are attached in annexure below and the service is available on all working days during the hours mentioned. For 24/7 emergency assistance please call 1800-345-1500.
6) I have got a Wifi 802.11 AC router. But why my internet speeds are limited to 30 to 40 Mbps over the WiFi, although I have 100 Mbps / 200 Mbps / 300 Mbps FTTH plan?
Please ensure that your laptop or mobile support the 802.11 AC WiFi and you are having proper WiFi signal at that location. Use 5GHz band of the WiFi router instead of 2.5 Ghz band.
7) My Wifi is performing poorly due to interference from surrounding Wifi Networks. What is to be done?
New WiFi routers and ONTs available mostly support dual band WiFi. Switching over to 5GHz band will help as the 5GHz band is less susceptible to interference compared to 2.5 GHz band and is usually less congested. If the problem persists WiFi channels can be selected manually. For assistance, FTTH helpdesk can be reached by dialling 12678 from your BSNL landline or FTTH. You may also contact the local cable operator who installed the connection.
8) Occasionally, I find that my WiFi router hangs and internet is not available over WiFi. Why is it like that?
Your WiFi router is limited by its hardware specifications. If more number of devices with high traffic are connected to WiFi it can result in the hanging of WiFi router. This normally happens with routers with low hardware capabilities. A manual restart of the router can be done on such occasions. Also ensure that your WiFi router is updated with the latest firmware. If the WiFi is still having problems after manual restart, the issue may be with the WiFi router. Contact FTTH helpdesk or raise a complaint.
9) How can I check whether the reduced speed is due to issues with the WiFi network?
Plug an Ethernet / USB cable from your router / ONT to your desktop / laptop and test the speed. If it is slow then raise a complaint through 198 or 1800-345-1500 or contact the FTTH helpdesk 12678 from your BSNL phone, so that we can investigate. Alternatively you can also contact the local cable operator through which the connection is provided. If the speeds are satisfactory over the Ethernet cable, the issue may be with WiFi. (Your internet speed can be checked at speedtest.bsnl.co.in )
10) My FTTH plan offers above 100 Mbps speed. But why I am getting below 100 Mbps while using my desktop through LAN Cable?
Your computer's LAN port should be Gigabit (GE Port) to support speeds above 100 Mbps. Further your computer's LAN cable should be connected to the GE Port of the FTTH ONT. Also ensure that software and device drivers on your PC support these speeds.
11)What are the hardware requirements for my PC / Laptop for obtaining the best speeds from FTTH plan?
For a wired connection, ideally the PC or laptop should have a Gigabit Ethernet port for FTTH plans offering speeds above 100 Mbps. For wireless connections the WiFi hardware on your PC / Laptop should ideally support dual band WifI (802.11 AC or above) to have the best internet experience. FTTH will work through Fast Ethernet ports and single band Wifi like 802.11 b/g/n but the speeds experienced will be lower.
12) Will the software on my desktop or laptop affect my FTTH speed?
Old software, browsers, operating systems etc., may not be designed to support the high speeds that are offered by FTTH. The old drivers may not support Gigabit ports or the faster Wifi offered by your 802.11 AC router resulting in curtailment of speeds.
13) My computer has a Gigabit Ethernet port and I am subscribed to FTTH plan above 100 Mbps. But why I am getting speeds below 100 Mbps?
The LAN cable used and the FTTH ONT port should support Gigabit Ethernet speeds. CAT 6 / CAT 6 E cables are preferred for higher speeds. If an old LAN cable is used please ensure that it supports Gigabit Ethernet. Further the PC LAN port should be connected to the Gigabit port of the FTTH ONT.
14) Why I am not getting speeds offered by the FTTH plan when accessing certain websites, servers etc?
Internet speeds are influenced by end to end traffic, routing delays and the supported bandwidth of the accessed websites and servers.
15) What kind of LAN / Ethernet cable should be used to connect FTTH ONT and desktop computer / WiFi router / Switches?
For FTTH plans above 100 Mbps, it should be ensured that the Ethernet cable or patch code used for connecting the ONT GE Port to the GE port of the PC should support Gigabit Ethernet. Cat6 / 6e cable is highly recommended and unwanted length and coiling may be avoided for better performance. Ensure that all 8 wires in RJ-45 are terminated properly. Most OLD ADSL cables have only 4 wires terminated which can switch back the GE port to 100Mbps even if both ONT/Router and PC port have Gigabit Port.
16) Is it possible to make voice calls through my FTTH connection?
Unlimited voice calls are available with most FTTH plans. Your FTTH connection is provided with a telephone number. The service is supported by most local cable operators. Your FTTH ONT should support VoIP and should have the port to connect the normal telephone instrument.
17) Does BSNL offer IPTV service over FTTH?
Yes, IPTV services are offered by BSNL. Currently these services are available in Alappuzha, Ernakulam and Thrissur districts of Kerala.
18) Does BSNL offer subscription to OTT streaming services along with FTTH plans?
Yes, BSNL is offering Hotstar subscription with certain FTTH plans.
19) Where can I book an FTTH complaint and what is the FTTH helpdesk number?
FTTH complaints can be booked through 198 from a BSNL landline or mobile number or by dialing 1800-345-1500 from the mobile number of any other operator. FTTH helpdesk can be accessed by dialing 12678 from your BSNL landline, mobile or FTTH number. You may also contact the Local Cable Operator who provided the connection for assistance. FTTH Helpdesk numbers for the districts in Kerala are provided in the table below.
12678 is the FTTH helpdesk number which is accessible from BSNL landline, FTTH and BSNL mobile. FTTH helpdesk in individual districts in Kerala can also be contacted using the telephone numbers mentioned in the table below.
BSNL FTTH (Bharat Fiber) Helpdesk Numbers in Kerala

Toll Free Number 12678 (From BSNL Landline or FTTH)

or contact the number against your district mentioned below

District
FTTH Helpdesk Number
Working Hours

Thiruvananthapuram

0471-2576600
08.00 am to 08.00 pm

Kollam

0474-2760730
09.00 am to 05.00 pm

Pathanamthitta

0468-2223000

0468-2228000

08.00 am to 08.00 pm
Alappuzha
0477-2252715
08.00 am to 08.00 pm
Kottayam

0481-2563000

0481-2560000

09.00 am to 05.00 pm
Ernakulam / Lakshadweep
0484-2980000
08.00 am to 08.00 pm
Idukki
0484-2980000
08.00 am to 08.00 pm
Thrissur
0487-2423040
09.00 am to 05.00 pm
Palakkad
0491-2523575
09.00 am to 05.00 pm
Malappuram
0483-2764500
09.00 am to 05.00 pm
Kozhikkode
0495-2360360
09.00 am to 05.00 pm
Wayanad
0495-2360360
09.00 am to 05.00 pm
Kannur
0497-2701000
09.00 am to 05.00 pm
BSNL Bharat Fiber (FTTH) is the best and stable fiber broadband connectivity which is readily available everywhere in the country. BSNL is providing FTTH connections aggressively with the help of LCOs / MSOs / TIPs through revenue share model. BSNL Kerala circle is currently having nearly 2 lakh active FTTH connections where majority of customers are from Ernakulam, Kozhikkode, Kollam & Kannur Business Areas. Customers can book BSNL Bharat Fiber (FTTH) connections through
Book My Fiber Portal
or
My BSNL App
. Now, BSNL allows migration of landline numbers to FTTH without changing their existing number. Landline customers may
retain their existing number while upgrading to Bharat Fiber
. Fiber broadband connections of other ISPs which were provided through LCOs can also be migrated to BSNL FTTH without any additional expenditure for ONT or Modem.
Dear readers, please do share this valuable information among your friends and relatives using BSNL FTTH (Bharat Fiber) services. How many of you are using BSNL FTTH Broadband services? Please do share your feedback about service quality & customer service experience with us.