Most of the mobile phone users might have faced the issue of SIM card blocking / SIM card rejection due to the entry of wrong PIN or wrong PUK code while changing the security settings on your mobile handset.
Smartphone users normally protect personal data stored on their smartphones / tablets by setting up Fingerprint lock / Face lock / Password lock / Pattern lock etc. But how can we protect data on our mobile SIM card? Our SIM card data is more sensitive as our mobile numbers are already linked with bank accounts, Aadhar number and it also includes billing information and transaction OTPs.
Added Security with SIM Lock Facility with PIN Code
The only method to protect data stored on your SIM card is by enabling SIM Lock facility on your handset.

The PIN (Personal Identification Number) code is intended to protect your SIM Card from unauthorized use.

Once you enable the SIM lock feature, each time you'll restart the smartphone or swap the SIM card to some other smartphone, it will ask you to enter your SIM PIN and without the authentication, SIM card will not be accessible at all.
How to Enable SIM Lock Facility?
Go to Settings and tap on Security or Passwords & Security.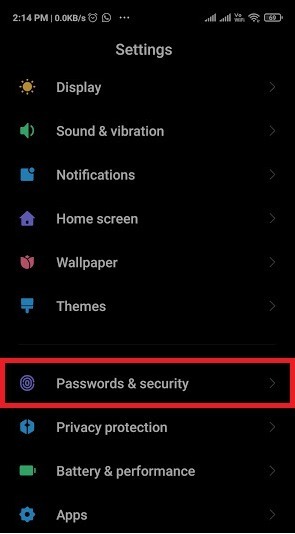 Now, tap on Other security settings or More security Settings or Privacy.
Then Tap on the desired SIM Card to Set up SIM card lock.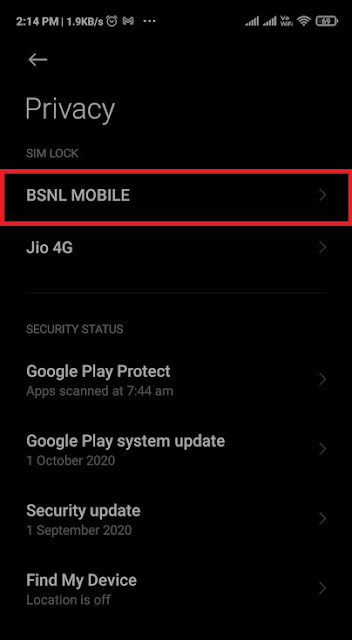 Now, Enter PIN code to activate SIM card lock.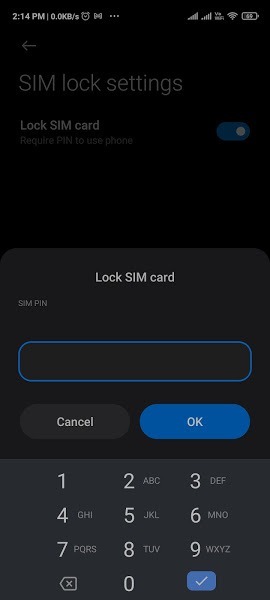 Default PIN code
Default PIN code for BSNL Mobile customers (Prepaid & Postpaid) is 0000.
It is always suggested to change the default PIN. No one can ever find the changed PIN, as you enter it right into your telephone.
Please contact Customer Care numbers of respective telecom service providers to get default PIN code for other private operators like Airtel, Jio & Vi.
How can I change default SIM MPIN?
To change default MPIN of your SIM card, tap op 'Change SIM PIN' option and then enter current and new MPIN.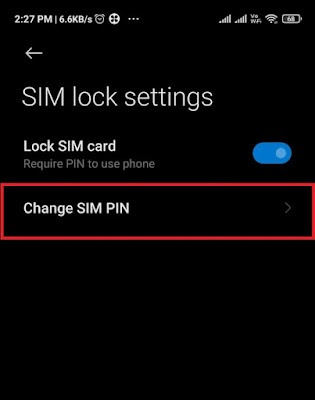 What do I have to do when I have forgotten my PIN or blocked the card by entering incorrect PIN?
When you have entered 3 times a wrong PIN code, your SIM card will get blocked and it will ask for SIM PUK (Personal Unblocking Key) code to unblock. Blocked SIM card due to incorrect PIN/wrong PIN can be unblocked only by entering PUK code.
PUK code is an 8 digit code which can be obtained by contacting nearest BSNL Customer Service Center or Calling toll free Customer Care. To get PUK code for your number, you may need to give details of your SIM card number (19 Digit Number printed on your SIM card) to Customer Care Executive.
After entering PUK code, your the handset will ask you to enter a new PIN
(Personal Identification Number)
. We suggest choosing a PIN code other than the default PIN 0000. Subsequently, you will have to enter the new PIN once more, for verification.
SIM Rejected due to Incorrect PUK Code
You have 10 attempts to enter the correct PUK code. After that, the card will be blocked entirely and you will no longer be able to use it. A SIM card blocked by the PUK code cannot be unblocked; it cannot be used any further and you have to replace it.
How much time will it take to unlock PUK blocked BSNL mobile?
Your blocked BSNL SIM card will be unblocked instantly by entering the correct PUK code (8 digit code). The only thing is, you need to get PUK code for your number from BSNL Customer Care Executive or from nearest BSNL CSC.
What are the charges applicable to get BSNL PUK code?
There is no charges for BSNL PUK code. You may contact nearest BSNL CSC or customer care for BSNL SIM PUK code.
Whether the process is different for PUK Code BSNL Postpaid SIM and Prepaid service?
The procedure to get BSNL SIM PUK code is the same for both Prepaid & Postpaid mobile customers.
Is there any way to get BSNL PUK Code via SMS?
No, at present it is not available. BSNL PUK code can only be obtained by contacting BSNL CSC or BSNL Customer Care Executive.
Is it possible to get BSNL PUK Code without SIM number?
It is not possible to get BSNL PUK code without 19 digit SIM card number. If SIM card is not with you, you may get duplicate SIM / replacement SIM from your nearest BSNL Customers Service Center (BSNL CSC).
Dear readers, please do share this valuable information among your friends and relatives. How many of you have faced PIN code / PUK code complaints? Do you believe that enabling PIN Lock facility will ensure SIM card protection from unauthorised use of your SIM card in other handsets?