Bharat Sanchar Nigam Limited (BSNL) got unified license in all the 22 telecom circles (service areas) in the country for a period of 20 years. As per the latest information, Department of Telecommunication (DOT) has signed Unified License (UL) agreement with BSNL on 10th December 2020.
BSNL was holding 2G license (CMTS license) in 20 telecom circles (excluding Delhi & Mumbai) which had expired on 28th February 2020. Now BSNL got Unified License (UL) in all the 22 telecom circles including Delhi & Mumbai with effect from 29th February 2020 all over India. With Unified License (UL), BSNL may offer any form of communication (Telephone, Internet, Broadband and others) through a single license.
It also delinks spectrum from future licenses.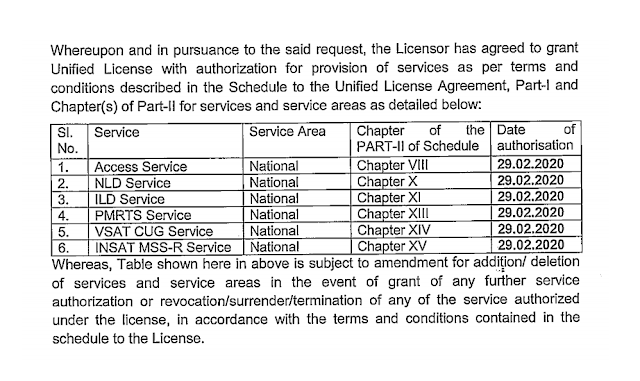 BSNL has submitted a bank guarantee (BG) worth Rs 250 Crore forn this Unified License. The license has been extended to continue nationwide services such as:-
Access Services (voice telephony, broadband services, IPTV services, Triple play services, Internet Telephony etc)
National long distance (NLD) Services
International long distance (ILD) Services
Public Mobile Radio Trunking Services (PMRTS) Services
Very Small Aperture Terminal (VSAT) CUG
INSAT Mobile Satellite System Reporting (INSAT MSS-R) Services
FDI upto 100% allowed in Unified License
In Unified Licensing regime, 100% FDI is allowed with 49% in automatic route and beyond 49% through FIPB route subject to observance of licensing and security conditions by licensee as well as investors as notified by the DoT from time to time.
IPTV Service is allowed in Unified
License
With unified license, an operator can provide IPTV services however DTH service is not included. To provide any broadcasting or DTH service, licensees should apply for a separate license to offer the same.
Following the issuance of the Unified License, the PSU would be able to provide seamless 2G, 3G and 4G services across all the 22 telecom circles across the 900MHz, 1800MHz and 2100MHz spectrum bands. It means, BSNL may utilize their entire spectrum for providing 2G or 3G or 4G services as per their requirement.
Dear readers, please share your views and opinions about this latest news via comments with us. How many of you believe that existence of BSNL is very much needed in Indian telecom market? Please do share your feedback about BSNL Services?