Bharat Sanchar Nigam Limited (BSNL) launched exclusive recharge plans ₹139 & ₹1199 for prepaid mobile numbers in Inactive Status or in Grace Period 2 (GP2). Many of our readers started receiving SMS intimation from BSNL regarding this exciting cash discount offer which is limited to BSNL prepaid mobile numbers which are currently not active.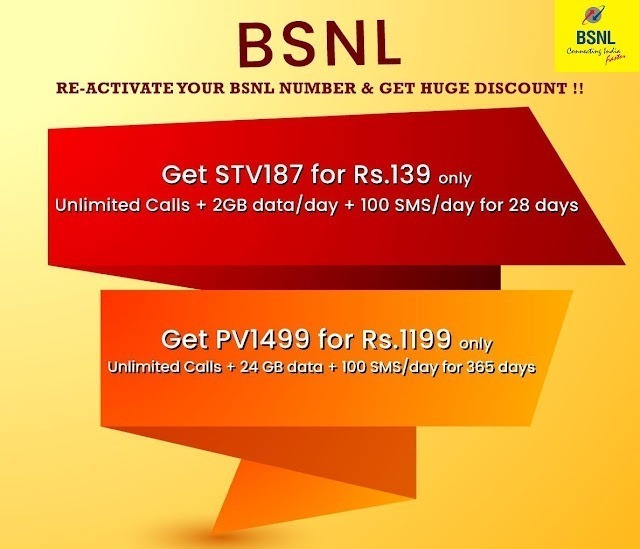 As we reported on 5th November 2020, BSNL started offering two prepaid recharge offers 1) STV ₹187 at discounted rate of ₹139 and 2)Plan Voucher ₹1499 at special discounted rate of ₹1199 exclusive to BSNL Prepaid Mobile customers who are currently in Grace Period 2 as promotional offer. Customers can avail the features / freebies of Special Tariff Voucher ₹187 or Plan Voucher ₹1499 by paying the discounted rate till 30th November 2020.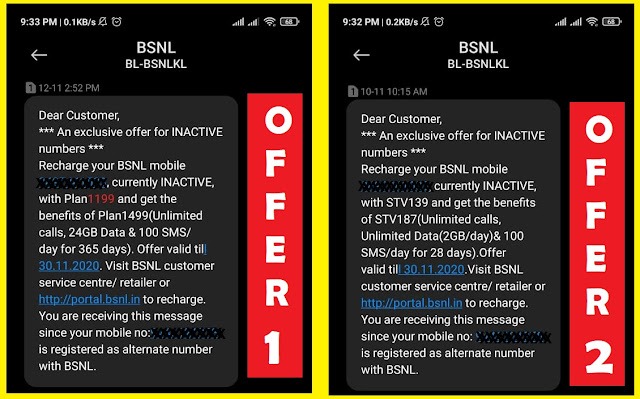 BSNL started pushing SMS notifications regarding the availability of these two special offers to alternate contact numbers of Inactive numbers. [SMS received from BSNL is shown in the above picture]. Customers can activate these two special offers though online or through BSNL Customer Service Centers or Retailer Shops.
BSNL Recharge Offers for Inactive Prepaid Mobile Numbers (Prepaid Mobile Numbers in Grace Period 2) : Offer valid till 30-11-2020
Offer Amount (in Rs)
Features / Freebies
Validity Period (in Calendar Days)

187

139

250 Min/Day Local / STD / Roaming Calls to Any Network (Including Delhi & Mumbai)

+

Unlimited Data with speed reduced to 80kbps after 2GB/Day

+

100 Free Any net SMS/Day

28

1499

1199

250 Min/Day Any net (Local/STD/Roaming including Delhi & Mumbai) Voice Calls

+

Total 24 GB Data

+

100 SMS/Day to Any net (Local/STD/Roaming including Delhi & Mumbai)
365
How can I activate BSNL Offer ₹139 or ₹1199 on my prepaid number?
To activate special offer, customers need to recharge their number with desired denomination. To activate ₹139 offer and to increase validity by 28 days, just recharge your BSNL prepaid number with ₹139. It can be done either online or through BSNL CSC/Retailer Shops. Similarly, to activate special offer ₹1199 and to increase validity by 365 days, just recharge your number with ₹1199.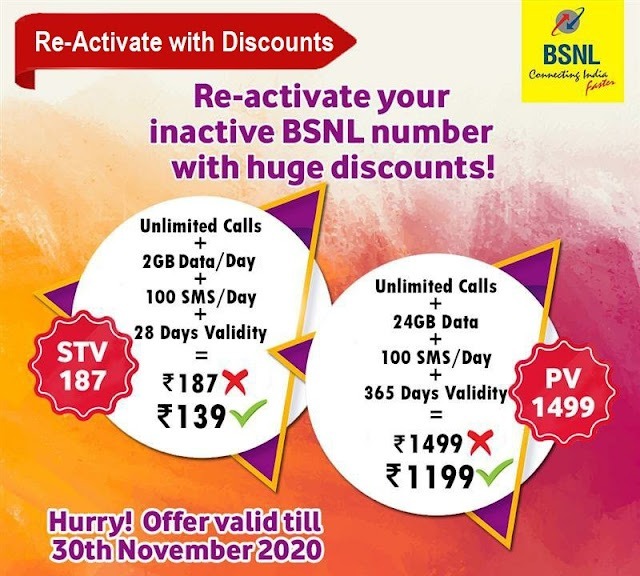 Applicable Conditions on discounted vouchers:-
VAS (Value Added Service) (if any) bundled with STV187 & PV1499 will not be extended with discounted voucher of Rs.139 & Rs.1199

During this promotional offer, incoming SMS facility will be given to GP-II and beyond GP-II customers.

The Offer will be available for a period up to 30-11-2020 across all telecom circles.

At the end of this promotional offer, incoming SMS facility will be barred again.

Customers in GP-II will be given two SMS daily from BSNL with "features of voucher in short and the recharge link" of discounted voucher of Rs.139 and Rs.1199.
The PSU has announced this promotional offer in an attempt to increase its active customer status and to improve its VLR figures. As per latest TRAI telecom subscription data, BSNL's VLR figures stood at 52.05% in the month of August 2020 which is the lowest as compared to Reliance Jio (78.86%),
Vodafone Idea(88.18%) &
Bharti
Airtel (96.85%).
Dear readers, please share your views and opinions about this special discount scheme for BSNL Prepaid Mobile customers via comments with us.