Now BSNL Customers can download receipts of their paid bills online. This online facility is available to BSNL Landline, Broadband or FTTH (Bharat Fiber) customers all over India. Customers who paid their telephone bills or broadband bills via BSNL Cash Counter or BSNL Online Payment Portal or through any other means can download receipts of their paid invoices from BSNL Selfcare Portal which is very simple and easy.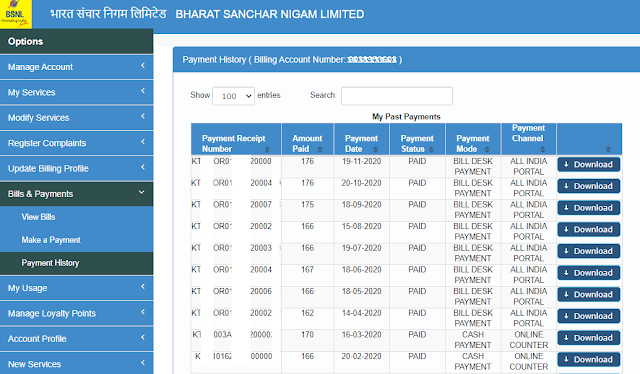 Generally, BSNL customers need to visit concerned BSNL CSC for necessary payment receipts, but now the PSU allows customers to download any type postpaid bill receipt through selfcare portal login. To download BSNL bill paid receipt from BSNL Selfcare Portal, you first need to have a registered account in BSNL Selfcare Portal. After account creation, you may need to add billing account and customer ID allotted to you to get your BSNL bill paid receipt.
BSNL Customers can view and download all past receipts from BSNL Selfcare Portal from

'Payment History'

option provided under

'Bill & Payments'

link provided in the sidebar. Now let us describe the detailed procedure to view and download BSNL bill paid receipt online from Selfcare Portal.
How to Download or Print BSNL Bill Paid Receipt in Online from BSNL Selfcare Portal
Login to Selfcare portal (https://selfcare.bsnl.co.in)
Click on Billing Account Number (starts with 9xxxxxxxx) shown in My Accounts.
Go to Bills & Payments (Available in Options in Left side panel)
Click Payment History

All the payment history details will be displayed in right side panel with all details (Payment Receipt number, Amount paid, Payment Date, Payment Status, Payment Mode, Payment Channel) for latest and past payments.
Click on Download (shown against each payment receipt number). Then a PDF receipt will get downloaded automatically for the selected invoice number.
How to download BSNL bill paid receipt without any login?
Customers already registered in BSNL selfcare portal can view, download and print all their paid receipts online. For that, a customer need to add billing accounts of already availed services (Landline / Broadband / Bharat Fiber etc) in Selfcare Portal.
More About BSNL Selfcare Portal:-
Is there any restriction to download bill paid receipt from BSNL Selfcare Portal?
No, you can download the bill paid receipt from anywhere in the world trough registered account in BSNL Selfcare Portal.
Dear readers, please share this valuable information among your friends and relatives who are using BSNL Broadband or FTTH services. Many BSNL customers are still visiting BSNL Customer Service Centres (BSNL CSCs) to get their bill paid receipt. This facility is extremely useful for business institutions / other offices since most of them require BSNL Bill paid receipt for their accounting purpose.