Bharat Sanchar Nigam Limited (BSNL) has released EOI (Expression of Interest) for franchisee ship sales and distribution of BSNL products as defined in BSNL's CM Sales and
Distribution Policy – 2018.
As per the latest information, sealed EOI are invited on behalf of CMD BSNL by CGM Kerala Telecom Circle
for selection of Franchisees for sales and distribution of BSNL products and provision of services to BSNL at various locations. Those who wish to start their new business with BSNL may submit location wise bid before 16th December 2020. BSNL uploaded tender / bid document in their website www.kerala.bsnl.co.in
BSNL has released EOI for 12 CM (Customer Mobility) franchisee territories in 8 business areas of Kerala Telecom Circle. The locations and bid opening dates are given below:-
BSNL Invites EOI for CM Franchisees for the following Territories

Business Area

Franchisee Territory

Bid Opening Date

Alappuzha

Mavelikara

Calicut

Kalpetta

Calicut

Bathery

Ernakulam
Muvattupuzha
Ernakulam

MG Road

Kottayam

Kottayam

Kottayam
Changanacherry
Pathanamthitta
Pathanamthitta
Pathanamthitta
Konni
Trivandrum
Attingal
Trivandrum
Medical College
Kollam
Chathannoor
Thrissur
Vadakkancherri
Who can apply ?
All proprietorship firm, partnership firms and company of Indian origin fulfilling
following criteria are eligible to apply.
Turn over:
Turnover is defined as sales proceed as per audited P&L account of the firm,
submitted for last financial year. A copy of income tax return should also be submitted
along with.
i. Rs.50 Lakhs for A class territory
ii. Rs.30 Lakhs for B class territory
iii. Rs.6 Lakhs for C class territory
Experience: Interested firms must be distributor/dealer of Telecom / FMCG /
Electronics / Electrical / any other products with established retail chain for :
i. 3 years for class A territory out of last 5 years
ii. 2 years for class B territory out of last 4 years
iii. 1 year for class C territory out of last 3 years
Note: DSAs (Direct Selling Agents) and RDs (Rural Distributors) of BSNL are also allowed to participate in the EOI subject to
fulfillment of eligibility conditions.
Space: Interested party must ensure office/ showroom space (carpet area) of size
200 sq. ft. for BSNL franchisee ship within operational area of the territory. CGMs are
authorized to relax the space up-to size 120 sq. ft. as per local need. However it
should be clearly mentioned in EoI document. Space is to be ensured within 15 days
of LOI for award of Franchisee ship.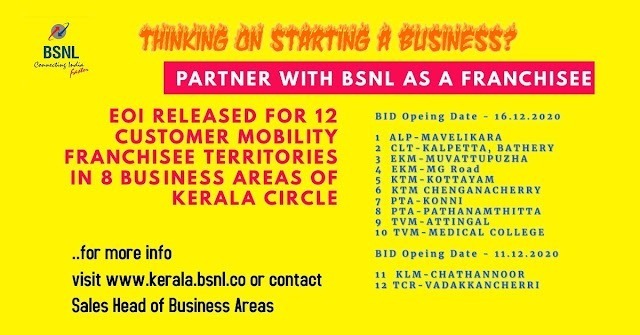 How to get EOI / Bid Form?
Bid document will be available from the office of the respective Business Area GM on any working
day, on payment of Rs.1000 (non-refundable) in the form of cash/ crossed bank draft in
favor of Accounts Officer (Cash), BSNL O/o GMT of respective Business Area. In case of cash payment the original cash receipt obtained should be
enclosed with application.
EOI document may also be downloaded from BSNL site www.kerala.bsnl.co.in and cost
of document in the form of DD be deposited along with the bid.
How to Submit EOI?

Submission of EOI: Separate Sealed EOI should be submitted for each vacant
location and it should be dropped in drop box kept in respective BSNL Business Area. EOI document will neither be sent nor be accepted by Post / Courier.
Opening of EOI
EOI shall be opened area wise as per schedule published in the document, in the
office of the GMT of the respective Business Area in the presence
of bidders / authorized representatives of the bidders who wish to be present.
Roles and Responsibilities of BSNL Franchisee

Selling of BSNL products and provision of services to BSNL assigned to them,
directly or through Rural Distributors (RDs) or retailers. Two tier structure for urban and three tier structure for rural areas by incorporating
intermediate channel of RDs. Franchisees to make best efforts to actively market and promote the BSNL Products
and provision of services as permitted by BSNL. Franchisee must appoint sufficient numbers of retailers in the territory. Appointing required number of FoS (Feet-on-Street) exclusively for BSNL Products
and provision of services to serve retailers as per guidelines.
Dear readers, please share this information among all your friends and relatives who wish to start new business with attractive commission structure.