Bharat Sanchar Nigam Limited (BSNL) today announced the regularization of one of its most popular prepaid recharge offers – Combo STV 49 – which offer 100 minutes voice calls, 100 SMS and 2GB free data for 28 days on PAN India basis.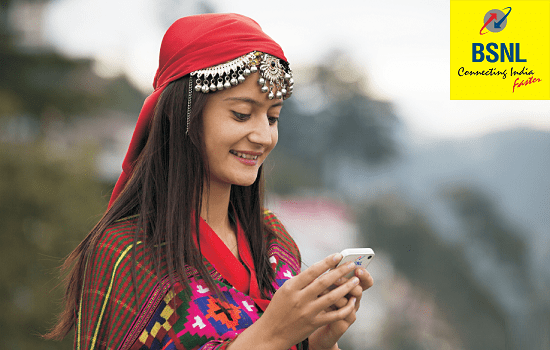 As we reported on 30th August 2020, BSNL launched Combo STV 49 initially on 1st September 2020 as a promotional offer for 90 days which is going to expire on 29th November 2020. Now based on the increasing demand from customers for this low cost combo voucher, BSNL authorities has decided to regularize this scheme across all telecom circles with effect from 1st December 2020 onwards.
Sl No

Particulars

Combo STV 49
1

Prive of STV in Rs (Incl. of GST)

2

Details of STV Freebies

Free 100 minutes any net, After free minutes voice calls @ 45ps/min in home LSA and national roaming including Delhi and Mumbai with MTNL network

+

Free 2GB Data

+

Free 100 SMS any net

3

Validity of freebies in Days

28
The above tariff will be applicable with effect from 01-12-2020 onwards on PAN India basis. The implementation of the tariff will be made in accordance with 43rd Amendment of Telecom Tariff Order
and orders/guidelines/clarifications issued by TRAI from time to time. The above mentioned combo voucher will be implemented without modification of denomination on Pan-India basis. BSNL has also directed its field units (telecom circles) to shift denomination of existing voucher if any on the same denomination (Rs 49/-) to the next higher vacant denomination.
Combo STV 49 : The Most Economical Combo STV
Combo STV 49 is the most economical prepaid recharge offer with Calls, Data and SMS benefits. Customers opting Combo STV 49 may enjoy 100 minutes free voice calls + 2GB free data + 100 free SMS. Validity of freebies will be 28 days. Customers can enjoy 100 minutes free voice calls even in roaming (including MTNL areas of Delhi & Mumbai). Similarly, free SMS is also applicable while in national roaming (including MTNL areas of Delhi & Mumbai). After the FUP condition of 100minutes free voice calls, customers still can make outgoing voice calls to any network at just 45paise/minute.
Validity Extension with Combo STV 49
Validity of existing live prepaid mobile plans will be extended automatically on activation of Combo STV 49. It is applicable to BSNL prepaid mobile customers currently in ACTIVE/GP1/GP2 state. Customers recharging their number with Combo STV 49 will get their plan validity extended by 28 days from the date of recharge. In addition, they can use freebies bundled with Combo STV 49 till expiry date.
Read More : No more Extra Talk Time Offers from BSNL; Get maximum benefits from these extra talk time top up offers till 30th November 2020
Dear readers, please do share your views and opinions about BSNL's Combo STV 49 via comments with us. How many of you are currently using this STV?