Even though your BSNL Fiber connection (Bharat Fiber / FTTH) is working fine, you may feel that your browsing speed has reduced very much. Many of our readers were already raised their queries about this slowness issues reporting towards the month end.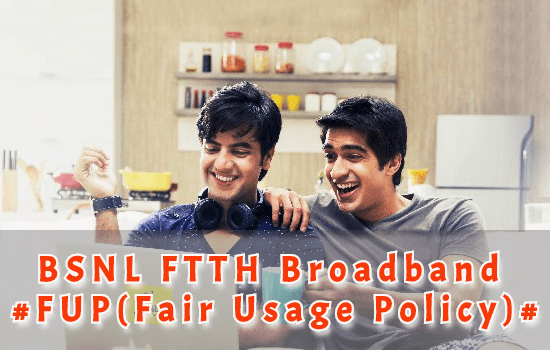 The same may happen to BSNL Broadband customers (Broadband via traditional copper cable) also. Here, the real problem is with your subscribed tariff plan and not with BSNL FTTH or BSNL Broadband connectivity. As we all know, BSNL offers a wide variety of Broadband and Bharat Fiber (FTTH) plans for its fixed line customers all over India. Most of these plans are having FUP limits. FUP means Fair Usage Policy.
What is Fair Usage Policy (FUP) ? Why it is needed ?
Fair Usage Policy (FUP) is implemented by Internet Service Providers (ISPs)
keeping in view the fact that a small number of customers may otherwise use an
excessive amount of the network bandwidth and impairs the experience of a
large majority. Hence, through this policy, ISPs including BSNL seek to address
this imbalance and give all customers the opportunity to experience the network
in the same way.
Under the Fair Usage Policy (FUP), BSNL offers various tariff plans to suit the
varying data download requirement of the customers. The purpose is that a
customer with the need of low data download in a month, is not charged more
as different customers have different data download requirements.
BSNL has defined the FUP across all the unlimited broadband plans with varying
charges and varying data download limit. This FUP is different for different
plans.
Is there any additional charges from BSNL for getting unlimited broadband internet after crossing FUP usage limit ?
No. After crossing FUP usage limit, customers can continue to enjoy unlimited broadband internet access at a reduced speed as per their subscribed tariff plan. BSNL is having plans with daily FUP limit as well as monthly FUP limit. Once customer reaches to certain data transfer limit (defined in the particular
plan), speed is reduced as stated in the plan while unlimited data download is
guaranteed at reduced speed. For monthly FUP plans, customer's higher speed & data transfer limit is automatically being restored at the start of next monthly billing cycle. For daily FUP plans, broadband speed and usage limit is automatically being restored everyday at 00:00 Hrs.
Click Here to See Latest BSNL Bharat Fiber (FTTH) Plans
Click Here to See Latest BSNL ADSL Broadband Plans
How can I increase download speed after crossing FUP usage limit ?
BSNL Bharat Fiber (FTTH) or Broadband customers may continue to enjoy the same high speed unlimited broadband internet access even after crossing FUP limit by choosing suitable Speed Top Up / FUP Top Up / Speed Restoration packs. FUP crossed customers can subscribe online to any of the existing speed restoration packs through BSNL FUP TOP UP Portal – https://fuptopup.bsnl.co.in/
BSNL Speed Top Up (FUP Top Up / Speed Restoration) Plans for Bharat Fiber (FTTH) & Broadband Customers

Broadband Speed Restoration Packs

Restoration of original higher speed for the data usage upto
Charges (Excluding GST)
Speed Restoration 5 GB plan
5 GB
Rs 50/-
Speed Restoration 12 GB plan
12 GB
Rs 100/-
Speed Restoration 20 GB plan
20 GB
Rs 150/-
Speed Restoration 40 GB plan
40 GB
Rs 250/-
BSNL FUP top up plans are starting from just Rs 50/- onwards. The above speed restoration plans will expire after exhausting the data usage as mentioned above or on completion of billing cycle, whichever is earlier.
How can I upgrade my BSNL FTTH Broadband speed after FUP usage limit ?
When the FUP limit is crossed or when you have consumed your high speed data usage limit, you can see a pop-up asking whether you are interested for data / speed top up till the end of current billing cycle. On subscribing to these plans, customers may restore high speed internet as per their existing broadband plan.
URL for BSNL Broadband Speed Top Up Portal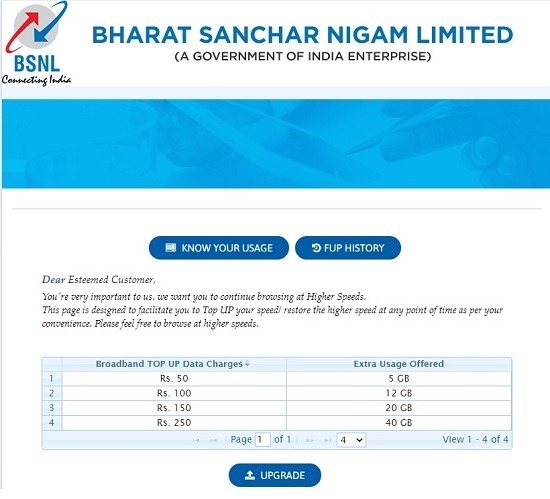 Online Speed Top Up Facility for unlimited broadband / FTTH customers is available through Broadband Speed Top Up Portal (https://fuptopup.bsnl.co.in/ or http://172.30.3.130:9090/ or http://172.30.3.130:8080/ or http://172.30.3.134:8080/). Customers can also check their previuos FUP top up history also in the same portal.
How can I check my BSNL Broadband / BSNL FTTH Usage Online?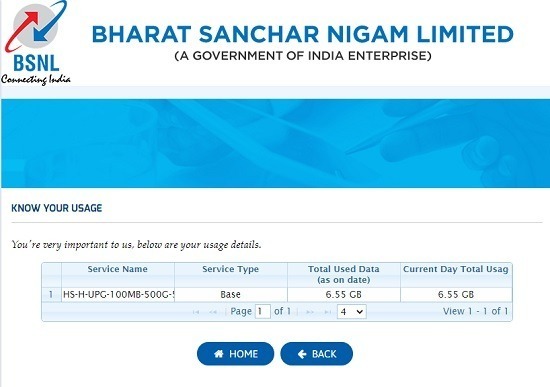 BSNL Customers can use the same FUP Top Up Portal (Broadband Speed Top Up) Portal to check their monthly as well as daily usage. To check usage, customers need to click on link – 'KNOW YOUR USAGE'. Then a page will be displayed which will show your Current Day Total Usage as well as Total Monthly Data Usage. BSNL will also display 'Service Name' on the same table. Here Service Name is a short acronym given to your subscribed tariff plan which include your maximum download speed, total FUP data usage limit and speed after crossing FUP limit.
Should I need to login to BSNL FUP Top Up Portal to know my broadband usage?
No. It is not needed. Customers are requested to access the portal (https://fuptopup.bsnl.co.in) from the same broadband / FTTH connection. It can be either through LAN (wired connectivity) or WiFi (Wireless connectivity). After accessing the portal, customers needed to click on "KNOW MY USAGE" link to get their detailed usage.
So the next time when you feel slowness in your BSNL FTTH or Broadband connection, just check your data usage online through BSNL FUP TOP UP Portal. BSNL Broadband / FTTH Online Usage checking is so simple and easy since it doesn't require any login. If your monthly usage quota is exhausted at the beginning of the month itself, you may better change your plan to the next higher plan which offers more pre-FUP data usage. Customers can change their Broadband / FTTH plan online though BSNL Selfcare Portal without visiting BSNL Customer Service Centers or BSNL Offices. BSNL Selfcare Portal also gives detailed report on your Broadband / FTTH data usage which can be downloaded in excel or pdf format.
Read More : BSNL Bharat Fiber (FTTH) First Month Bill Calculation? Installation Charges, Security Deposit, Monthly Charges, One time Charges, Recurring Charges
Dear readers, please share your views and opinions about BSNL Broadband / Bharat Fiber (FTTH) – FUP Usage Policy via comments with us. Also do share this valuable information among your friends who are using BSNL Broadband or FTTH service.