Happy times ahead for all BSNL Bharat Fiber (FTTH) customers as the PSU is launching many attractive offers for new as well as existing customers all over India. After launching a new BSNL FTTH plan – Bharat Fiber Basic Plus 599 – with 60Mbps download speed and 3300GB usage, BSNL has decided to make FTTH 777 plan with 100Mbps download speed as a regular offer across all telecom circles.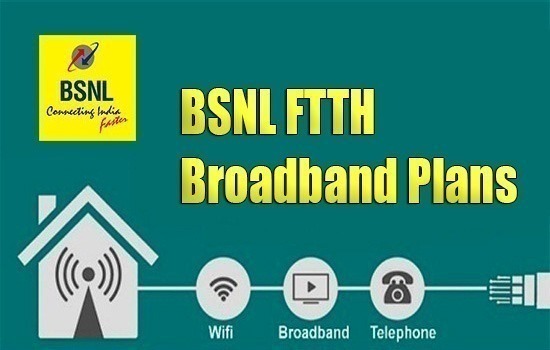 As we reported earlier, BSNL 777 plan (500GB CUL) is currently offered as a promotional plan for first six months for new FTTH customers all over India except Kerala Telecom Circle. In Kerala Circle, BSNL is having a regular plan with name 500GB CUL CS353 with 50Mbps download speed. After the recent FTTH speed upgradation, almost all existing and new BSNL FTTH customers in 777 plan are getting 100Mbps download speed. Hence the PSU has decided to make this plan available to everyone with 100Mbps download speed.
BSNL's regularised Bharat Fiber (FTTH) Plan – 500GB CUL with 100Mbps Download speed
Particulars
500GB CUL

Bandwidth (with best effort Download Speed), subject to technical feasibility

Upto 100 Mbps till 500GB, up to 5 Mbps beyond

Applicability

All new broadband customers of all circles (except A&N and Gujarat circles).

Annual Payment Option (Rs.)

Two Years Payment Option (Rs.)

Three Years Payment Option (Rs.)

Download/Upload Limit (MB/ GB) per month

Free E-mail IDs/Space (Per E-mail ID)

Static IP Address (On Request)

Security Deposit

Minimum Hire Period

Telephone fixed monthly charges in Rs

Free Calls & Additional facility

24 Hrs Unlimited calling (Local + STD) on any network within India

ISD tariff on MoU basis

As per existing ISD Tariff
Sl No
# Annual or Higher Payment Scheme for BSNL Broadband / FTTH Plans (except New Plans – Fiber Basic, Basic Plus, Value, Premium and Ultra) with effect from 11-11-2020 across all telecom circles
Fixed Monthly Charges (FMC) payable in advance across all plans
Duration of Service
1
5.5 Months FMC
6 Months
2
10.5 Months FMC
12 Months
3
20.5 Months FMC
24 Months
4
30.5 Months FMC
36 Months
The above higher payment schemes are available to all BSNL DSL Broadband and Bharat Fiber r (FTTH) plans except the newly launched Plan – Fiber Basic, Fiber Basic Plus, Fiber Value, Fiber Premium & Fiber Ultra plans.
In addition, BSNL has also decided to withdraw the following plans for new customers.
Withdrawn Plans* for BSNL Bharat Fiber (FTTH)
Sl No
Plan Name
Circle
1

500GB CUL CS353

2

50GB CUL

3
4

500 GB CUL
*Existing customers under above plans shall continue. However, efforts may be made to migrate these customers
to other nearest FMC regular plan. In Gujarat, BSNL 777 plan will not be available whereas all newly launched plans – Fiber Basic 449, Fiber Basic Plus 599, Fiber Value 799, Fiber Premium 999 and Fiber Ultra 1499 will be available for subscription.
Click Here to See Existing BSNL Bharat Fiber Plans
Above charges are exclusive of GST. The above instructions shall be implemented with immediate effect on regular basis across all telecom circles as stated above.
Read More : How can I apply for BSNL Bharat Fiber (FTTH) connection? What is the total cost for installing BSNL FTTH Broadband?
Dear readers, please share your views and opinions about these latest offers announced by BSNL for Bharat Fiber (FTTH) customers via comments with us.