Within the last few years, Fiber Broadband connectivity speeds and availability have significantly increased while the costs have decreased. This has generated an overlay between Fiber Broadband Internet and Fiber Internet Leased Lines. Internet leased lines provide higher data transfer speeds and more reliable quality of service than broadband which makes them a great choice for organizations looking for better performance.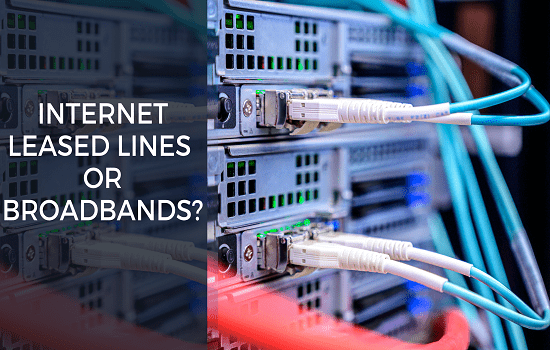 Unlike the more common broadband service that is a shared Internet connection, leased
lines operate on a private network that is dedicated to the organization paying for it. This
affords the benefits of higher data transfer speeds without any drop in QoS in peak usage
times, unlike a broadband connection that can be affected by the activities of other users. While both broadband and Internet leased line (ILL) offer access to the Internet at fixed
subscription costs, they have a few sharp variations in terms of the features they offer to an
enterprise.
Comparison between Internet Leased Line & Traditional Broadband Internet

Parameter

Internet Leased Line (ILL)
Broadband (FTTH/xDSL/Mobile Internet)
Customer Connectivity
Connection shared with other users
Dedicated connection between client premises and service provider
Cost
Costlier than Broadband
Cheaper than ILL
Maximum Speed
Order of Gbps
Order of Mbps
Performance
High Performance
Average Performance
Upload & Download Speed
Symmetric : Same Upload & Download Speed
Asymmetric : Download speed is higher as compared to Upload Speed
QoS
High QoS
Low QoS
Uncontended Bandwidth
Directly connected to Packet Core Network of ISP
A shared access network comes in between Customer Premise Equipment and ISP's Core Network
SLA (Service Level Agreement)
Yes. Better network uptime and better network availability
No. Service delivery in best effort basis
Customer Segment
Enterprise Business
Ordinary Customers
Static IP Address
Provided with ILL without additional cost
Provided at additional cost
Media
OFC
OFC/Copper/Wireless
Security
High, because the connection is dedicated to a particular client
Low, because the connection is shared by multiple users
Contract Period
One Year (Minimum)
One Month (Minimum)
Metering / Throttling
Un-metered and Un-throttled. TRULY Unlimited
Metered. FUP will be there
Monitoring and Pro-active Support
24 Hrs Monitoring and Pro-active support
No monitoring. Faults will be attended only after reporting
Connection Speed
Committed & Fixed
On Best Effort Basis
Latency and Jitter
Low Latency & Low Jitter
High Latency & Jitter
Traffic Prioritization
Traffic prioritization done by ISPs
No Traffic Prioritization
Route Diversity Options
Traffic Route can be diverted in the event of failure
No traffic diversion option
Advantages of Internet Leased Line (ILL)
There are a number of benefits for Internet Leased Line (ILL) as compared to traditional broadband internet connection. Firstly, internet leased lines are available with various high-speed internet options. Along with this, you can benefit from faster upload and download times, no slowdown during peak times and access to a private network offered exclusively to the business. Connections are symmetric, unlike standard broadband connections where upload speed will be low as compared to download speed.
Bandwidth Flexibility
One of the major advantages of a internet leased line is that it is wholly flexible and can be customized to your requirements. Whether you want 25Mbps or 1Gbps, you can pay for what you need, and you can be certain that you will always get the speed and consistency that you are paying for.
Service Consistency & SLA
Another key benefit of a leased line is consistency. When purchasing a leased line, you are provided with a service level agreement (SLA), meaning that connectivity issues will generally be solved within a matter of hours. Elevated performance is another advantage of using a leased line in an office environment and this is due to the fact that your company is the sole user of your leased line. No matter whether you're making or receiving phone calls over the connection, downloading large files, video conferencing, or trying to work during peak times, you will receive 100% performance at all times.
Read More : How can I apply for BSNL Bharat Fiber (FTTH) connection? What is the total cost for installing BSNL FTTH Broadband?
Dear readers, please share your views and opinions about Quality of Service (QoS) of your current internet connection. How much time it will take to restore connectivity after service interruption?