BSNL Bharat Fiber (FTTH) Broadband customers can change their existing fiber broadband plan
easily –
online – via

BSNL Selfcare Portal.

Now y
ou can upgrade your BSNL FTTH plan to a plan of your choice right from your home or office as there is no necessity to visit the BSNL Customer Service Center (BSNL CSC).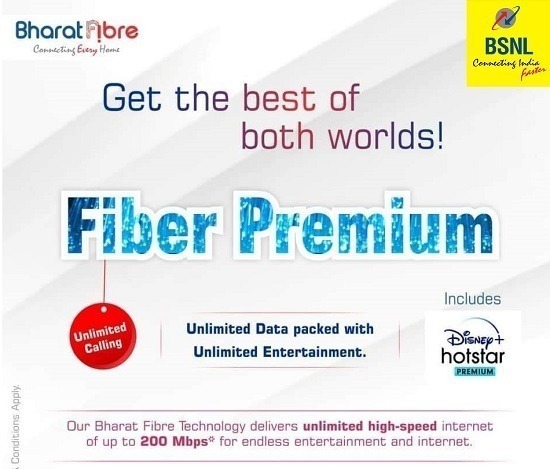 The same portal can be used by BSNL landline, BSNL ADSL broadband and BSNL Mobile customers also. Through BSNL Selfcare portal, c
ustomers can migrate to any Bharat Fiber / FTTH / ADSL broadband internet plan as per your wish from anywhere on any device i.e. Desktop, Laptop, Tablet, Smartphone, etc.
Here we are going to explain
all details about BSNL Bharat Fiber (FTTH) / Broadband online plan change process via BSNL Selfcare Portal.
However, you need to register first in BSNL Selfcare Portal with all relevant details about your existing services like – Customer ID, Billing Account Number, Service ID (Telephone Number) etc. All these service related information can be obtained from your recent BSNL telephone bill.
Step by step procedure for BSNL Bharat Fiber (FTTH) / Broadband Online Plan Change process via BSNL Selfcare Portal
Step 1 : Register in BSNL Selfcare Portal
By registering in BSNL Selfcare Portal – https://selfcare.bsnl.co.in/ – , a customer can manage his existing BSNL Broadband, Fiber To The Home (FTTH), Landline and Mobile connections online from anywhere in the world.
Step 2 : Login to BSNL Selfcare Portal
After the successful registration, customers can access BSNL Selfcare Portal with their username and password which are created at the time of registration.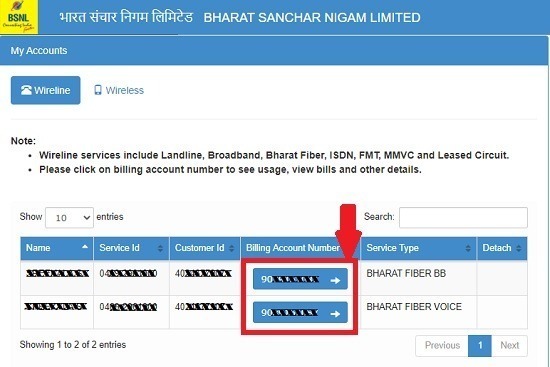 Step 3 : Submit Modify Request
After login, you can see the Billing Account Number highlighted under My Accounts tab. For this, customer need to add his service one by one in selfcare portal through the link – 'Add Customer Account' – using customer ID, service ID and billing account number after registration. Detailed instructions regarding customer account addition is already given in the BSNL Selfcare Portal Registration Process.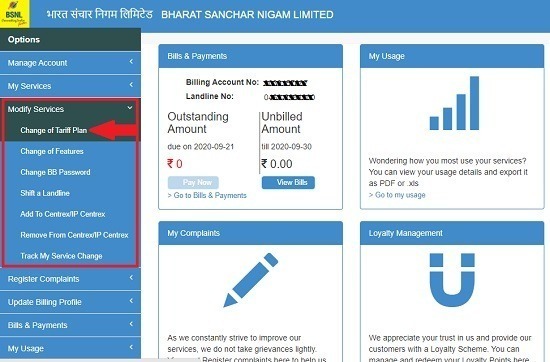 Now click on Billing Account Number displayed, and then your "Options" panel will load with many features on the left side of the page. Then Select 'Modify Services' and click on 'Change Tariff Plan'. Then, a new page will open with four options to confirm the new broadband internet plan.
In Declaration page, Click on 'Next' by accepting the Terms and conditions to change Bharat Fiber / FTTH / ADSL broadband plan.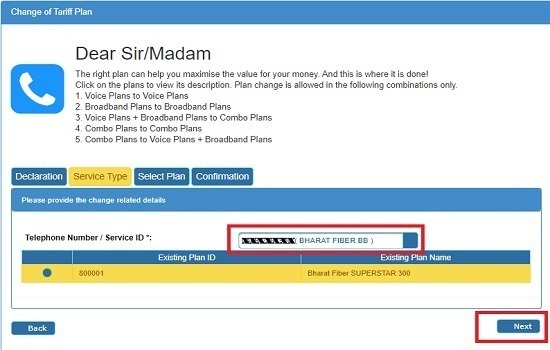 In Service Type Section, select Bharat Fiber (FTTH) / Landline / Broadband number from the drop-down list. Click on next to move to select the plan.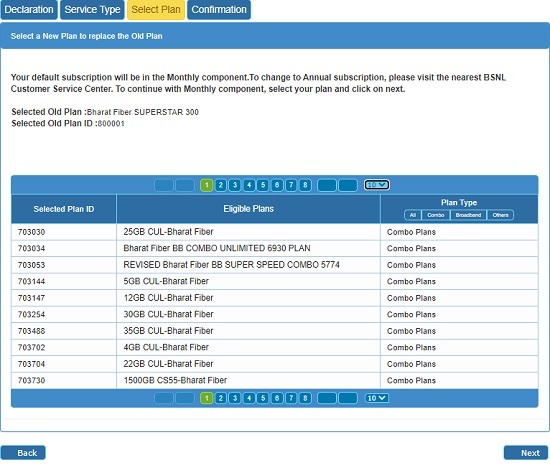 In 'Select Plan' option, you can see all available plans for subscription along with currently subscribed tariff plan. Choose any new broadband / FTTH internet plan, which you required to migrate from the list of existing plans shown.
If the required plan is not presented on this online page, select another page number available to find the best plan of your choice.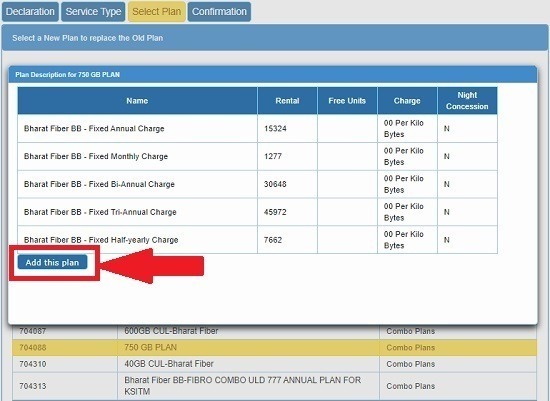 After selecting the required plan, a small window will be displayed containing monthly, half-yearly, yearly, two-year and three-year charges for the opted plan. Click on 'Add this plan' link shown at the bottom of that page.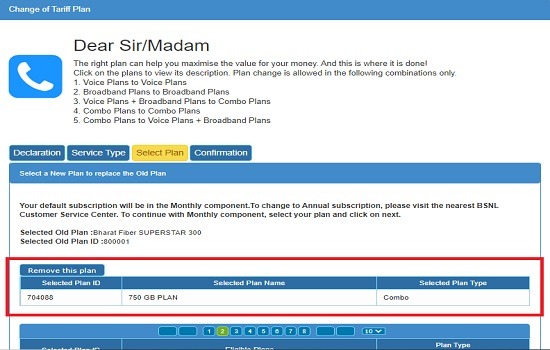 After that, selected plan with Plan ID, Plan Name and plan type will be displayed on the screen for verification. Click on 'Next' then it will ask for Confirmation of the selected plan.
You can change to annual / hi
gher payment scheme later by submitting request in nearest BSNL Customer Service Center (BSNL CSC).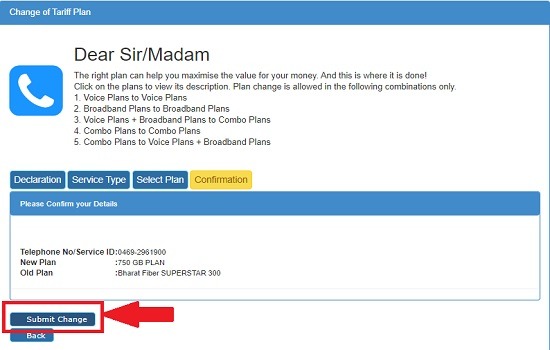 In Confirmation window, your old plan as well as the new plan opted will be displayed. After verifying the plan name, Click on 'Submit Change' link for submitting your request for BSNL FTTH / Broadband plan change.
After completion of these above simple steps in this online selfcare portal, you will get a 'Service Request number'. On next working day, BSNL official will contact you over the mobile phone number, which you have already provided for confirming your request and completing the plan change. You can also use the SR number to track the status of your plan change request in BSNL Selfcare Portal.
As we reported earlier,
BSNL launched New Unlimited Bharat fiber Plans –
Fiber Basic, Fiber Value, Fiber Premium and Fiber Ultra
– all over India but in select cities. Eligible customers can now submit their request for plan upgradation through BSNL Selfcare Portal following the above procedure. In Kerala Circle, all these new plans are available initially in Trivandrum and Ernakulam cities. BSNL is planning to extend all these newly launched plans to all other cities in a time bound manner.
Dear readers, please share this valuable information among all your friends so that they may upgrade their existing BSNL Bharat Fiber / Broadband plan to the newly announced plans at the earliest.