Bharat Sanchar Nigam Limited (BSNL) has announced the launch of a new promotional free data offer for it's Landline, Broadband and Bharat Fiber (FTTH) customers all over the country. As per the latest information, customers who are paying their BSNL Landline or BSNL Broadband bills through BSNL Payment Portal via UPI transactions can avail free data in addition to the existing broadband plan.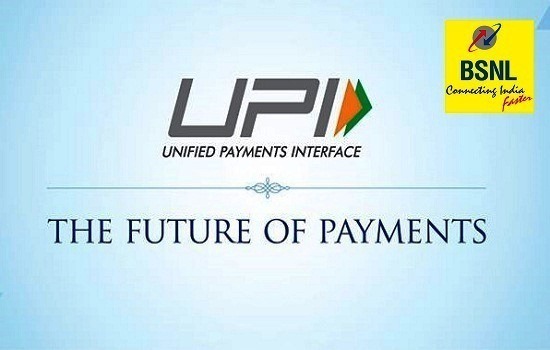 BSNL Landline customers who are not having broadband internet connection may also get BSNL's Free Work@Home Broadband internet connection absolutely free of cost for one month. Existing Broadband customers in monthly FUP plan will get additional 30GB free data whereas daily FUP plan customer may get free data 1GB/Day for one month for doing UPI payment through BSNL Payment Portal.
An Official statement from BSNL regarding the launch of Free Data Offer
to encourage the UPI transactions through BSNL Portal read as follows:-
Following scheme is being launched for UPI payment done through BSNL's portal for the
payment of BSNL's Bill:

a) To offer 5GB free trial plan (i.e. Work@Home) for Landline customers (i.e. not having
Broadband) free of cost for a month for doing UPI payment to pay BSNL's Bill. The
modem shall be owned by such customers.
b) To offer additional 30GB data per month to those Broadband customers who are
already in monthly FUP plan for a period of one month, for doing UPI payment.
c) To offer additional 1GB/day for a period of one month to those Broadband
customers who are already in daily FUP quota plan, for doing UPI payment.
d) The above data shall be credited on first day of next calendar month, for already
done UPI payments.
e) Partial payment of BSNL's bill shall not be allowed through BSNL's Online Payment Portal.
Click Here to See Latest BSNL Bharat Fiber (FTTH) Broadband Plans and Offers
The above scheme will surely help to improve the UPI payment transactions through BSNL' Online payment portal. Moreover, offering free broadband internet facility to landline only customers will improve the broadband market share of BSNL. BSNL's landline only customers may avail this exciting free data offer by arranging their own ADSL Broadband Modem. It is also believed that, the same scheme will be applicable to UPI bill payments done via BSNL's Mobile App – 'My BSNL'.
Read More : BSNL to celebrate October 2020 as 'Customer Delight Month' by offering 25% extra free data with all prepaid vouchers and STVs
Dear readers, please share your views and opinions about this latest promotional offer from BSNL via comments with us.