Indicating the second wave of tariff hike, state run telecom operator – BSNL – has decided to withdraw all extra talk time recharge offers with effect from 1st December 2020 across all telecom circles in India.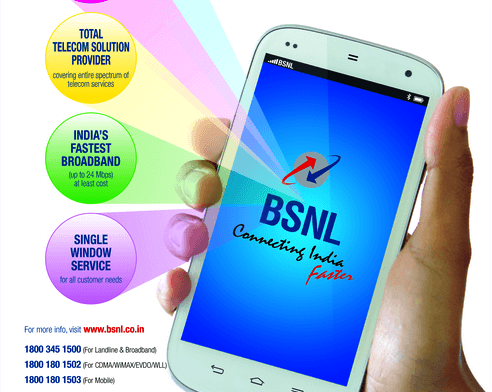 From 1st December 2020, BSNL prepaid mobile customers may not get extra talk time with top up denominations which the PSU is currently offering. Instead, customers will be given full talk time with these top up vouchers. At present, BSNL offers extra talk time with the following top up denominations – Top Up ₹550, Top Up ₹1100, Top Up ₹2000, Top Up ₹3000, Top Up ₹3300 and Top Up ₹5500.
Existing BSNL Extra Talk Time Offers for Prepaid Mobile Customers

Extra Talk Time Offer Denomination & Details
Offer Period / Availability

Top Up 550, Talk Time = 575

Always Available for all prepaid plans

Top Up 1100, Talk Time = Rs 1200

Top Up 2000, Talk Time = 2300

Top Up 3000, Talk Time = 3600

Top Up 3300, Talk Time = 3500

Top Up 5500, Talk Time = 6000
As per the latest announcement from BSNL, all the above extra talk time top up denominations will be converted to full talk time top up offers with effect from 01-12-2020 all over India. The above mentioned offers are available to all BSNL mobile customers irrespective of their subscribed prepaid mobile tariff plan / package. It means the above extra talk time top up offer can be subscribed by any BSNL Prepaid Mobile customer till 1st December 2020.
Normally these extra talk time top up offers are being used by BSNL Prepaid Mobile customers for the selfcare activation of Special Tariff Vouchers (STVs) / Plan vouchers (PVs). BSNL Prepaid Mobile Customers having sufficient account balance can activate STV/PV by send SMS Keyword to toll free short code 123 or simply dialing the USSD short code of the required STV/PV in the format *444*MRP# where MRP is the denomination of prepaid voucher to be recharged.
Read More : BSNL launched prepaid international roaming in UK, Canada, Belarus and Austria : Check updated BSNL Prepaid International Roaming countries list
Dear readers, please share your views and opinions about this latest tariff revision of conversion of extra talk time offer to full talk time offer by BSNL via comments with us. How many of you are currently using these Extra Talk Time Offers from BSNL? Whether these offers are really worth as compared to other private operators.