Bharat Sanchar Nigam Limited (BSNL) has issued caution notice to alert everyone about some fraudulent websites asking deposit from individuals for BSNL Bharat Fiber Dealership. It is also clarified that, BSNL has not authorized anyone to sell / distribute BSNL Bharat Fiber / Air Fiber dealership.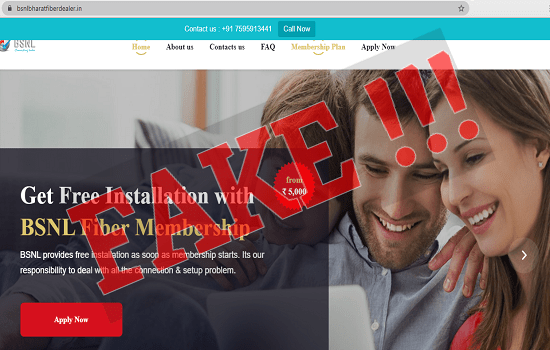 We have received many queries from BSNL FTTH partners as well as Telecom Infrastructure Providers (TIPs/LCOs) regarding these fraudulent websites. Some of these fake websites are – https://bsnlbharatfiberdealer.in/ & https://www.bsnlbharatfiberdealer.com/. All these are fake websites which ask individuals to deposit money in advance to get BSNL Bharat Fiber / BSNL Bharat Air Fiber Dealership in your location.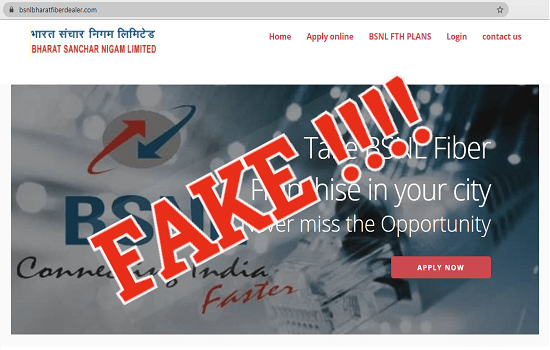 Official Caution Notice from BSNL is read as follows : – It is intimated that BSNL does not ask any deposit to be made in advance before approval from BSNL
for any Bharat Fibre / Bharat Air Fibre dealership.
It has come to notice of BSNL that some fraudulent websites using words with BSNL, Bharat fibre etc.
are active on internet claiming to be BSNL websites. The websites claimed to have authority to install
FTTH on individual customer's premises and also give distributorship on behalf of BSNL and are
asking money to be deposited in advance in the name of BSNL.
The suspected Modus Operandi for
fraud is :-
Setup website

Promising FTTH connections and dealership for a fee to be deposited in advance

Used BSNL contents like logo and product details, falsely claimed that website is developed
by ITPC of BSNL

Call is made to prospective customers.

Then the amount has been asked to get transferred to account number with any bank with
account name "Bharat Sanchar Nigam Limited", however these are individual accounts set up
with such nicknames.
It is pertinent to mention that BSNL is not associated with such websites and the public at large is
hereby cautioned against dealing with such fake websites and BSNL assumes no responsibility for any
funds transfer or cash deposits to them or any other resultant loss to any person or otherwise.
At present, BSNL is accepting online registration of franchisees for Bharat Fiber and Bharat Air Fiber through BSNL's Official Website – https://fms.bsnl.in/partnerRegistration.jsp only. More details in this regard is given below : –
Dear readers, please do share this valuable information about fake Bharat Fiber Dealership fraud through fake websites among your friends and relatives.