State run telecom major, BSNL is aggressively rolling out Ultra Fast next generation 4G LTE Mobile services all over India. This time, the PSU has announced the launch of BSNL 4G Mobile Internet services in Kumarakom – one of the most popular backwater tourist destinations in God's own country – Kerala.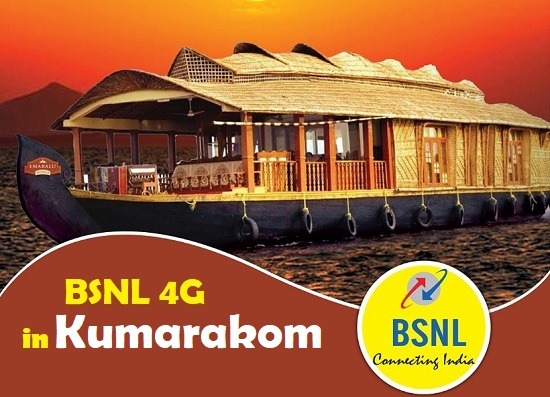 Kumarakom is situated in Kottayam District at just 13 KM away from Kottayam Town. This famous tourist backwater hub is a cluster of islands on the eastern banks of Lake Vembanad, the largest lake in the state of Kerala. Kumarakom has a wide variety of houseboats and is well known throughout the world for houseboat experience.
Proposed BSNL 4G Tower Locations where BSNL is planning to start 4G services from 30-10-2020 in Kottayam District
As per the latest information, BSNL's Ultra Fast 4G LTE Mobile Services will be available in Kumarakom, Attipeedika, Pallichira, Nazareth Church areas from 30th October 2020 onwards.
BSNL 4G SIM upgradation
BSNL customers who are currently using data need to upgrade their existing SIM card to BSNL 4G SIM card. The facility for 4G SIM up-gradation will be available at all BSNL Customer Service Centers and retailer outlets in Kottayam District.
Cost of BSNL 4G up-gradation SIM card
BSNL is issuing free 4G SIM cards in those areas where BSNL 4G network is being rolled out. This Free 4G SIM up-gradation scheme is valid till 31-03-2021 in all telecom circle all over India.
Customers having 4G mobile handset may change their network mode to LTE Preferred or LTE / 3G / 2G (Auto) mode. Dual SIM smartphone users are advised to put BSNL 4G SIM card in slot-1 for uninterrupted ultra fast 4G mobile internet services from BSNL. The PSU will be using the LTE Band – 1 (2100 Mhz) for it's 4G LTE services.
How to check your mobile handset compatible with BSNL 4G ?
Customers can check whether their mobile handset is compatible for BSNL 4G Mobile Services through SMS.
Step 1: First, find the IMEI Number of your Mobile handset by typing *#06# in dial pad. You will get 15 digit IMEI number, If two IMEI numbers you are getting displayed, use the first one only.
Step 2: Send SMS as KYM <IMEI Number> to 14422
You must send the text message without space and brackets from your Mobile Handset with above syntax. Immediately you will get a reply to check for BSNL 4G compatibility of your mobile handset.
Step 3: If the reply contains 'LTE FDD Band 1' then your mobile handset is compatible to BSNL 4G services.
How to activate BSNL VoLTE Service on your number?
BSNL Mobile customers (both prepaid and postpaid) can activate the VoLTE services on their 4G enabled smartphones by texting 'ACT VOLTE' to 53733. Once it is done, the services will be activated in 24 hours.
Whether I can use my old SIM card (BSNL 3G / BSNL 2G) to access BSNL 4G and BSNL 4G VoLTE?
No. Existing BSNL mobile customers need to change their old SIM card with BSNL 4G enabled SIM card from nearest BSNL Customer Service Center (BSNL CSC) or Retailer Shop. BSNL will be offering Free 4G upgrade SIM to customers in those areas where network up-gradation is being done.
Customers can activate any Unlimited Data Plan on their BSNL 4G number as 4G network consumes more data. Recently, BSNL launched many attractive unlimited prepaid mobile plans which offer Unlimited Data, Voice Calls & SMS benefits. Check latest BSNL prepaid mobile plans below:-
Dear readers, please share your views and opinions about the launch of BSNL 4G LTE services in Kumarakom via comments with us. How many of you are currently using BSNL 4G service?