Bharat Sanchar Nigam Limited (BSNL) today announced that, from 30th October 2020, 72 more mobile towers will be upgraded to offer 4G ultra fast mobile data services in Ernakulam District. BSNL 4G services are currently live in selected areas of Idukki, Kattappana, Thodupuzha, Nedunkandam and Lakshadweep areas of BSNL Ernakulam Business Area.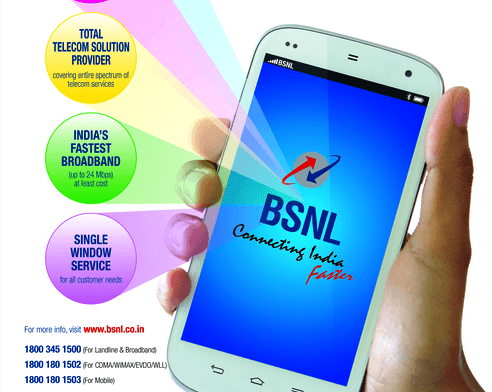 As per the latest information, BSNL mobile customers in Perumbavoor, Kaladi and Paravur areas will get BSNL 4G services with effect from 30th October 2020. BSNL's existing as well as new mobile customers (both prepaid and postpaid) will be receiving BSNL 4G signals and VoLTE services by replacing their 3G or 2G SIM card with BSNL 4G SIM card.
Proposed BSNL 4G Tower Locations in Ernakulam District
(BSNL 4G Services to start from 30-10-2020)
Vadakkumpuram

Puthenvelikkara

Vattaparambu

ElavoorWest

Elenthikkara

Pallipuram

Chendamangalam

MunambamKavala

KarimpadamEKM

Kutiathode

Ayiroor

Machanthuruthu

SNMClMaliankara

MattupuramNParr

Muzhikulam

Andippillikavu

Moothakunnam

OKKAL

Vallam

Kaladi

Marampally

Neeleswaram

CHEMBERAKEY

MESMarampally

Thuravoor

Koovapady

Mudickal

Murivilangu

Mattoor

Kanjur

SouthVazhakulam

AdiSankaraInsET

Pookkattupady

Manikamangalam

Jordhanapuram

NeeleswaramEast

Malayidamthurth

MalayattoorWest

MEKKALADY

AirportMatoorRd

PavizhamRice

Vilangu

Pattal

Thandekkad

Perumbavoor

Valayanchirngra

Arakkapady

Koottumadom

Palakattuthazhm

ILMCollege

ThuruthiEkm

Paruthivayal

Keezhillam

AyrapuramRubprk

Odakkali

Iringol

Kurupumpaddy

Kunnakkurudy

Asamannur

VengolaWest

Pulluvazhy

AllapraPbvr

Vaikkara

Vengola

Ayirapuram

KoovapadySouth

Aimuryeast

Nellimolam

Cherukunnam

Kandanthara

KSRTCPbvr

Vattakkattupady
(Disclaimer : There are chances that, the above list may vary before the actual 4G roll-out)
BSNL 4G SIM upgradation
BSNL customers who are currently using data need to upgrade their existing SIM card to BSNL 4G SIM card. The facility for 4G SIM up-gradation will be available at all BSNL Customer Service Centers and retailer outlets in Ernakulam District.
Cost of BSNL 4G up-gradation SIM card
BSNL is issuing free 4G SIM cards in those areas where BSNL 4G network is being rolled out. This Free 4G SIM up-gradation scheme is valid till 31-03-2021 in all telecom circle all over India.
Customers having 4G mobile handset may change their network mode to LTE Preferred or LTE / 3G / 2G (Auto) mode. Dual SIM smartphone users are advised to put BSNL 4G SIM card in slot-1 for uninterrupted ultra fast 4G mobile internet services from BSNL. The PSU will be using the LTE Band – 1 (2100 Mhz) for it's 4G LTE services.
How to check your mobile handset compatible with BSNL 4G ?
Customers can check whether their mobile handset is compatible for BSNL 4G Mobile Services through SMS.
Step 1: First, find the IMEI Number of your Mobile handset by typing *#06# in dial pad. You will get 15 digit IMEI number, If two IMEI numbers you are getting displayed, use the first one only.
Step 2: Send SMS as KYM <IMEI Number> to 14422
You must send the text message without space and brackets from your Mobile Handset with above syntax. Immediately you will get a reply to check for BSNL 4G compatibility of your mobile handset.
Step 3: If the reply contains 'LTE FDD Band 1' then your mobile handset is compatible to BSNL 4G services.
How to activate BSNL VoLTE Service on your number?
BSNL Mobile customers (both prepaid and postpaid) can activate the VoLTE services on their 4G enabled smartphones by texting 'ACT VOLTE' to 53733. Once it is done, the services will be activated in 24 hours.
BSNL VoLTE Service Activation SMS Short Code

VoLTE Activation Code

SMS to be sent to

ACT VOLTE
53733
Whether I can use my old SIM card (BSNL 3G / BSNL 2G) to access BSNL 4G and BSNL 4G VoLTE?
No. Existing BSNL mobile customers need to change their old SIM card with BSNL 4G enabled SIM card from nearest BSNL Customer Service Center (BSNL CSC) or Retailer Shop. BSNL will be offering Free 4G upgrade SIM to customers in those areas where network up-gradation is being done.
Read More : What is the cost for BSNL SIM replacement & How to get duplicate SIM card for your BSNL number ?
Customers can activate any Unlimited Data Plan on their BSNL 4G number as 4G network consumes more data. Recently, BSNL launched many attractive unlimited prepaid mobile plans which offer Unlimited Data, Voice Calls & SMS benefits. Check latest BSNL prepaid mobile plans below:-
Dear readers, please share your views and opinions about the launch of BSNL 4G LTE services in Ernakulam District via comments with us. How many of you are currently using BSNL 4G service?