Bharat Sanchar Nigam Limited (BSNL) has upgraded My BSNL app by adding more features and options to customers. The latest version of

My BSNL app

incorporated a user friendly dashboard which is more attractive and useful.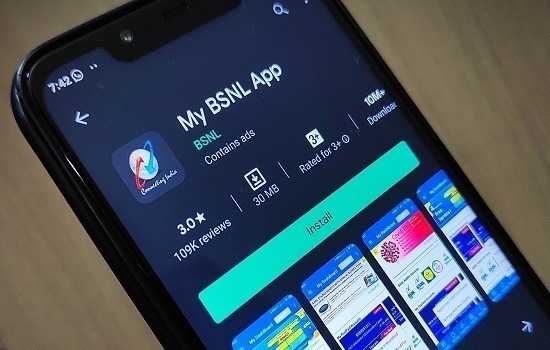 Facility to book Bharat Fiber Connection (BSNL FTTH – Fiber Broadband) is also added in the new version of My BSNL app. Customers can get all postpaid and prepaid accounts in one glance. The main features added in the dashboard are – One Click Bill Pay for pending bills, display of last recharge done, One click for repeating last recharge or top up, One click broadband / FTTH (Bharat Fiber) / Landline plan change request and many more.

New upgraded 'My DashBroard' of 'My BSNL App'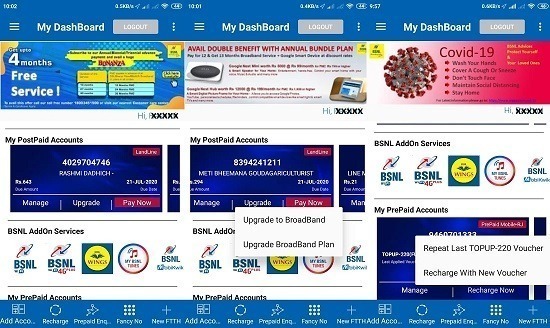 Existing landline customers can submit their request to upgrade their connection to Broadband with one click. Similarly existing broadband customers can also submit their request for broadband plan change from the dashboard. Official Apps for BSNL's add-on services are also displayed in the dashboard which include – BSNL WiFi, BSNL 4G Plus, BSNL Wings, My BSNL Tunes, BSNL Mobikwik app etc.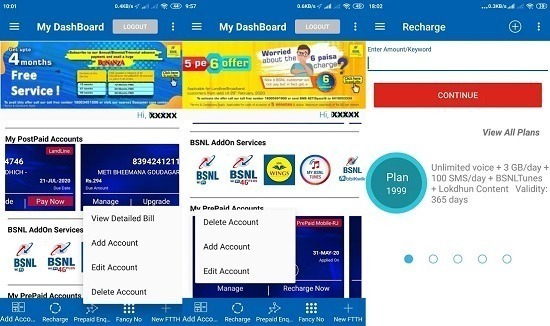 For BSNL prepaid mobile customers, there is an option to repeat the last recharge / top up. Prepaid mobile customers can also search an offer by just entering the plan denomination or keyword. Prepaid account information like plan name, plan validity, STV details, STV validity etc can also be retrieved from the dashboard.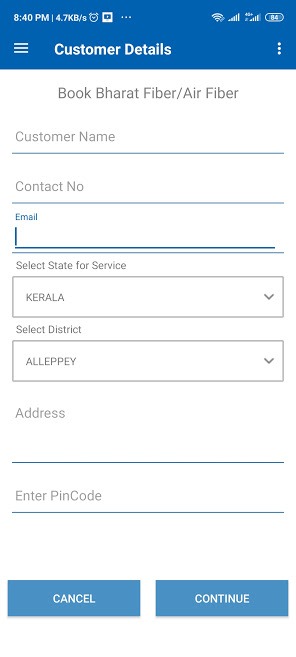 BSNL Bharat Fiber / Air Fiber
Booking Option in New My BSNL App
Recently, BSNL launched a new online portal – Book My Fiber – to accept registration from customers for BSNL FTTH connections. Customers who wish to avail BSNL FTTH service may register in My BSNL app by providing his/her name, mobile number, email address, state, district, address and pin code. After entering details, an OTP will be sent to the customer mobile number for verification and the same has to be entered in My BSNL app for submitting his request.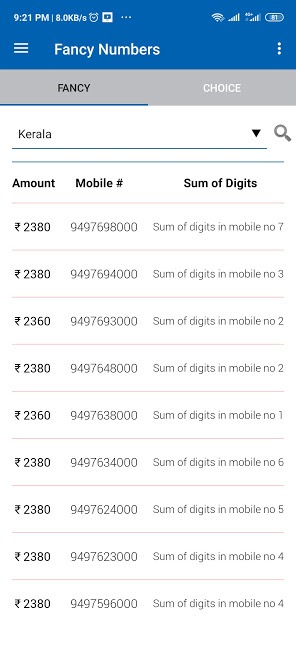 Fancy Number Booking
through My BSNL app
In addition, customers can also book normal numbers as well as fancy numbers having fixed price through My BSNL app. Customers can search online for numbers having specific pattern, numbers ending with specific pattern etc through My BSNL app. Number once booked though the app can be activated by submitting KYC details at nearest BSNL customer service centre within 72 hours of booking.


Some of the latest online facilities extended by BSNL to improve its customer care are listed below for your quick reference:-
Dear readers, please share your views and opinions about upgraded My BSNL app via comments with us.