Bharat Sanchar Nigam Limited (BSNL) launched special prepaid mobile plans with Unlimited Calls & Data benefits

for tourists visiting India.

Now, foreign tourists visiting India can get a new mobile connection (BSNL Travel SIM Card) from Government telecom company which can be used during their entire period of stay in India.
BSNL's Guest Prepaid Mobile Plans are exclusively launched for overseas tourists who will be visiting India for short duration. BSNL launched three different Guest plans which are –

Guest Plan Premium, Guest Plan Normal & Guest Data Plan.

Now foreign tourists visiting India need not carry International SIM card instead they can purchase new BSNL Prepaid SIM card with unlimited calls and data benefits from BSNL's overseas SIM distributors in their home country.
BSNL Guest Prepaid Mobile Plans for Foreign Tourists Visiting India (BSNL Travel SIM Card)

Description

Guest Plan Premium
Guest Plan Normal
Guest Data Plan
MRP of Plan in INR
Rs 629
Rs 489
Rs 389
Plan Validity / Freebies Validity
30 Days
30 Days
30 Days
Freebies
Unlimited Data with speed reduced to 40Kbps after 2GB/Day + Unlimited Voice Calls Anywhere in India + Free 100 SMS/Day
Unlimited Data with speed reduced to 40Kbps after 1GB/Day + Unlimited Voice Calls Anywhere in India + Free 50 SMS/Day
Unlimited Data with speed reduced to 40Kbps after 1GB/Day + Free 100 SMS/Day
All other terms and conditions as per Corporate per minute plan
Above mentioned plans are to be sold through Overseas SIM distributors only, which are selected by BSNL as per BSNL Overseas SIM distribution Policy. Mobile connections issued to the foreign tourists shall not have validity
beyond the validity of the Visa of the tourists. The connection issued to the personnel deployed on ships while at sea
shore, shall have validity only till the date they have permit to stay at the
port. A set of guidelines relating to Dos and Don'ts regarding safe use of SIM cards by foreign tourists will be given to the
tourist along with the SIM cards. There shall be immediate deactivation of the SIM, when SIM is lost by the
tourist or stolen.
Additional Facility: Tourists may enjoy Full Talk Value on Top Up Rs 500 as regular offer through any mode (Online Recharge, My BSNL App, Retailer Recharge) in all the above foreigner prepaid mobile plans.
How to get your BSNL Travel SIM Card?
Foreigners may contact your travel agency and ask for BSNL Mobile connection before they start their journey. The travel agency people will hand-over the BSNL SIM card after collecting necessary documents such copy of passport, local reference etc.
BSNL SIM Cards sold through Overseas SIM Distributors
BSNL has made agreement with companies and travel agencies to distribute SIM cards to foreign tourists before he/she boards the flight to India. Normally, f
oreign persons visiting India either use their home country SIM during their
travel or get a new connection on arrival. In case, they use their home country
connection, they bear huge amount on roaming. On the other hand, getting new
connection on arrival is time taking process and activation gets delayed.
To overcome this issue, BSNL has appointed overseas SIM distributors they will be issuing BSNL SIM cards to tourists before they boards their flight to India. The main advantage of BSNL SIM sale process through overseas SIM distributors is that,
tourists may get their BSNL Mobile connection activated at the time of arrival itself.
The person who need BSNL Guest Prepaid Mobile plan need to submit all required documents at the Point of Sale i.e., at Travel Agency office. With BSNL Foreigner prepaid mobile plans, tourists
can enjoy the services during his stay at cheaper rates.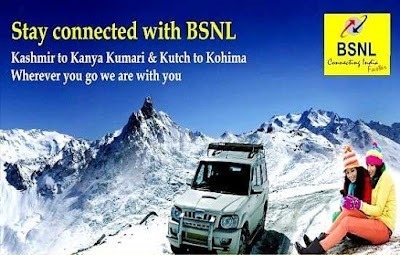 Why should you choose BSNL Mobile connection during your travel / visit in India?
BSNL is currently providing PAN India services at affordable rates except in
Delhi & Mumbai where it has agreement with MTNL & M/s Vodafone. BSNL is
also providing free national roaming throughout the country which a traveler can
enjoy during his visit. BSNL mobile network has the widest coverage from Kashmir to Kanyakumari. It is the most reliable mobile network in India with transparent billing. Moreover, BSNL is the one and only telecom service provider in India which fully owned by Government of India.


Read More : BSNL launched Prepaid International Roaming in Czech Republic & Luxembourg : Updated BSNL Prepaid International Roaming countries list


Dear readers, please share your views and opinions about this latest news via comments with us. How many of are using BSNL Mobile Services ?